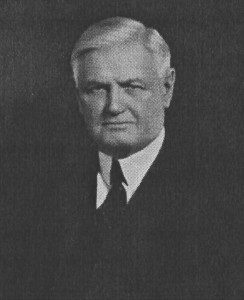 In the modern world people have the opportunity to see a diverse assortment of documents and photographs in archives, but these often fail to convey the richly nuanced contextual history of how these unique and important contributions made their way into the archives in the first place.
In March 2014, the Mennonite Heritage Archives acquired a collection of six alligator skin photo albums containing 231 photographs from the New York Banker, Brigadier General, and land financier Samuel McRoberts (1868-1947).
Photo from Conrad Stoesz's article in the Plett Foundation.
During World War I the provinces of Manitoba and Saskatchewan instituted new laws that closed bilingual and private schools in an attempt to unify Canadian citizens from diverse cultural backgrounds. Many traditional Mennonite colonies feared that this new legislation would weaken their faith, and decided to emigrate where they could continue to live in a way that would preserve their cultural heritage.
A delegation of six members from the Sommerfelder and Chortitzer churches travelled to meet McRoberts in New York, who helped them with some documents, but was initially reticent to help the Mennonites emigrate. It was McRoberts' wife Harriet, who was a devout Christian fundamentalist and the daughter of a Presbyterian Minister, who persuaded him to invite the Mennonite delegation to dinner. Harriet believed that the Mennonites were "good, God-fearing people and that helping them 'would be a real service to Christianity and the Church'." (Quote from Stoesz's article in the Mennonite Historian Vol. 40, No. 3 (Sep. 2014)). Her intervention instigated the beginning of a fruitful ongoing interaction between McRoberts and the Mennonites.
McRoberts played an integral role in helping the Manitoba Sommerfelder, Chortitzer, and Saskatchewan Bergthaler Mennonites sell their land in Canada, as well as locating and buying the necessary land in Paraguay.
You can continue reading Part Two of the blog to discover the rest of the story behind McRoberts' Photos of Mennonites in Paraguay or you can read Conrad Stoesz's article in Volume 40 Number 3 in the Mennonite Historian here: http://www.mennonitehistorian.ca/ or read his article on the Plett Foundation website here: http://www.plettfoundation.org/articles/general-samuel-mcroberts-photos-of-mennonites-in-paraguay-1926-1929/.
You can view some of the McRobert's photos here: http://archives.mhsc.ca/samuel-mcroberts-photo-collection.
To continue on to part two of the blog click here: https://www.mharchives.ca/samuel-mcroberts-part-two/
This blog is written by Jonathan Reimer who is an intern currently working at the Mennonite Heritage Archives as part of his practicum at Canadian Mennonite University.