---
New Books | Used Books | Text To Terabyte Project
---
*Items can be purchased online at CommonWord.ca, by emailing info@mharchives.ca, or by calling 204-560-1998.
New Books
Mennonite Heritage Archives partners with CommonWord.ca to sell new books. Please go to CommonWord.ca to see the new books we are currently selling.
Featured Items…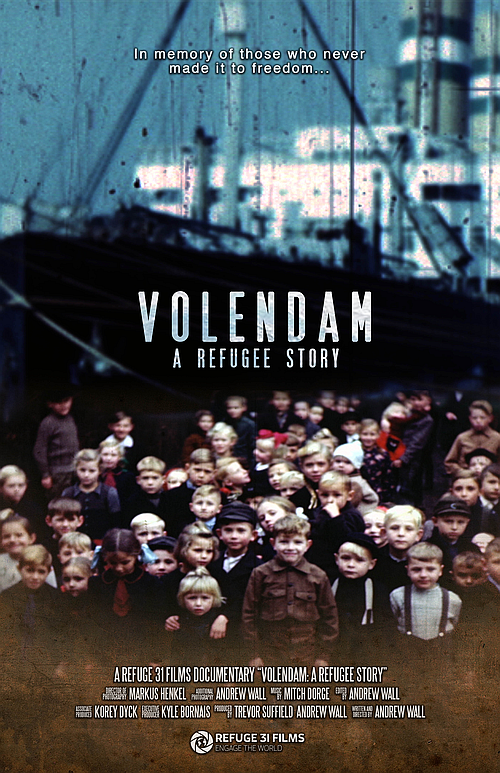 Directed by Andrew Wall
DVD, 2020, 84 minutes
A feature documentary examining the story of the Russian Mennonite refugees who fled west with the retreating German Army during World War Two, desperate to escape the horror of Stalin's Soviet Union.
The Mennonites, with nowhere to go, would end up stranded in refugee camps throughout Holland and Germany in an unfolding two-year saga. Eventually, a risky plan, involving the American Military, multiple governments, aid organizations and the Queen of the Netherlands would come together. It all would hinge on an old transport ship called Volendam…
Told through personal interviews, reenactments and never before seen archival footage, production began in 2018 and included travel to the Volendam and Neuland Colonies in Paraguay.
WINNER: Best Feature Documentary at the Winnipeg Real to Real Film Festival – Feb 20 – 23, 2020
---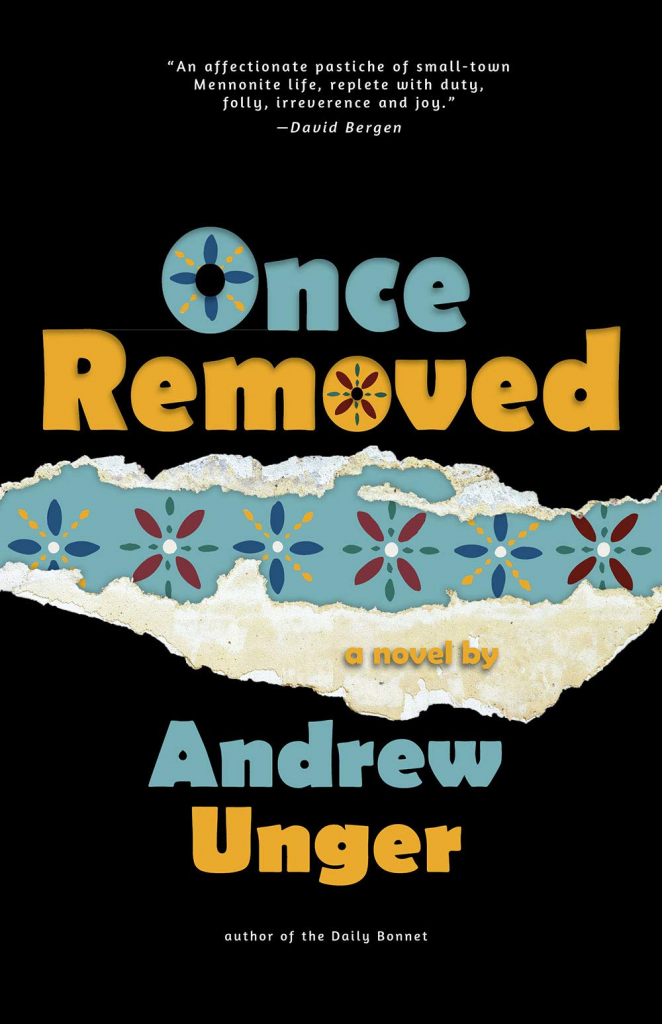 By Andrew Unger
Book, 2020, 269 pp
Timothy Heppner is a frustrated ghostwriter struggling to make ends meet in Edenfeld, a small Mennonite community bulldozing its way towards modernity–if it's old, it has to go!
A member of the Preservation Society but desperate to keep his job with the mayor's Parks and "Wreck" department, Timothy finds himself in an awkward position when he is hired to write an updated version of the town's history book. Fuelled by warring loyalties, the threat of personal bankruptcy, and a good deal of fried bologna, Timothy must find his own voice to tell the one story that could make–or break–him.
Honest and laugh-out-loud funny, Once Removed explores the real costs of "progress" in this new Canadian classic.
---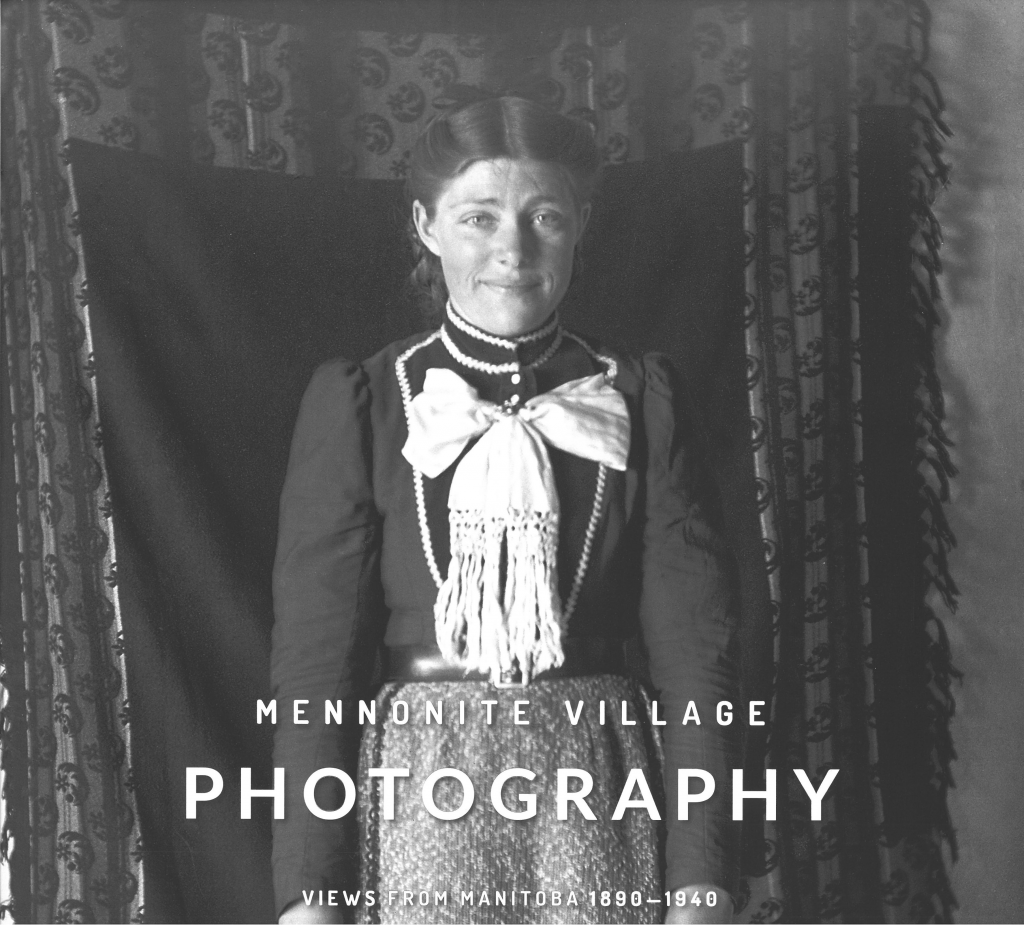 By Susie Fisher; Frieda Esau Klippenstein; Roland Sawatzky; Conrad Stoesz
Book, 2020, 92 pp
Featured here is the work of four young Mennonite photographers from villages in southern Manitoba at the turn of the twentieth century. With the fresh optimism and audacity of youth, they captured a unique period in the history of Mennonite life in western Canada.

For all four men, photography was a bold hobby, inviting the admiration of some and the consternation of others who discouraged such flirtations with modernity. The delicate glass and film negatives that these men left behind – some recovered from dusty barns – reveal that the photographers were experimenting with the art of photography through movement, flash lighting, double exposures, humour, spontaneous shots, and choreographed composition.

More than a century after these photographs were taken, the worlds they feature appear fleeting. These rare photographs are tangible remnants of the Manitoba Mennonite experience in the early twentieth century.
Read more about Mennonite Village Photography on our News from MHA page!
---
Used Books
We have a good selection of use books related to Mennonite history. Contact us at info@mharchives.ca or call 1-204-560-1998 to place an order. Shipping, taxes and handling are extra. If you don't find the book you are looking for – send us an email, the list is a sample of what we have.
List updated September 2020
Books in German
DeFehr, Sara Heinrich. Im Wandel der Jahre (1975) $20.00
Janzen, Victor. Vom Dnjepr zum Paraguay Fluß (1995) $10.00
Klassen, Horst. Die Backnanger Mennoniten: Von Galizien, Preußland nach Württemberg (1976) $5.00
Lohrenz, Gerhard. Damit es Nicht Vergessen Werde: Ein Bildband zur Geschichte der Mennoniten Preussens und Russlands (1974) $15.00
Quiring, Walter. Im Schweisse Deines Angesichts… (1953) $12.00
Thiessen, Franz. Neuendorf in Bild und Wort: Chortitzaer-Bezirk, Ukraine 1789-1943 (1943) $65.00
Family History
Fehr Family History Committee. The Living Saga of Jacob J. and Helena (Peters) Fehr (2000) $15.00
Frank Froese committee. Froese Family Tree, 1871-1998: Celebrating 50 years in Canada (1998) $10.00
Friesen, Rudy. Descendants of Cornelius Friesen (1986) $20.00
Froese Heritage Committee. What is My House: Peter Kornelius Froese and Descendants (1987) $10.00
Giesbrecht, Agatha. Jacob Harder and Maria Abrams, 1788-1988 (1988) $8.00
Harder, Leland D. and Samuel W. Harder. The Blumstein Legacy: A Six Generation Family Saga (Second Edition, n.d.) $15.00
Klassen, Johann J. Klassen: A Family Heritage (1980) $25.00
Kliewer, Victor. Kliewer: Genealogie der Familie/Genealogy of the Family Peter Kliewer and Anna Adrian, 1813-1992 (1992) $10.00
Mennonite Genealogy, Inc. A Vogt Family History: The Descendants of Andreas Vogt (1854-1914) and Aganetha (Block) Vogt (1857-1930) (1994) $15.00
Neufeld, Herman A. Mary Neufeld and the Repphun Story: From The Molotschna to Manitoba (1987) $20.00
Rempel, Herman. Johan S Rempel and Family, 1830-1899 (1988) $10.00
Sawatzky, Dave and Katherine Schroeder. Karl Hildebrand: Family Tree 1859-1997 (1998) $20.00
Schroeder, Katherine. Karl Hildebrand: Family Tree 1859-1982 (1982) $25.00
The Publications Committee. The Family Book of David and Aganetha Klassen, 1813-1900 (1974) $8.00
Ward, Lynne. David Heinrich Friesen & Family, 1720-2001 (2002) $25.00
Mennonite History
Bergen, Peter and Sommerfeld Mennonite Church. History of the Sommerfeld Mennonite Church (2001) $40.00
Brown, Frank. A History of the Town of Winkler, Manitoba (1973) $10.00
Daniels, Rudy and others, eds. Nordheimer Mennonite Church of Saskatchewan (1975) $8.00
Dyck, John, ed. Bergthal Gemeinde Buch (1993) $25.00
Dyck, Peter and Peter Letkeman. Haskett Centennial History (2007) $12.00
Eidse, Lenore and History Book Committee. Furrows in the Valley: A Centennial Project of the Rural Municipality of Morris 1880-1980 (1980) $45.00
Enns, F.G. Gretna: Window on the Northwest (1987) $25.00
Enns, Mary M. Mia: The Story of a Remarkable Woman (na.) $6.00
Epp, Frank H. Mennonite Exodus (1962) $25.00
Epp, Marlene. Mennonite Women in Canada: A History (2008) $10.00
Fooks, Georgia Green. Prairie Prisoners: POWs in Lethbridge during two world conflicts (2002) $8.00
Friesen, C. Alfred. Memories of the Virgil-Niagara Mennonites: History of the Mennonite Settlement in Niagara-on-the-Lake, Ontario, 1934-84 (1984) $12.00
Friesen, Cornelius. Attention Deficit Disorder to the Call of God: An Autobiography of a Mennonite Boy Growing into Manhood (2006) $8.00
Friesen, Helena Goossen. Daydreams & Nightmares: Life on the Wintergruen Estate (1990) $4.00
Friesen, Ted. Memoirs: A Personal Autobiography of Ted Friesen (2003) $10.00
Gleysteen, Jan. Mennonite Tourguide to Western Europe (1984) $10.00
Gnadenthal History Book Committee. Gnadenthal, 1880-1980 (1982) $15.00
Hague-Osler Reserve Book Committee. Hague-Osler Mennonite Reserve, 1895-1995 (1995) $20.00|
Haury, David A. Index to Mennonite Immigrants on United States Passenger Lists 1872-1904 (1986) $25.00
Janzen, Helen. Memories (1985) $5.00
Klassen, John C. And Jake Krueger. ASM: Alternative Service Memoirs (1995) $20.00
Kreider, Robert S. and Rachel Waltner Goossen. Hungry, Thirsty, a Stranger: The MCC Experience (1988) $10.00
Kroeker, Nettie. Far Above Rubies: The Story of Helena Wiens (1976) $8.00
Neufeld, Dietrich. A Russian Dance of Death (1977) $5.00
Neufeld, Mary. A Prairie Pilgrim: Wilhelm H. Falk (2008) $10.00
Plett, Delbert, ed. Old Colony: Mennonites in Canada 1875 to 2000 (2001) $15.00
Reimer, Gustav E. and G.R. Gaeddert. Exiled by the Czar: Cornelius Jansen and the Great Mennonite Migration, 1874 (1956) $15.00
Schapansky, Henry. Mennonite Migrations (and The Old Colony) (2006) $35.00
Snyder, Peter Etril. A Painter's Harvest: The Works of Peter Etril Snyder (1986) $15.00
Urry, James. Mennonites, Politics, and Peoplehood: Europe – Russia – Canada, 1525 to 1980 (2006) $18.00
Urry, James. None but Saints: The Transformation of Mennonite Life in Russia, 1789-1889 (1989) $20.00
Zacharias, Peter D. Reinland: An Experience in Community (1976) $25.00
Bargain Books from the CMU Press
Not exactly "hot of the press…" but here are some great books for an even better price!
All bargain books are $5.00
Adolf Ens. Becoming a National Church: A history of the Conference of Mennonites in Canada (2004)
Anna Ens. In Search of Unity: Story of the Conference of Mennonites in Manitoba (1996)
Esther Epp-Tiessen. J.J. Thiessen: A Leader for His Time (2001)
Esther Epp-Tiessen. Mennonite Central Committee in Canada: A History (2013)
Henry Poettcker. A President's Journey: The Memoirs of Henry Poettcker (2009)
Lisa Weaver, Julie Kauffman, Judith Rempel Smucker. On the Zwieback Trail: A Russian Mennonite Alphabet of Stories, Recipes and Historic Events (2011)
T.D. Regehr. A Generation of Vigilance: The lives & work of Johannes and Tina Harder (2009)
---
Text To Terabyte Project
The Text to Terabyte Project is made possible by Otto Klassen's gift to distribute his films. This is a joint project between the Centre for Mennonite Brethren Studies and the Mennonite Heritage Archives of Winnipeg. Both centres are national archival centres and have seen demand for services grow. At the same time they are facing new challenges and opportunities with new electronic possibilities.
You can help preserve and make accessible records held at the centres that God's story in the life of the Mennonite and Mennonite Brethren Community. For a donation of $30 ($25 will be receipted) you can choose of Otto Klassen's fascinating documentaries. For $60 choose 2, for a $90 donation choose 3 etc. They make great gifts for family and friends.
Otto has over 50 films to his credit in various languages including English, German, Low German and Spanish. The following are currently available.
To participate please contact the Mennonite Heritage Archives at info@mharchives.ca or 1-204-560-1998.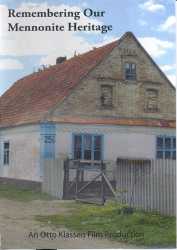 Remembering Our Mennonite Heritage
…traces the origins of the Anabaptist-Mennonite movement and the migration of the persecuted Anabaptist believers to Polish-Prussia in the 16th Century. 250 years later, over one half of these Prussian Mennonites respond to an invitation of the Russian Tsars to settle in southern Russia (in what is now Ukraine) during the years 1789 to 1836; and in central Russia from 1853-1870. The "golden years" of this Mennonite Commonwealth came to an end with the Bolshevik Revolution of 1917. 2007 production, 45 minute DVD.
---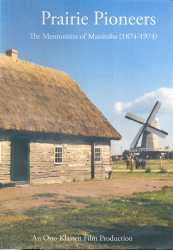 Prairie Pioneers: The Mennonites of Manitoba (1874-1974)
…is Klassen's first full-length film produced in 1974. The film recreates various aspects of pioneer life, such as the building of sod huts (zemlin), and the arrival of Russian-Mennonite settlers at the junction of the Red River and Rat River in 1874. It also includes footage of Manitoba Centennial Celebrations of 1970 in various Manitoba Mennonite communities, including the first ever visit of members of the Royal Family – Queen Elizabeth, Prince Philip and Prince Charles – to a Mennonite village in Canada and the visit of rime Minister Pierre Trudeau to Steinbach. 1974 production, re-mastered in 2007, 43 minute DVD.
---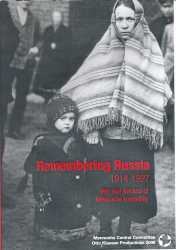 Remembering Russia 1914-1927: War and the end of Mennonite Tranquility
The Mennonites in southern Russia, present-day Ukraine, had become affluent. They worked hard in their tight-knit communities, bound by a common language and faith. That all changed with the beginning of World War I in 1914. A bloody civil war in 1917, churned through the country and ended the Mennonite way of life. Farms, enterprises and churches were expropriated and families died at the hands of marauding anarchists. As their world crumbled thousands of Mennonites fled to Canada. 2006 production, 43 minute DVD.
---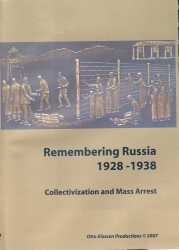 Remembering Russia 1928-1938: Collectivization and Mass Arrest
This DVD documents the spiritual battles and sufferings of Mennonites in Soviet Russia from the introduction of the first Five-Year Plan in October 1928 to the end of The Great Terror in 1938. Soviet plans for the complete collectivization of agriculture, and the closing of all churches struck a hard blow to the traditional Mennonite way of life. Thousands fled to Moscow; others into China. Of those who remained, many suffered the fate of exile to the forests and mines of Northern Russia, Siberia, and Kolyma. Hundreds died during the terrible famine of 1933. Thousands of men and even some women were rounded up by the secret police and exiled to labour camps or simply shot. 2007 production, 52 minute DVD.
Note: also available in German
---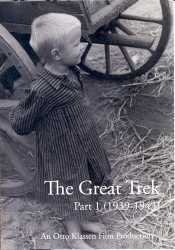 The Great Trek: Part 1 (1939-1943)
Otto Klassen uses rare archival photographs and film footage from the German Bundesarchiv to document the effects of the Soviet-German Non-aggressive Pact (August 1939), the German invasion of the Soviet Union (22 June 1941), and the subsequent two-year occupation of Ukraine on Soviet-Germans and Ukrainians in general and on the Mennonite villages of the Khortitsa and Molochna Settlements in particular. 1992 production re-mastered in 2007, 35 minute DVD.
---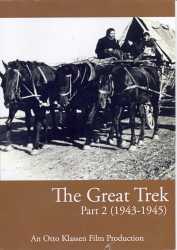 The Great Trek: Part 2 (1943-1945)
Otto Klassen uses rare archival photographs and film footage from the German Bundesarchiv to document the westward retreat of over 350,000 Soviet-Germans and Mennonites in Fall of 1943, their resettlement in German-Occupied Polish territory, and their eventual flight from advancing Red Army forces in the early months of 1945. 1992 production, re-mastered in 2007, 39 minute DVD.
---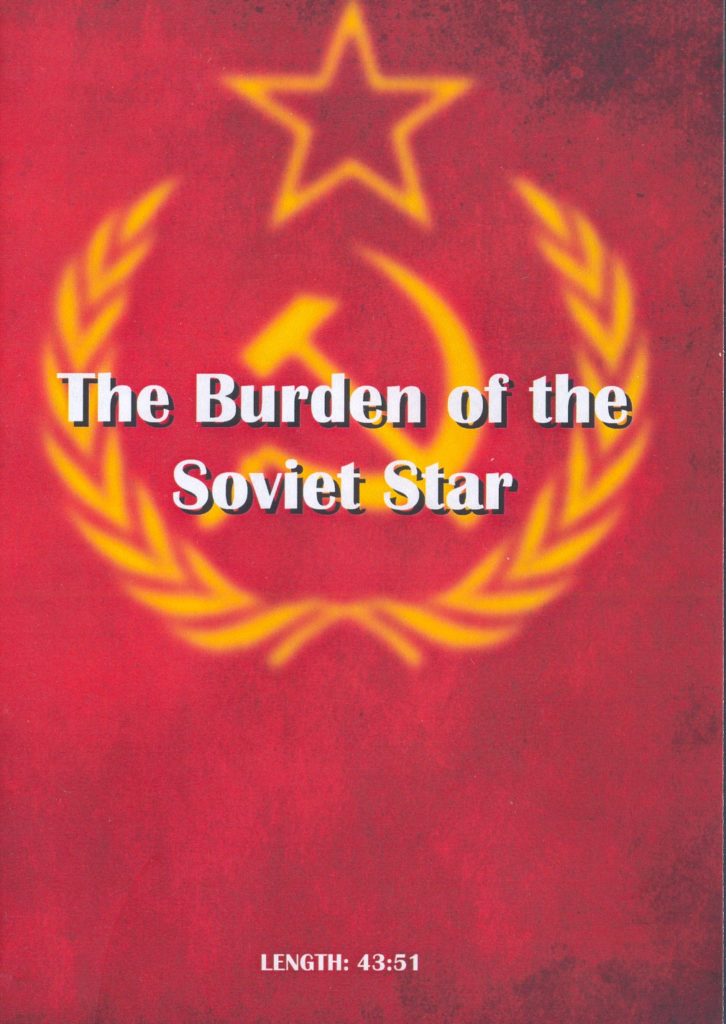 The Burden of the Soviet Star
After the Russian Revolution, famine, and the Great War, Stalin's communism was an even harsher burden especially for those exiled to labor camps. The camps were in isolated areas where conditions were notoriously horrible.
---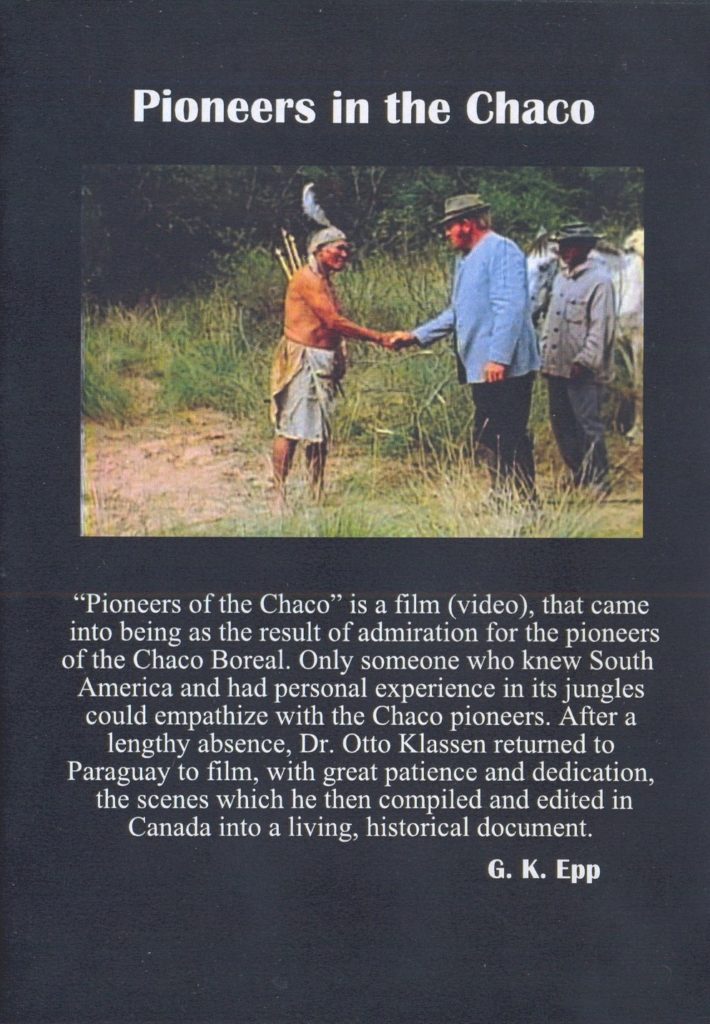 Pioneers in the Chaco
The harsh environment of the Paraguayan Chaco did not scare off the Mennonites who moved there from Canada in the 1920s. With their faith they forged a path into the wilderness which others would soon follow. The heirs of these pioneers have been reaping the rewards based on the pioneers' courage. (45 minutes) (2009)

---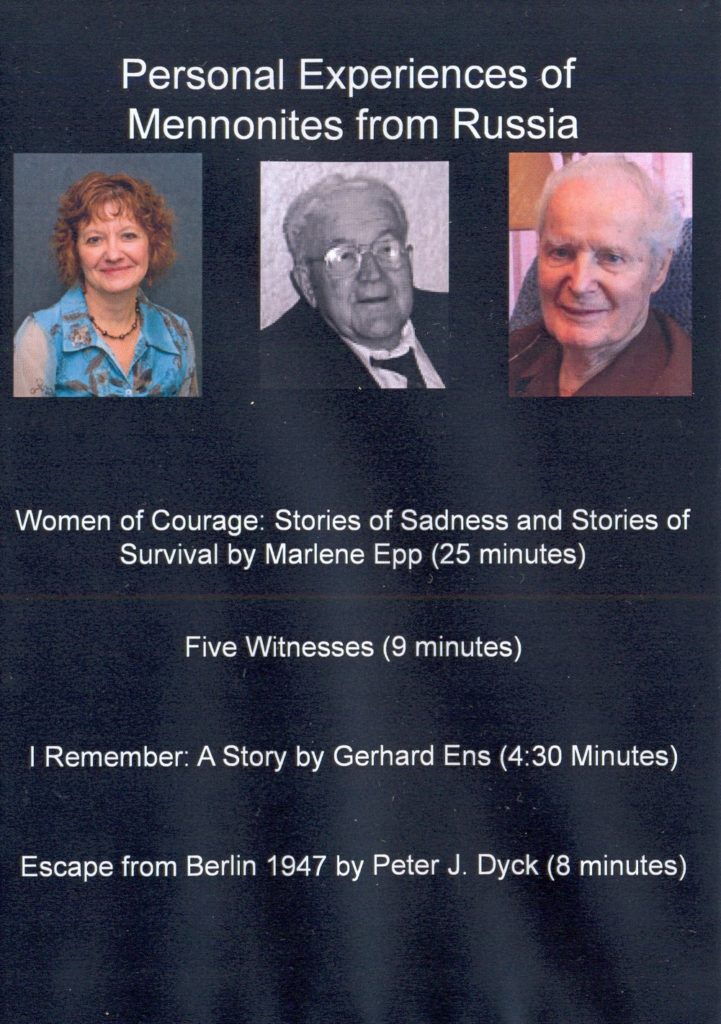 Personal Experiences of Mennonites from Russia
A presentation of four (4) short Otto Klassen Productions featuring speakers such as Dr. Marlene Epp, Professor of History, University of Waterloo; story-teller Peter J. Dyck, teacher Gerhard Ens and others on Mennonites who experienced trauma and terror during early Soviet communism through to World War II. (45 minutes)