---
New Books | Used Books | Text To Terabyte Project
---
*Items can be purchased online at CommonWord.ca, by emailing info@mharchives.ca, or by calling 204-560-1998.
New Books
Mennonite Heritage Archives partners with CommonWord.ca to sell new books. Please go to CommonWord.ca to see the new books we are currently selling.
Featured Items…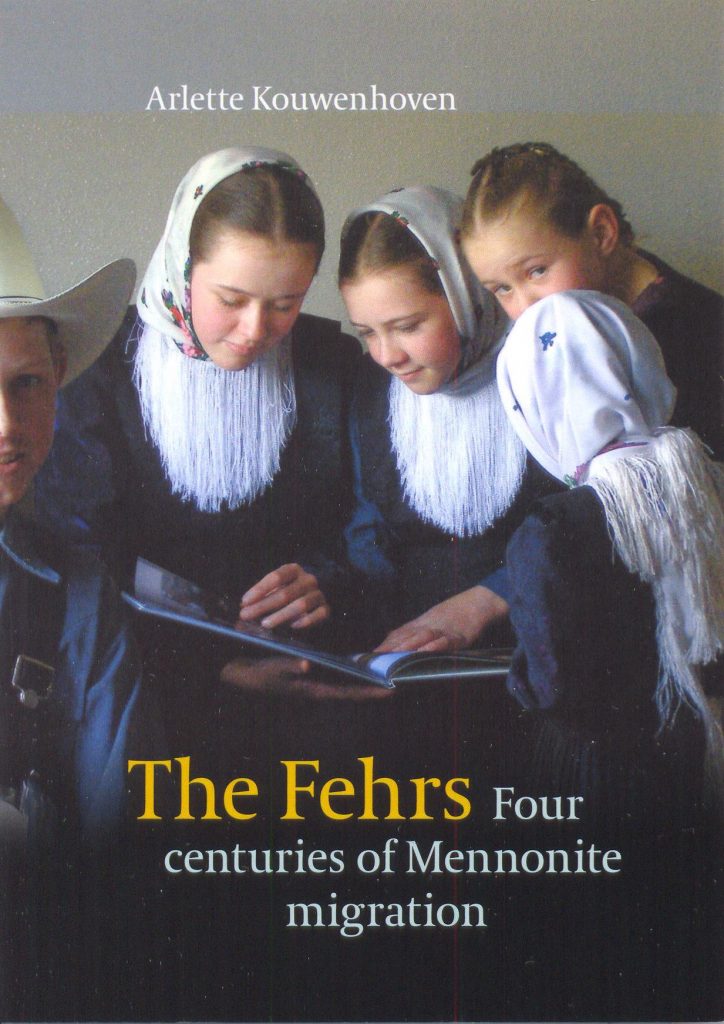 The Fehrs: Four centuries of Mennonite migration (2013)
By Arlette Kouwenhoven
$14.95
Anthropologist and author Arlette Kouwenhoven describes the incredible journey of fifteen generations of Fehrs/DeFehrs in their search for the ultimate place to practice their Mennonite faith. The journey begins in 16th-century Amsterdam, proceeds to Danzig, the Polish Werder, the Russian steppes, Canadian prairies and ends in present-day Mexico. Their story captures the experiences of thousands of Mennonite families through the centuries.
---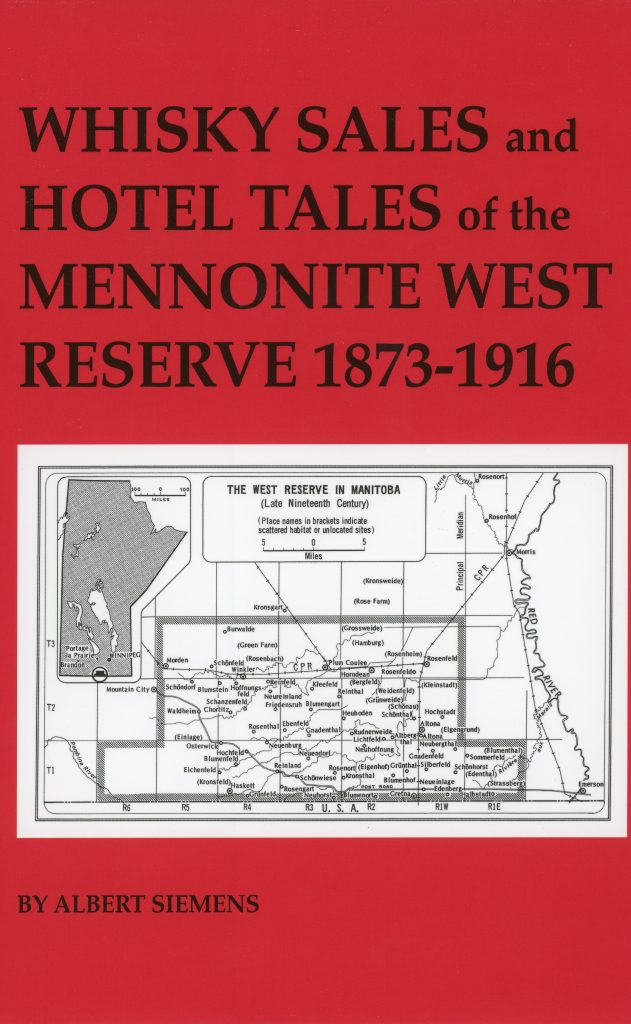 Whisky Sales and Hotel Tales of the Mennonite West Reserve, 1873-1916 (2018)
By Albert Siemens
$60.00 – only 1 left!
Whisky Sales and Hotel Tales of Mennonite West Reserve, 1873-1916 attempts to tell the story of liquor issues and hotel details that have largely been ignored in Mennonite historical studies of the original reserves for Mennonites in Manitoba, perhaps because it may be thought there are few actual details to discuss even though for many people, abstention from liquor consumption is what partly defines being a Mennonite. As with all matters relating to bars, information is scarce from a desire for anonymity among patrons. Thus a truthful exposé of bars/hotels and the consumption of liquor and spirits in the West Reserve becomes very much a forensic study to establish the true situation as facts are often mentioned in innuendo and obfuscation. This often is the case with local histories in retrospect or newspapers in describing current events of the day. Those events relating to West Reserve liquor stores and hotels (a euphemism for many to mean a bar) are often ignored in local histories but in early days the hotels and liquor stores were prominent features in the business life of towns and surrounding areas as were the operators of them in the social life of towns and of leadership roles in the recently emerging frontier settlements.
---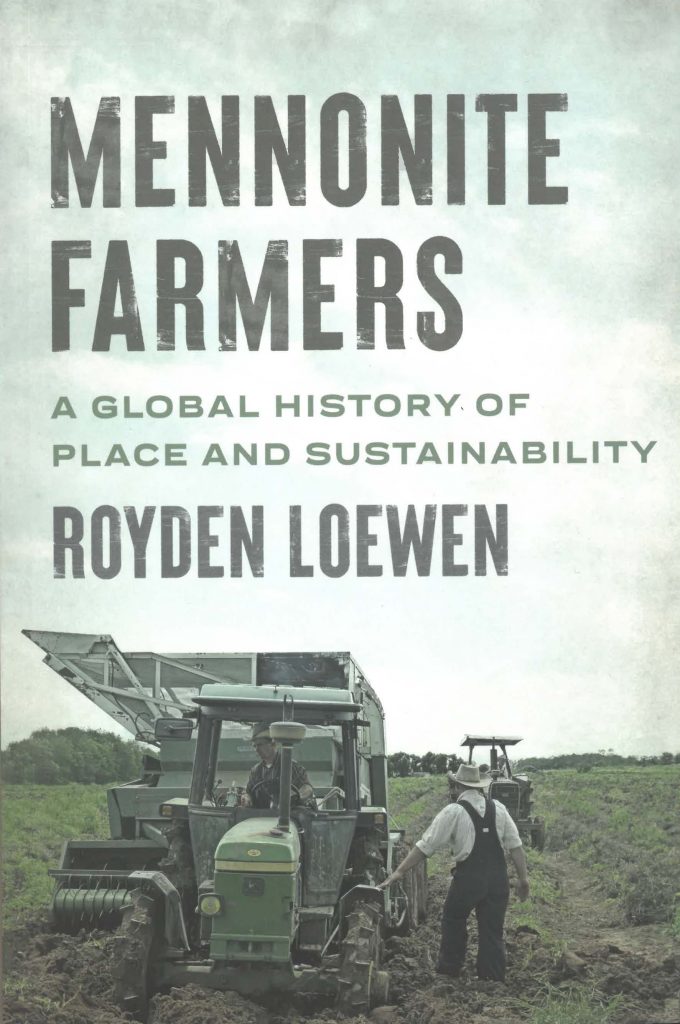 Mennonite Farmers: A Global History of Place and Sustainability (2021)
By Royden Loewen
$31.95 $28.75
Mennonite farmers can be found in dozens of countries spanning five continents. In this comparative world-scale environmental history, Royden Loewen draws on a multi-year study of seven geographically distinctive Anabaptist communities around the world, focusing on Mennonite farmers in Bolivia, Canada, Indonesia, the Netherlands, Russia, the United States, and Zimbabwe. These farmers, who include Amish, Brethren in Christ, and Siberian Baptists, till the land in starkly distinctive climates. They absorb very disparate societal lessons while being shaped by particular faith outlooks, historical memory, and the natural environment. The book reveals the ways in which modern-day Mennonite farmers have adjusted to diverse temperatures, precipitation, soil types, and relative degrees of climate change. These farmers have faced broad global forces of modernization during the twentieth and early twenty-first centuries, from commodity markets and intrusive governments to technologies marked increasingly by the mechanical, chemical, and genetic.
As Mennonites, Loewen writes, these farmers were raised with knowledge of the historic Anabaptist teachings on community, simplicity, and peace that stood alongside ideas on place and sustainability. Nonetheless, conditioned by gender, class, ethnicity, race, and local values, they put their agricultural ideas into practice in remarkably diverse ways. Mennonite Farmers is a pioneering work that brings faith into conversation with the land in distinctive ways.
---
Used Books
We have a good selection of use books related to Mennonite history. Contact us at info@mharchives.ca or call 1-204-560-1998 to place an order. Shipping, taxes and handling are extra. If you don't find the book you are looking for – send us an email, the list is a sample of what we have.
List updated March 2022
With an additional 30% off!
A 30% discount will be applied to any purchase off this March 2022 Used Booklist.
Alberta Mennonite Women in Mission. History of Alberta Mennonite Women in Mission, 1947-1977 (1977) $4.00
B.C. Mennonite Women in Mission. History of B.C. Mennonite Women in Mission, 1939-1976 (1976) $4.00
Davis, Kenneth Ronald. Anabaptism and Asceticism: A Study in Intellectual Origins (1974) $12.00
DeFehr, C. A. Memories Of My Life: Recalled for my Family (1967) $8.00
Driedger, Leo and Leland Harder, eds. Anabaptist-Mennonite Identities in Ferment (1990) $7.00
Driedger, N. N. The Leamington United Mennonite Church: Establishment and Development, 1925-1972 (1972) $7.00
Dyck, Arnold. Henry D. Dyck, trans. Lost in the Steppe (1974) $10.00
Dyck, Cornelius J. An Introduction to Mennonite History: A Popular History of the Anabaptists and the Mennonites, 3rd Edition (1993) $8.00
Dyck, Harvey L., trans. and ed. A Mennonite in Russia: The Diaries of Jacob D. Epp, 1851-1880 (1991) $30.00
Fleischhauer, Ingeborg. Das Dritte Reich und die Deutschen in der Sowjetunion (1983) $8.00
Friesen, Abraham. In Defense of Privilege: Russian Mennonites and the State Before and During World War I (2006) $15.00
Friesen, Mrs. Arlie E., ed. The Descendants of Franz Epp and Franz Isaac (1977) $8.00
Friesen, Rudy R. Building on the Past: Mennonite Architecture, Landscape and Settlements in Russia/Ukraine (2004) $15.00
Hack, Hendrik. Die Kolonisation der Mennoniten im Paraguayischen Chaco (1961) $15.00
Hamm, Martin. Aus der alten in die neue Heimat: Lebensgeschichte eines schlichten Mennoniten (1971) $7.00
Harder, Bernhard J. Alexanderthal: Die Geschichte der letzten deutschen Stammsiedlung in Rußland (1959) $6.00
Hein, David D. Die Ayoreos – unsere Nachbarn: The Mission im noerdlichen Chaco (19-?) $6.00
Hiebert, Clarence, ed. Brothers in Deed to Brothers in Need: A Scrapbook about Mennonite Immigrants from Russia, 1870-1885 (1974) $50.00
Hiebert, Peter M. Die Jacob Nickel Familie: Ein Beitrag Zur Sippenforschung (1972) $4.00
Hildebrandt, Julia, Heinrich Klassen and Gerhard Wölk. Aber wo sollen wir hin: Briefe von Rußlandmennoniten aus der Jahren ihrer Gefangenschaft, Verbannung und Lagerhaft in der Sowjetunion (1998) $12.00
Hooge, Katie. The History of the Canadian Women in Mission, 1952-1977 (1977) $4.00
Huebert, Helmut T. Hierschau: An Example of Russian Mennonite Life (1986) $12.00
Klassen, Peter J. A Homeland for Strangers: An Introduction to Mennonites in Poland and Prussia (1989)$12.00
Klassen, Peter P. Die Deutsch-Völkische Zeit in der Kolonie Fernheim Chaco, Paraguay 1933-1945 (1990) $7.00
Kordan, Bohdan S. Land of the Cossacks: Antiquarian Maps of Ukraine, An Exhibition from the University of Alberta Map Collection, Ukrainian Cultural and Educational Centre and Private Collections (1987) $12.00
Krahn, Cornelius. Dutch Anabaptism: Origin, Spread, Life and Thought (1450-1600) (1968) $7.00
Kreider, Robert S. My Early Years: An Autobiography (2002) $10.00
Kroeger, Arthur. Hard Passage: A Mennonite Family's Long Journey from Russia to Canada (2007) $10.00
Loewen, Julius. Jakob B. Klassen, trans. Jasykowo: Mennonite Colony on the Dnieper (1995) $7.00
Loewen, Royden and Gerald Friesen. Immigrants in Prairie Cities: Ethnic Diversity in Twentieth-Century Canada (2009) $12.00
Loewen, Royden, ed. From the Inside Out: The Rural Worlds of Mennonite Diarists, 1863 to 1929 (1999) $10.00
Manitoba Mennonite Women in Mission. History of Manitoba Mennonite Women in Mission, 1942-1977 (1977) $4.00
Mennonite Jazz Committee. CD: Dawn of Grace (2007) $5.00
Neufeld, Mary. A Prairie Pilgrim: Wilhelm H. Falk (2008) $8.00
Pater, Calvin Augustine. Karlstadt as the Father of the Baptist Movements: The emergence of Lay Protestantism (1984) $10.00
Priess, Anita. Exiled to Siberia = Verbannung nach Siberien (1972) $6.00
Regehr, Walter. Die lebensräumliche Situation der Indianer im paraguayischen Chaco: Humangeographisch-ethnologische Studie zu Subsistenzgrundlage und Siedlungsform akkulturierter Chacovölker (1979) $12.00
Reimer, Gustav E. and G. R. Gaeddert. Exiled by the Czar: Cornelius Jansen and the Great Mennonite Migration, 1874 (1956) $8.00
Reimer, John B. Stammbaum des Johann A. Reimer, Margaretha Funk, und Nachkommenschaft, 1780-1985 (1986) $4.00
Rempel, Henry. A High Price for Abundant Living: The Story of Capitalism (2003) $10.00
Sawatzky, Linda Epp. Side by Side: A memoir of Parents, Anna Enns and Heinrich M. Epp (2010) $10.00
Schartner, Sieghard und Sylvia. Bolivien: Zufluchtsort der konservativen Mennoniten (2009) $8.00
Schreiber, William I. The Fate of the Prussian Mennonites (1955) $4.00
Schroeder, William. The Bergthal Colony, revised edition (1986) $10.00
Stoesz, Edgar. Like a Mustard Seed: Mennonites in Paraguay (2008) $12.00
Stucky, Solomon. The Heritage of the Swiss Volhynian Mennonites (1981) $8.00
Toews, John B. Lost Fatherland: The Story of the Mennonite Emigration from Soviet Russia, 1921-1927 (1967) $8.00
Toews, John B., ed and trans. Letters from Susan: A Woman's View of the Russian Mennonite Experience (1928-1941) (1988) $8.00
Toews, Julius G. and Lawrence Klippenstein, eds. Manitoba Mennonite Memoires: A Century Past but Not Forgotten (1974) $10.00
Unrau, Jake and Johann D. Funk. Living in the Way: The Pilgrimage of Jake & Trudie Unrau (1996) $6.00
… Lowe Farm: 75th Anniversary, 1899-1974 (1974) $6.00
---
Text To Terabyte Project
The Text to Terabyte Project is made possible by Otto Klassen's gift to distribute his films. This is a joint project between the Centre for Mennonite Brethren Studies and the Mennonite Heritage Archives of Winnipeg. Both centres are national archival centres and have seen demand for services grow. At the same time they are facing new challenges and opportunities with new electronic possibilities.
You can help preserve and make accessible records held at the centres that God's story in the life of the Mennonite and Mennonite Brethren Community. For a donation of $30 ($25 will be receipted) you can choose of Otto Klassen's fascinating documentaries. For $60 choose 2, for a $90 donation choose 3 etc. Please note that shipping costs will be added to the total if needed. They make great gifts for family and friends.
Otto has over 50 films to his credit in various languages including English, German, Low German and Spanish. The following are currently available.
To participate please contact the Mennonite Heritage Archives at info@mharchives.ca or 1-204-560-1998.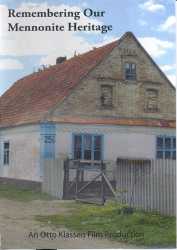 Remembering Our Mennonite Heritage – SOLD OUT
…traces the origins of the Anabaptist-Mennonite movement and the migration of the persecuted Anabaptist believers to Polish-Prussia in the 16th Century. 250 years later, over one half of these Prussian Mennonites respond to an invitation of the Russian Tsars to settle in southern Russia (in what is now Ukraine) during the years 1789 to 1836; and in central Russia from 1853-1870. The "golden years" of this Mennonite Commonwealth came to an end with the Bolshevik Revolution of 1917. 2007 production, 45 minute DVD.
---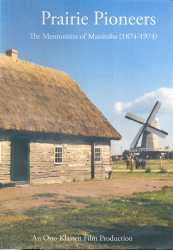 Prairie Pioneers: The Mennonites of Manitoba (1874-1974)
…is Klassen's first full-length film produced in 1974. The film recreates various aspects of pioneer life, such as the building of sod huts (zemlin), and the arrival of Russian-Mennonite settlers at the junction of the Red River and Rat River in 1874. It also includes footage of Manitoba Centennial Celebrations of 1970 in various Manitoba Mennonite communities, including the first ever visit of members of the Royal Family – Queen Elizabeth, Prince Philip and Prince Charles – to a Mennonite village in Canada and the visit of rime Minister Pierre Trudeau to Steinbach. 1974 production, re-mastered in 2007, 43 minute DVD.
---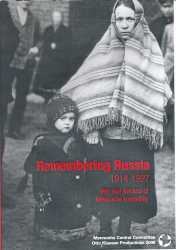 Remembering Russia 1914-1927: War and the end of Mennonite Tranquility
The Mennonites in southern Russia, present-day Ukraine, had become affluent. They worked hard in their tight-knit communities, bound by a common language and faith. That all changed with the beginning of World War I in 1914. A bloody civil war in 1917, churned through the country and ended the Mennonite way of life. Farms, enterprises and churches were expropriated and families died at the hands of marauding anarchists. As their world crumbled thousands of Mennonites fled to Canada. 2006 production, 43 minute DVD.
---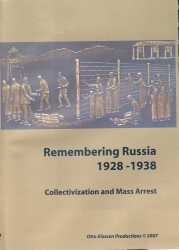 Remembering Russia 1928-1938: Collectivization and Mass Arrest
This DVD documents the spiritual battles and sufferings of Mennonites in Soviet Russia from the introduction of the first Five-Year Plan in October 1928 to the end of The Great Terror in 1938. Soviet plans for the complete collectivization of agriculture, and the closing of all churches struck a hard blow to the traditional Mennonite way of life. Thousands fled to Moscow; others into China. Of those who remained, many suffered the fate of exile to the forests and mines of Northern Russia, Siberia, and Kolyma. Hundreds died during the terrible famine of 1933. Thousands of men and even some women were rounded up by the secret police and exiled to labour camps or simply shot. 2007 production, 52 minute DVD.
Note: also available in German
---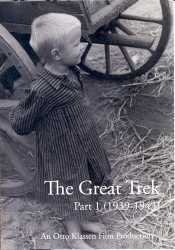 The Great Trek: Part 1 (1939-1943)
Otto Klassen uses rare archival photographs and film footage from the German Bundesarchiv to document the effects of the Soviet-German Non-aggressive Pact (August 1939), the German invasion of the Soviet Union (22 June 1941), and the subsequent two-year occupation of Ukraine on Soviet-Germans and Ukrainians in general and on the Mennonite villages of the Khortitsa and Molochna Settlements in particular. 1992 production re-mastered in 2007, 35 minute DVD.
---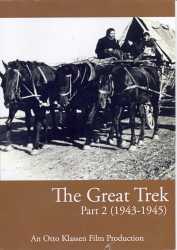 The Great Trek: Part 2 (1943-1945)
Otto Klassen uses rare archival photographs and film footage from the German Bundesarchiv to document the westward retreat of over 350,000 Soviet-Germans and Mennonites in Fall of 1943, their resettlement in German-Occupied Polish territory, and their eventual flight from advancing Red Army forces in the early months of 1945. 1992 production, re-mastered in 2007, 39 minute DVD.
---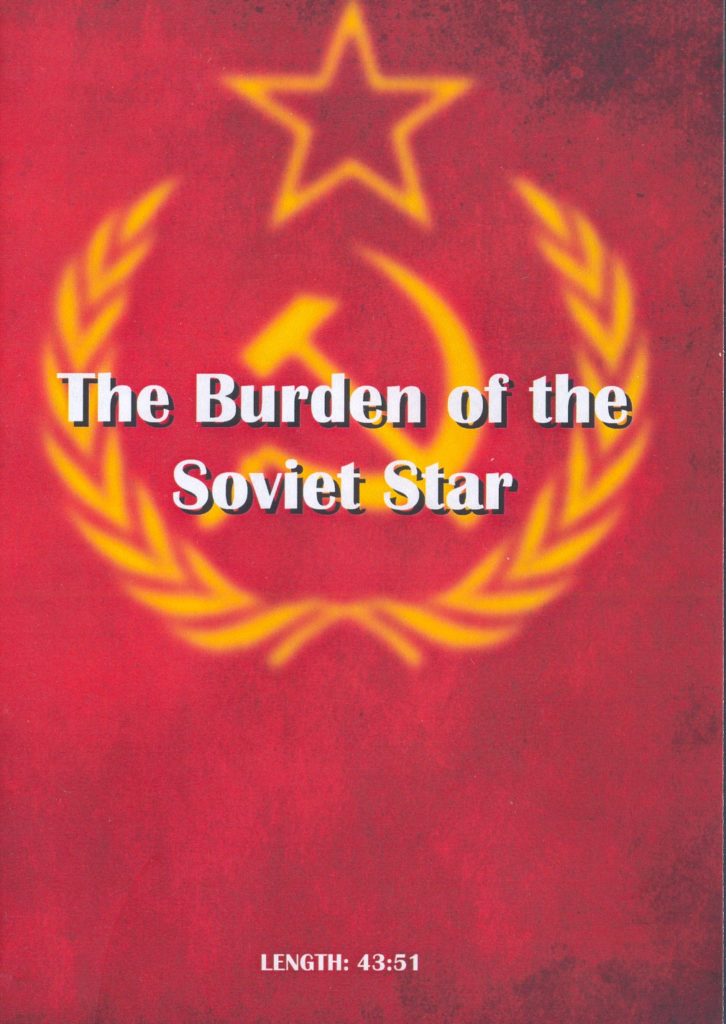 The Burden of the Soviet Star
After the Russian Revolution, famine, and the Great War, Stalin's communism was an even harsher burden especially for those exiled to labor camps. The camps were in isolated areas where conditions were notoriously horrible.
---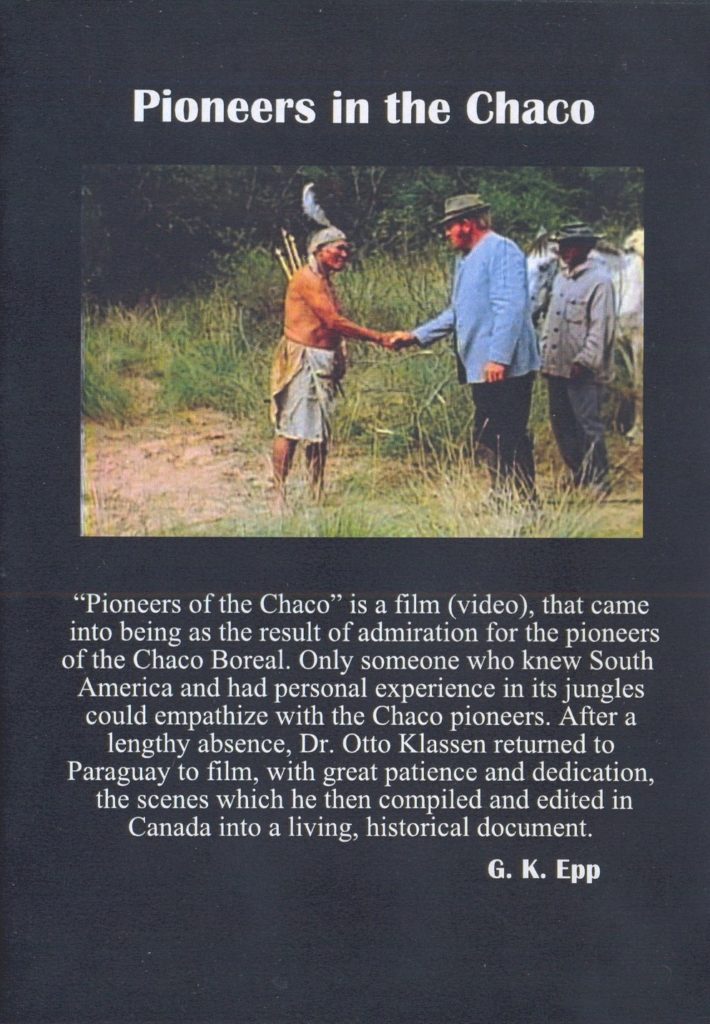 Pioneers in the Chaco
The harsh environment of the Paraguayan Chaco did not scare off the Mennonites who moved there from Canada in the 1920s. With their faith they forged a path into the wilderness which others would soon follow. The heirs of these pioneers have been reaping the rewards based on the pioneers' courage. (45 minutes) (2009)

---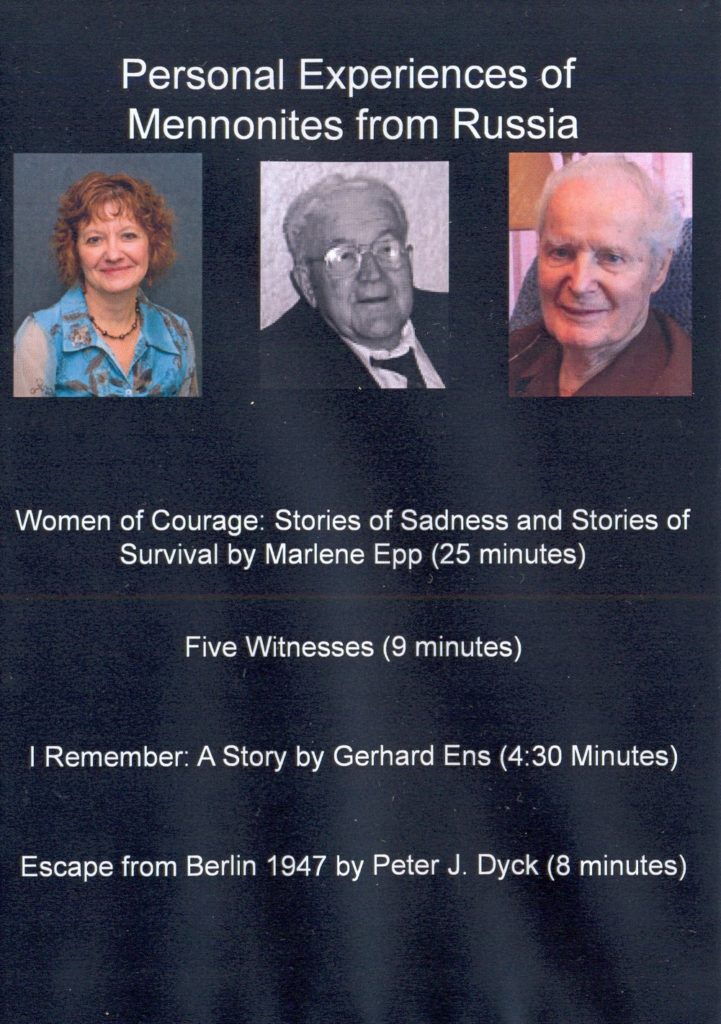 Personal Experiences of Mennonites from Russia
A presentation of four (4) short Otto Klassen Productions featuring speakers such as Dr. Marlene Epp, Professor of History, University of Waterloo; story-teller Peter J. Dyck, teacher Gerhard Ens and others on Mennonites who experienced trauma and terror during early Soviet communism through to World War II. (45 minutes)