---
New Books | Used Books | Text To Terabyte Project
---
*Items can be purchased online at CommonWord.ca, by emailing info@mharchives.ca, or by calling 204-560-1998.
New Books
Mennonite Heritage Archives partners with CommonWord.ca to sell new books. Please go to CommonWord.ca to see the new books we are currently selling.
Featured Items…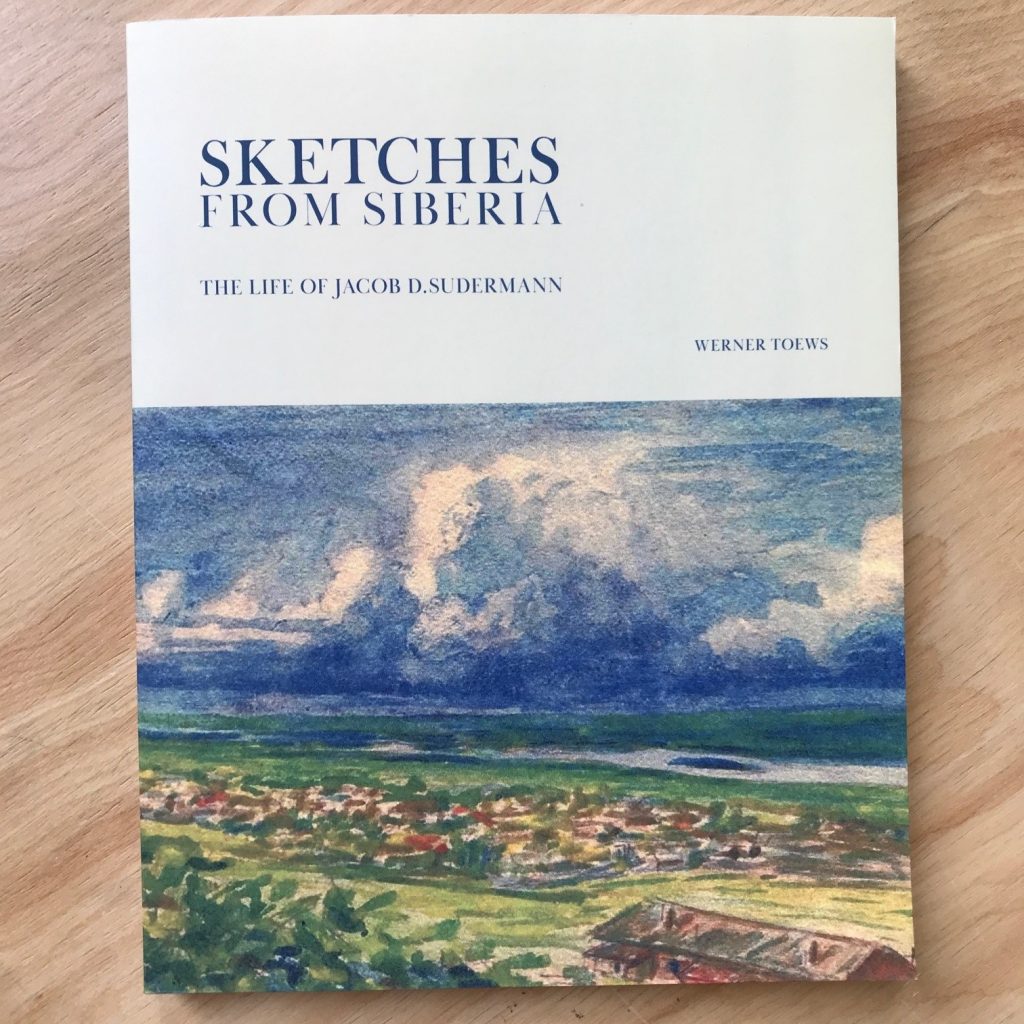 Sketches from Siberia (2018)
By Werner Toews
$29.95
Werner Toews provides a unique look into the life of teacher and artist Jacob D. Sudermann, a victim of Stalin's purges. Illustrated throughout with watercolours by Sudermann, many of which were painted while he was in captivity, this book allows the reader to see the beauty that Sudermann did, despite his situation. This poignant volume includes numerous letters, photographs and even architectural drawings by Sudermann.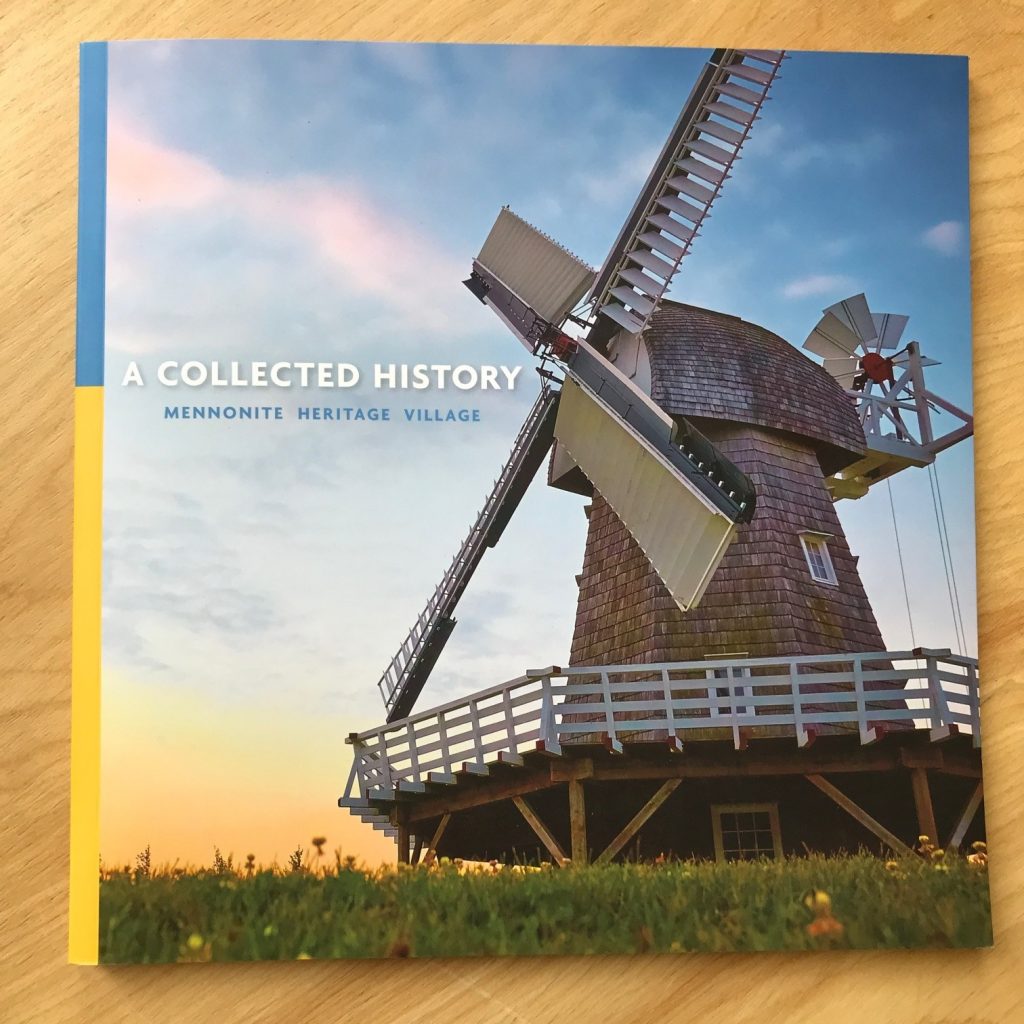 A Collected History: Mennonite Heritage Village (2014) By Roland M. Sawatzky & Andrea M. Dyck $20.00
This exquisite book takes us through the collections of the Mennonite Heritage Village, one carefully selected object at a time. Beautifully photographed household objects celebrate craftsmanship and Mennonite history.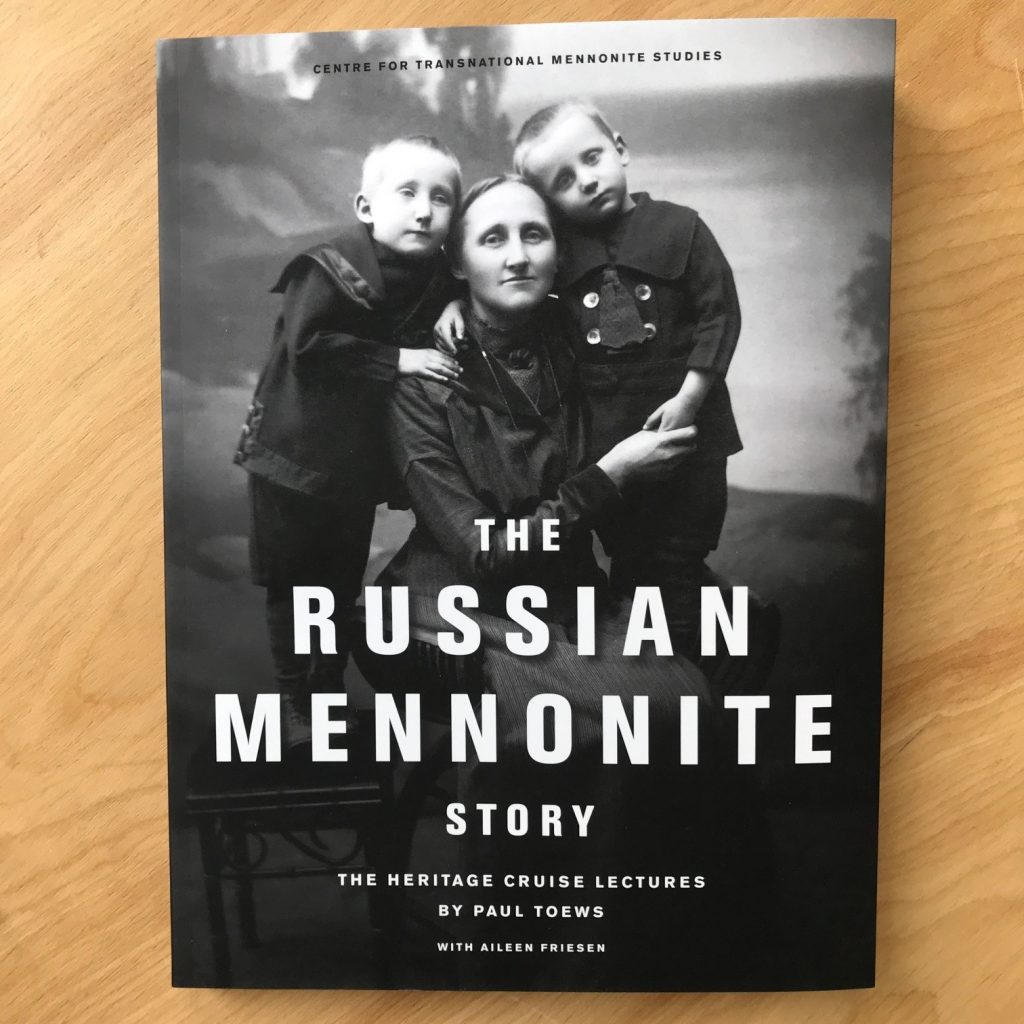 The Russian Mennonite Story (2018) By Paul Toews, with Aileen Friesen $35.00
Told over three lectures, Toews and Friesen explore the contradictions and complexities of the Russian Mennonite experience. Richly illustrated with maps and rare photographs.
---
Used Books
We have a good selection of use books related to Mennonite history. Contact us at info@mharchives.ca or call 1-204-560-1998 to place an order. Shipping, taxes and handling are extra. If you don't find the book you are looking for – send us an email, the list is a sample of what we have.
List updated September 2022
Bergen, Isaak. The George Krahn Family: 1839-1999 (1999) $20.00
Bergen, John Jacob. A Slice Out of My Life (2006) $15.00
Bergen, Peter. History of the Sommerfeld Mennonite Church (2001) $20.00
Bestvater, J., et al. The Family of Abram P. Martens: 1875-1985 (1984) $20.00
Braun Family Tree Committee. Braun Family Tree Book (1994) $20.00
Brucks, Jacob H., Henry P. Hooge, John Isaak, trans., Tena Wiebe, ed. Neu-Samara: A Mennonite Settlement East of the Volga (2002) $10.00
Derksen, Lynda, et al. Our Heritage, Our Treasure: Zoar Mennonite Church, Langham, Saskatchewan, 1910-1985 (1985) $15.00
Dick, Ernest J. Courage, Courage, The Lord Will Help: The Family History of Johann P. Dück and the Descendants from Schönfeld, Southern Russia (1990) $20.00
Doerksen, Mrs. B. P., and Mrs. A. U. Klassen. Genealogy of Peter K. Barkman: 1826-1977 (1977) $20.00
Doerksen, Paul G., and Karl Koop. Ed. The Church Made Strange for the Nations: Essays in Ecclesiology and Political Theology (2011) $10.00
Drescher, John M., et al.In Grief's Lone Hour – Eleven pamphlets about grief (1969-1989) $5.00
Dyck, Cornelius J. ed. A Legacy of Faith: A Sixtieth Anniversary Tribute to Cornelius Krahn (1962) $10.00
Dyck, Elfrieda & Peter. Up from the Rubble (1991) $15.00
Epp, Frank H. Mennonite Peoplehood: A Plea for New Initiatives (1977) $10.00
Epp, Frank H. Your neighbour as yourself: A study on responsibility in immigration (1968) $10.00
Epp, John Mark. John H. Epp: A Biography (1993) $20.00
Fretz, Jospeh Winfield. Immigrant Group Settlements in Paraguay (1962) $10.00
Friesen Epp, Elsie H. All in Our Family Tree: The Mennonite Heritage and Descendants of Johann Klassen, 1787 (1983) $20.00
Friesen, Josephine. Breaking Ground: Three Generations of Mennonite Women in the Canadian West (2001) $8.00
Friesen, Martin W. 50 Jahre Kolonie Menno: Chaco-Paraguay-1927-1977 (1977) $10.00
Grunthal History Book Committee. Grunthal History: 1874-1974 (1974) $10.00
Guenter, Jacob G. Men of Steele: Life Style of a Unique Sect, Saskatchewan Valley Mennonite Settlers and their Descendants (1981) $25.00
Harder Book Committee. Jacob Harder and Maria Abrams: 1788-1988 ($20.00)
Hawkley, Louise and James C. Juhnke, ed. Nonviolent America: History Through the Eyes of Peace (1993) $10.00
Hiebert, Dianne, and Marj Heinrichs. My Journey: Sydney R.C. Reimer (2009) $10.00
Hildebrand, Dianne. Upholding the Old, Embracing the New: The Life of P J B Reimer, Teacher, Minister, and Mennonite Historian (2014) $10.00
Hildebrand Chornoboy, Eleanor. Faspa: A Snack of Mennonite Stories (2003) $10.00
Hoeppner, Ben. Das Dorf Friedensruh (1972) $8.00
Hoover, Peter, with Serguie V. Petrov. The Russians' Secret (1999) $5.00
Huebert, Helmut T. Mennonite Estates in Imperial Russia (2005) $30.00
Huebert, Helmut T. 1937 – Stalin's Year of Terror (2009) $20.00
Jantzen, Erica. Sheer Survival: From Brazil to Kyrgyzstan (2007) $5.00
Janzen, William. Mennonite Submissions to the Canadian Government: A Collection of Documents Prepared by the Ottawa Office of Mennonite Central Committee Canada 1975 – 1990 (1990) $20.00
Klassen, Agatha E., ed. Yarrow: A Portrait in Mosaic (1976) $15.00
Kroeker, Nettie. Far Above Rubies: The Story of Helena Wiens (1976) $8.00
Lohrenz, Gerhard. The Odyssey of the Bergen Family (1978) $10.00
Neudorf, J.J. Aus Meinem Leben (1970) $20.00
Nuefeld, Regina H. Hiebert Heritage: 1833-1993, Descendants of Jacob S. and Katherina Hiebert (1993) $25.00
Peters, Darlene. The Penner-Hiebert Family History (1984) $20.00
Peters, P.J. Driftwood and Other Poems (1978) $10.00
Reimer, Al. When War Came to Kleindarp and more Kleindarp Stories (2008) $5.00
Sawatzky, Mary. The Friesens: 1839-1991, Descendents of Great Grandparents Abram and Susanna Friesen-Russia (1991) $20.00
Sider, Ronald J. Rich Christians in an Age of Hunger: A Biblical Study (1974) $8.00
Schneider, Heinrich. Mennonitisches Adreßbuch (1936) $30.00
Stahl, Mrs. Jacob M. The History of the Hutterite Mennonites (1974) $15.00
Suderman Klassen, Elizabeth. Trailerblazer for the Brethren: The Story of Johann Claassen, a Leader in the Early Mennonite Church (1978) $8.00
---
Text To Terabyte Project
The Text to Terabyte Project is made possible by Otto Klassen's gift to distribute his films. This is a joint project between the Centre for Mennonite Brethren Studies and the Mennonite Heritage Archives of Winnipeg. Both centres are national archival centres and have seen demand for services grow. At the same time they are facing new challenges and opportunities with new electronic possibilities.
You can help preserve and make accessible records held at the centres that God's story in the life of the Mennonite and Mennonite Brethren Community. For a donation of $30 ($25 will be receipted) you can choose of Otto Klassen's fascinating documentaries. For $60 choose 2, for a $90 donation choose 3 etc. Please note that shipping costs will be added to the total if needed. They make great gifts for family and friends.
Otto has over 50 films to his credit in various languages including English, German, Low German and Spanish. The following are currently available.
To participate please contact the Mennonite Heritage Archives at info@mharchives.ca or 1-204-560-1998.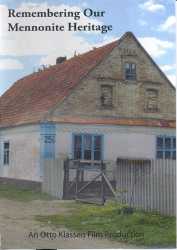 Remembering Our Mennonite Heritage – SOLD OUT
…traces the origins of the Anabaptist-Mennonite movement and the migration of the persecuted Anabaptist believers to Polish-Prussia in the 16th Century. 250 years later, over one half of these Prussian Mennonites respond to an invitation of the Russian Tsars to settle in southern Russia (in what is now Ukraine) during the years 1789 to 1836; and in central Russia from 1853-1870. The "golden years" of this Mennonite Commonwealth came to an end with the Bolshevik Revolution of 1917. 2007 production, 45 minute DVD.
---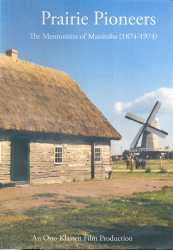 Prairie Pioneers: The Mennonites of Manitoba (1874-1974)
…is Klassen's first full-length film produced in 1974. The film recreates various aspects of pioneer life, such as the building of sod huts (zemlin), and the arrival of Russian-Mennonite settlers at the junction of the Red River and Rat River in 1874. It also includes footage of Manitoba Centennial Celebrations of 1970 in various Manitoba Mennonite communities, including the first ever visit of members of the Royal Family – Queen Elizabeth, Prince Philip and Prince Charles – to a Mennonite village in Canada and the visit of rime Minister Pierre Trudeau to Steinbach. 1974 production, re-mastered in 2007, 43 minute DVD.
---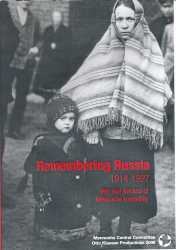 Remembering Russia 1914-1927: War and the end of Mennonite Tranquility
The Mennonites in southern Russia, present-day Ukraine, had become affluent. They worked hard in their tight-knit communities, bound by a common language and faith. That all changed with the beginning of World War I in 1914. A bloody civil war in 1917, churned through the country and ended the Mennonite way of life. Farms, enterprises and churches were expropriated and families died at the hands of marauding anarchists. As their world crumbled thousands of Mennonites fled to Canada. 2006 production, 43 minute DVD.
---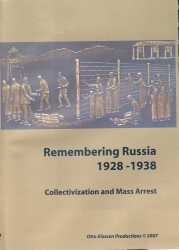 Remembering Russia 1928-1938: Collectivization and Mass Arrest
This DVD documents the spiritual battles and sufferings of Mennonites in Soviet Russia from the introduction of the first Five-Year Plan in October 1928 to the end of The Great Terror in 1938. Soviet plans for the complete collectivization of agriculture, and the closing of all churches struck a hard blow to the traditional Mennonite way of life. Thousands fled to Moscow; others into China. Of those who remained, many suffered the fate of exile to the forests and mines of Northern Russia, Siberia, and Kolyma. Hundreds died during the terrible famine of 1933. Thousands of men and even some women were rounded up by the secret police and exiled to labour camps or simply shot. 2007 production, 52 minute DVD.
Note: also available in German
---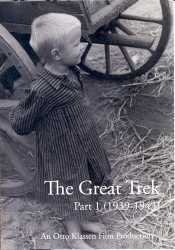 The Great Trek: Part 1 (1939-1943)
Otto Klassen uses rare archival photographs and film footage from the German Bundesarchiv to document the effects of the Soviet-German Non-aggressive Pact (August 1939), the German invasion of the Soviet Union (22 June 1941), and the subsequent two-year occupation of Ukraine on Soviet-Germans and Ukrainians in general and on the Mennonite villages of the Khortitsa and Molochna Settlements in particular. 1992 production re-mastered in 2007, 35 minute DVD.
---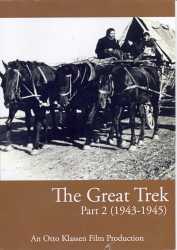 The Great Trek: Part 2 (1943-1945)
Otto Klassen uses rare archival photographs and film footage from the German Bundesarchiv to document the westward retreat of over 350,000 Soviet-Germans and Mennonites in Fall of 1943, their resettlement in German-Occupied Polish territory, and their eventual flight from advancing Red Army forces in the early months of 1945. 1992 production, re-mastered in 2007, 39 minute DVD.
---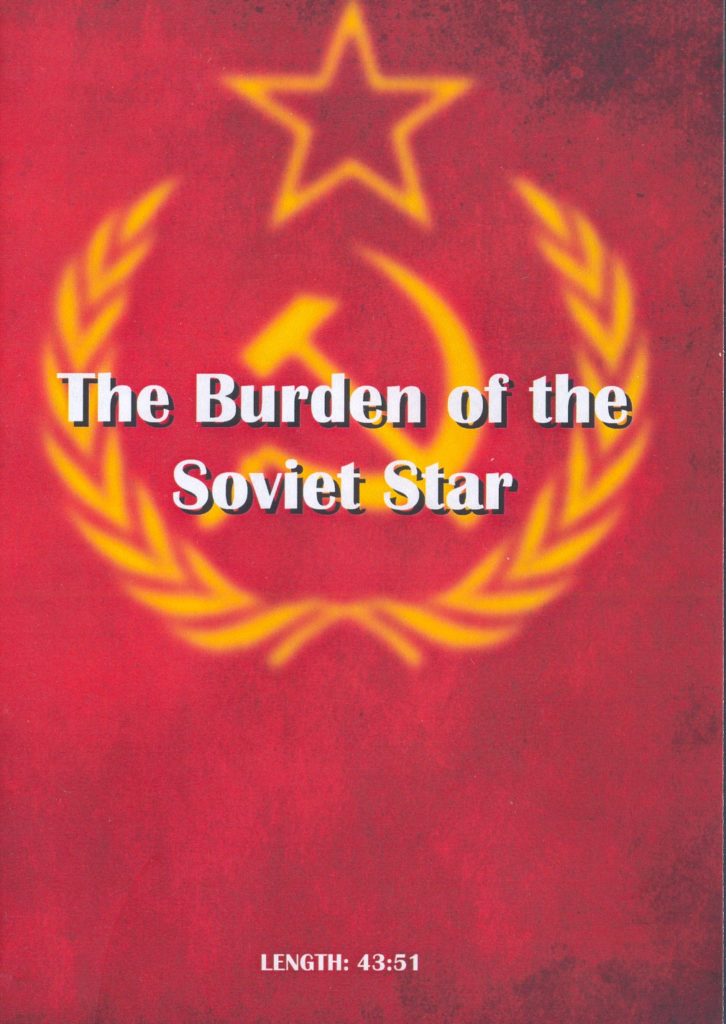 The Burden of the Soviet Star
After the Russian Revolution, famine, and the Great War, Stalin's communism was an even harsher burden especially for those exiled to labor camps. The camps were in isolated areas where conditions were notoriously horrible.
---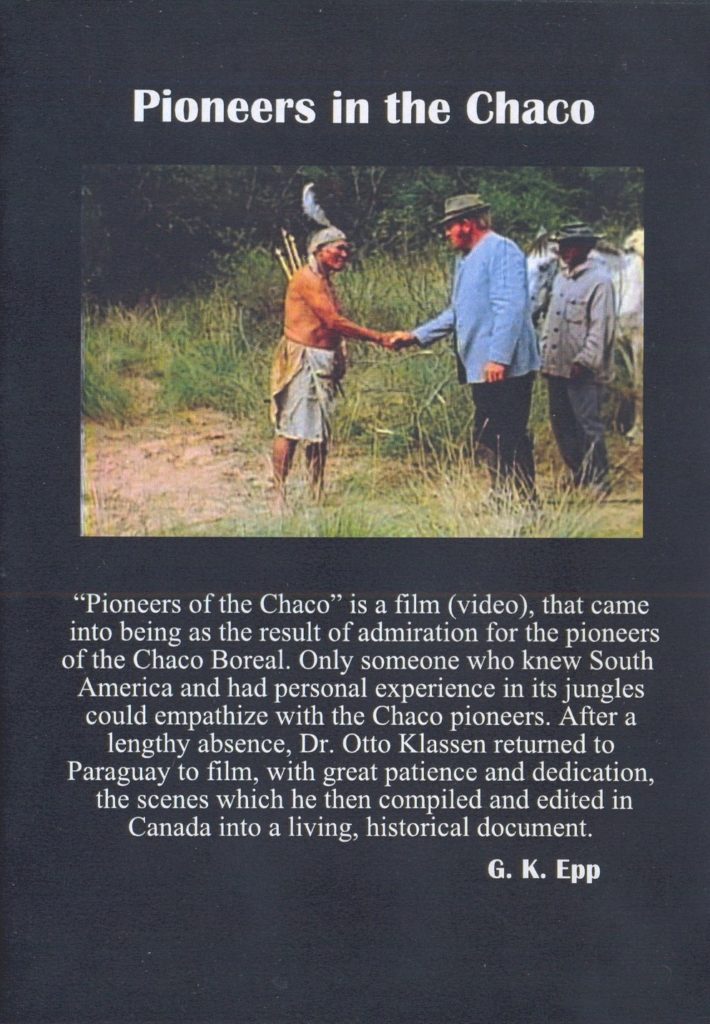 Pioneers in the Chaco
The harsh environment of the Paraguayan Chaco did not scare off the Mennonites who moved there from Canada in the 1920s. With their faith they forged a path into the wilderness which others would soon follow. The heirs of these pioneers have been reaping the rewards based on the pioneers' courage. (45 minutes) (2009)

---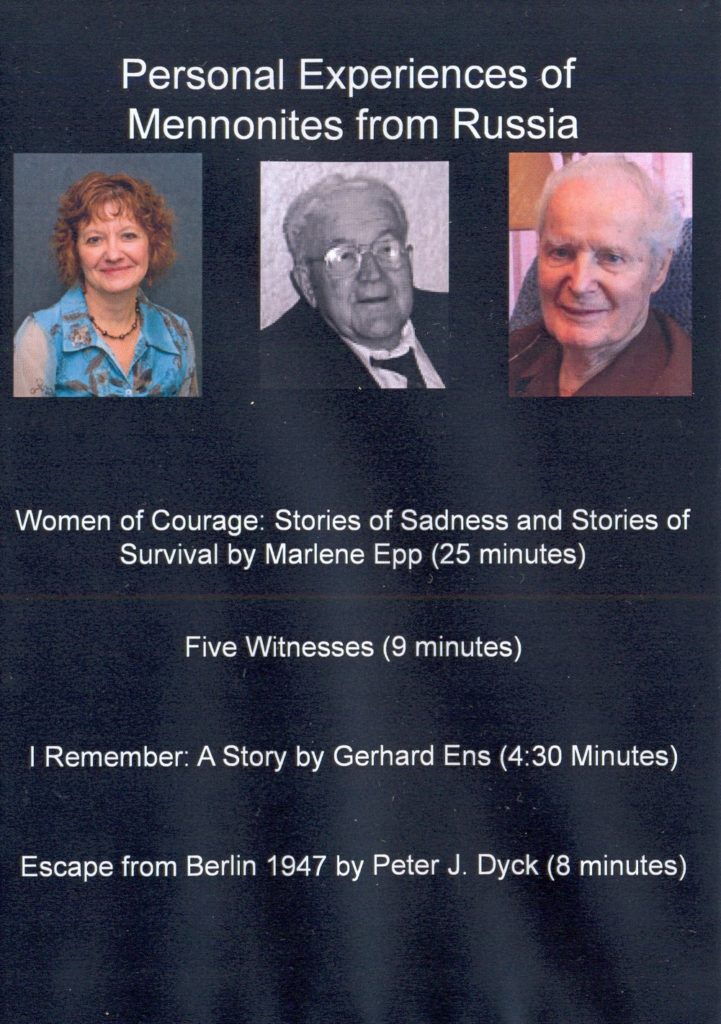 Personal Experiences of Mennonites from Russia
A presentation of four (4) short Otto Klassen Productions featuring speakers such as Dr. Marlene Epp, Professor of History, University of Waterloo; story-teller Peter J. Dyck, teacher Gerhard Ens and others on Mennonites who experienced trauma and terror during early Soviet communism through to World War II. (45 minutes)