---
New Books | Used Books | Text To Terabyte Project
---
*Items can be purchased online at CommonWord.ca, by emailing info@mharchives.ca, or by calling 204-560-1998.
New Books
Mennonite Heritage Archives partners with CommonWord.ca to sell new books. Please go to CommonWord.ca to see the new books we are currently selling.
Featured Items…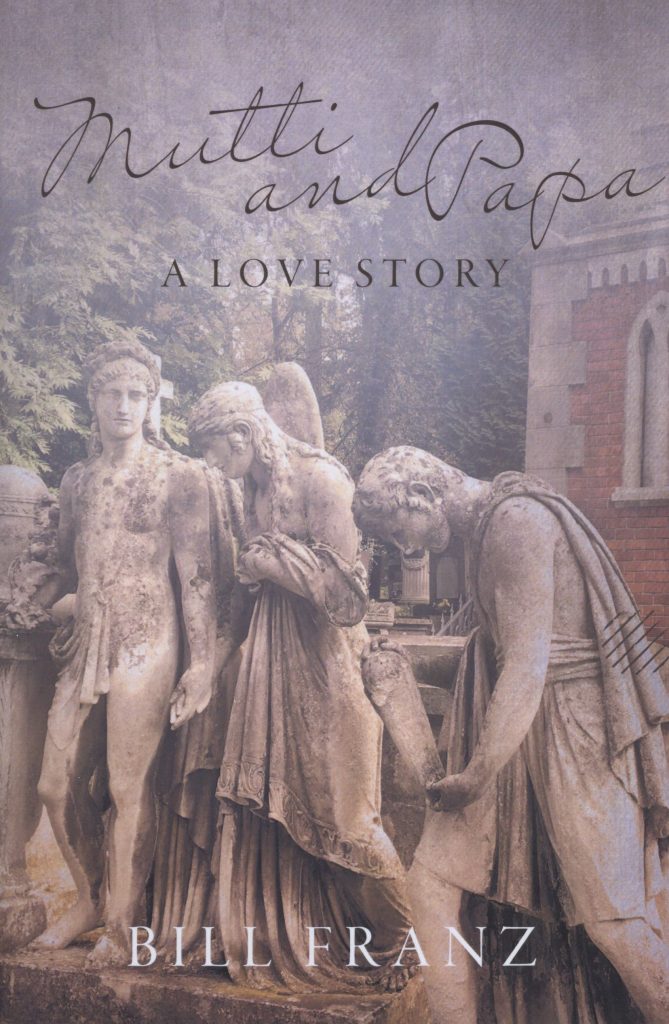 Mutti and Papa: A Love Story (2021)
By Bill Franz
$25.00
When Nazi Germany invaded the Soviet Union in 1941, Stalin ordered the deportation of Russian citizens of German descent to Siberia. After his father and uncles were sent off to the Gulag, sixteen-year-old Johann Franz volunteered to join the Wehrmacht as an interpreter. This eventually saw him wounded and evacuated to Austria. He met and fell in love with the young Polish-born Ella Weber in a refugee camp in Germany.
The product of more than sixty years of reflection, Mutti and Papa is a family history that traces the love story of the parents of author Bill Franz, Mennonite refugees fleeing war-torn Europe, over the course of World War II. The story is largely told through their love letters to one another, across continents, while his father, Johann, awaits immigration to Canada to join his fiancée, Franz's mother, Ella. Beyond these letters, a patchwork of fascinating secondary sources is consulted to present a fuller picture of the Franz family history, which, in turn, gestures to cultural legacies of Mennonite migration to Canada and involvement in World War II more broadly.
Set against the backdrop of the cataclysmic events of the Holocaust and Second World War, the love story of Ella and Johann is at once a fascinating historical account, a happy romance, and an earnest examination of what it's like to strive for a future while struggling to cope with life as a refugee. Offering a fresh perspective on the layered and nuanced histories of the Holocaust, Mennonite culture, and love during wartime, Mutti and Papa is sure to interest history buffs and romantics alike.
---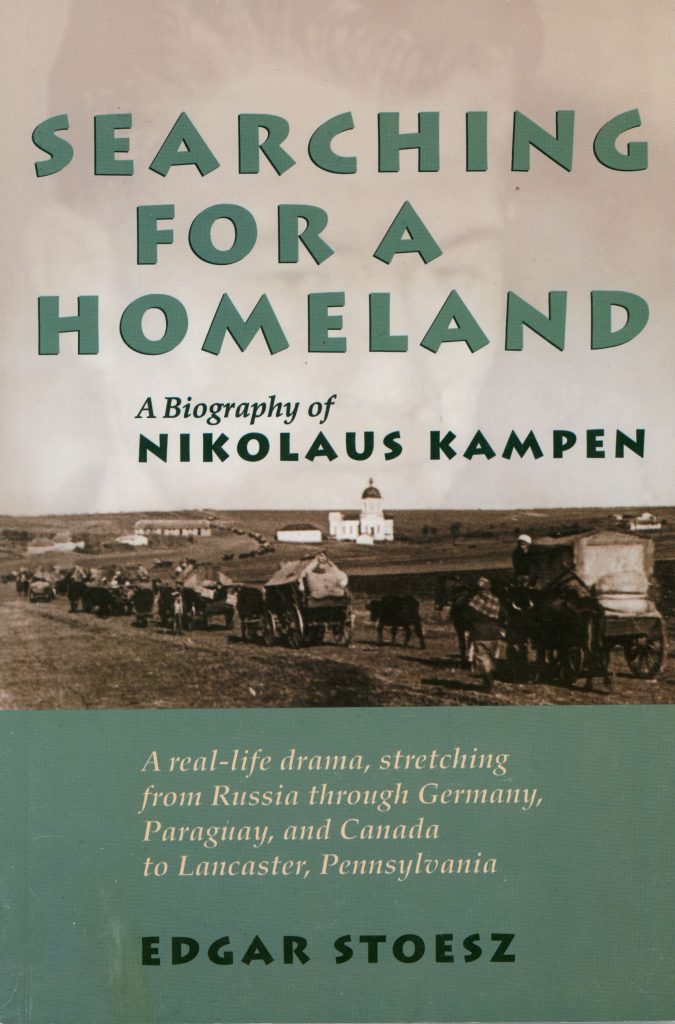 Searching for a Homeland: A Biography of Nikolaus Kampen (2012)
By Edgar Stoesz
$20.00
"The biography of Nikolaus Kampen is more than a story; it's a pilgrimage of faith and family. Through it all the Kampen family relied on each other and sought direction from God. This is a compelling story of how God's mercies endure forever." – Amy Gingerich (Herald Press), Harrisonburg, Virginia
---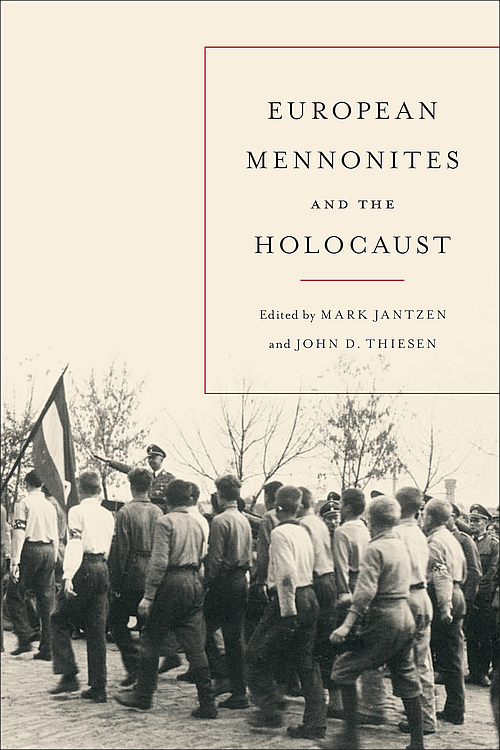 European Mennonites and the Holocaust (2021)
Edited by Mark Jantzen and John D. Thiesen
$39.95
During the Second World War, Mennonites in the Netherlands, Germany, occupied Poland, and Ukraine lived in communities with Jews and close to various Nazi camps and killing sites. As a result of this proximity, Mennonites were neighbours to and witnessed the destruction of European Jews. In some cases they were beneficiaries or even enablers of the Holocaust. Much of this history was forgotten after the war, as Mennonites sought to rebuild or find new homes as refugees. The result was a myth of Mennonite innocence and ignorance that connected their own suffering during the 1930s and 1940s with earlier centuries of persecution and marginalization.
European Mennonites and the Holocaust identifies a significant number of Mennonite perpetrators, along with a smaller number of Mennonites who helped Jews survive, examining the context in which they acted. In some cases, theology led them to accept or reject Nazi ideals. In others, Mennonites chose a closer embrace of German identity as a strategy to improve their standing with Germans or for material benefit.
A powerful and unflinching examination of a difficult history, European Mennonites and the Holocaust uncovers a more complete picture of Mennonite life in these years, underscoring actions that were not always innocent.
---
Used Books
We have a good selection of use books related to Mennonite history. Contact us at info@mharchives.ca or call 1-204-560-1998 to place an order. Shipping, taxes and handling are extra. If you don't find the book you are looking for – send us an email, the list is a sample of what we have.
List updated September 2021
Bartel, Elizabeth Reimer. About Those Reimers: A Memoir (2010) $12.00
Bestvater, J., M. Harder, J.W. Martens and H. Peters, eds. The Family of Abram P. Martens 1875-1985 (1984) $25.00
Charyk, John C. Syrup Pails and Gopher Tails: Memoires of the One-Room School (1983) $10.00
Doell, Leonard. The Bergthaler Mennonite Church of Saskatchewan, 1892-1975 (1987) $10.00
Dyck, Arnold. Henry D. Dyck, trans. Lost in the Steppe (1974) $8.00
Dyck, Cornelius J., ed. Spiritual Life in Anabaptism: Classic Devotional Resources (1995) $15.00
Epp, John Mark. John H. Epp: A Biography (1993) $15.00
Fehr, Don, James Jakob Fehr, Peter D Zacharias, and John Dyck. A family gathering of the descendants of Heinrich Fehr (15 Jun 1846–12 Sep 1911) and Sarah Neufeld (18 Jun 1847–4 Sep 1922) (2003) $12.00
Friesen, Abe, ed. Peter Friesen and Maria Rempel Descendants, 1828-1994 (1994) $25.00
Friesen, C. Alfred. Memories of Virgil-Niagara Mennonites: History of the Mennonite Settlement in Niagara-on-the-Lake, Ontario 1934-1984 (1984) $15.00
Friesen, Johann J., trans. A Family Book from 1694 to 1916 and Personal Experiences by Peter Isaac (1980) $8.00
Friesen, John, ed. Mennonites in Russia, 1788-1988: Essays in Honour of Gerhard Lohrenz (1989) $15.00
Friesen, Peter M. The Mennonite Brotherhood in Russia (1789-1910) (1980) $15.00
Friesen, T.E. A History of DWFriesen: A Unique Company 1907-1993 (1993) $12.00
Friesen, Ted. Memories: A Personal Autobiography of Ted Friesen (2003) $10.00
Froese, Margaret, Susan Drysdale, and Cathy Elchuk, eds. Peter (Reimer) and Maria Froese (1987) $15.00
Gossen, Jacob. A Family Chronicle, Gossen 1804-1929: 125 Years in Russia (1983) $8.00
Halbstadt Heritage Book Committee. Halbstadt Heritage: Halbstadt, Strassberg, Blumenthal (Houston) 1879-2005 (2005) $25.00
Heinrichs, Daniel. Adventures of a Mennonite: From the Dry Thirties out into the World (1996) $5.00
Hildebrand, Jacob. A Backward Glance (1982) $6.00
Hildebrand, Marjorie. Elm Grove Farm: The story of the ancestors and descendants of Bernhard and Helena Hildebrand, 1679-1998 (1998) $12.00
Hoffer, John. The History of the Hutterites, Revised Edition (1996) $8.00
Huebert, Helmut T. Hierschau: An Example of Russian Mennonite Life (1986) $15.00
Jantz, Harold. Canadian Mennonite Brethren, 1910-2010: Leaders Who Shaped Us (2010) $10.00
Jeffery, Mary Dueck. Aeltester Johann Funk: A Family Tree with Notes on His Life and Work (1980) $15.00
Kornelius Heinrichs History Society. Kornelius Heinrichs and his Descendents, 1782-1979 (1980) $15.00
Klassen, Elizabeth Suderman. Trailblazer for the Brethren (1978) $8.00
Loewen, Royden. Horse-and-Buggy Genius: Listening to Mennonites Contest the Modern World (2016) $15.00
Loewen, Solomon Leppke. The Peter Lohrentz Family 1811-1980 (1980) $25.00
Neufeld, Ernest. Ernestly! Happy Yesterdays (1990) $12.00
Neufeld, Regina H. Hiebert Heritage 1833-1993: Descendants of Jacob S. and Katherina Hiebert (1993) $15.00
Nickel, John P., ed. The Nikkel-Nickel Family of Prussia, Russia, America, and Canada (1981) $20.00
Patkau, Esther. The Paethkeau Book, 1714-1987 Volume 1 (1987) and The Paethkeau Book, 1714-1987 Volume 2 (1996) $45.00
Peters, K., ed. Genealogy of Aron Martens 1754-1977 (1977) $12.00
Peters, K., ed. Genealogy of Cornelius Willms 1730-1972 (1973) $12.00
Priess, Anita. Exiled to Siberia = Verbannung nach Siberien (1972) $8.00
Redekop, Calvin. Strangers Become Neighbors: Mennonite and Indigenous Relations in the Paraguayan Chaco (1980) $10.00
Regier, Helen E. The Friesens, 1768-1983 (1983) $15.00
Reimer, Gustav E. and G.R. Gaeddert. Exiled by the Czar: Cornelius Jansen and the Great Mennonite Migration, 1874 (1956) $15.00
Reimer, Mavis. Cornelius W. Wiebe: A Beloved Physician (1983) $8.00
Sawatzky, Mary. The Friesens 1839-1991: Descendants of Great Grandparents Abram and Susanna Friesen, Russia (1991) $8.00
Schmitt, Etta S. Genealogy of Johann Gerbrandt (1808-1881) (1980) $15.00
Siemens, Henry J., Katharina and Jacob Bergmann, and Cornelius P. Hiebert, eds. The Story of Johan and Helena (Toews) Hiebert and Descendants (1983) $20.00
Schroeder, Anna, ed. Changes: Anecdotal tales of changes in the life of Anna Born, 1888-1992 (1995) $8.00
Snyder, C. Arnold, and Linda A. Huebert Hecht, eds. Profiles of Anabaptist Women: Sixteenth-Century Reforming Pioneers (1996) $25.00
Studer, Gerald C. Christopher Dock: Colonial Schoolmaster, The Biography and Writings of Christopher Dock (1967) $15.00
The Committee for the Abram T. Funk family reunion. The House of Funks (1992) $12.00
The Froese Heritage Committee. What is My House: The Story of the Peter K. Froese Family (1987) $15.00
The Peter Friesen Family. Descendants of Cornelius Friesen (1986) $15.00
The Spencer Schools Reunion Committee. Spencer Reflections (1986) $12.00
…. Descendants of Franz Kornelius ISAAK and Maria BRAUN, nee Ens (1976) $10.00
…. Elim Gemeinde, Grunthal, Manitoba 1927-1972 (1972) $10.00
…. The Koop Family Register 1801-1975 (1975) $12.00
---
Text To Terabyte Project
The Text to Terabyte Project is made possible by Otto Klassen's gift to distribute his films. This is a joint project between the Centre for Mennonite Brethren Studies and the Mennonite Heritage Archives of Winnipeg. Both centres are national archival centres and have seen demand for services grow. At the same time they are facing new challenges and opportunities with new electronic possibilities.
You can help preserve and make accessible records held at the centres that God's story in the life of the Mennonite and Mennonite Brethren Community. For a donation of $30 ($25 will be receipted) you can choose of Otto Klassen's fascinating documentaries. For $60 choose 2, for a $90 donation choose 3 etc. Please note that shipping costs will be added to the total if needed. They make great gifts for family and friends.
Otto has over 50 films to his credit in various languages including English, German, Low German and Spanish. The following are currently available.
To participate please contact the Mennonite Heritage Archives at info@mharchives.ca or 1-204-560-1998.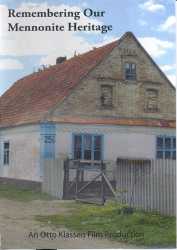 Remembering Our Mennonite Heritage – SOLD OUT
…traces the origins of the Anabaptist-Mennonite movement and the migration of the persecuted Anabaptist believers to Polish-Prussia in the 16th Century. 250 years later, over one half of these Prussian Mennonites respond to an invitation of the Russian Tsars to settle in southern Russia (in what is now Ukraine) during the years 1789 to 1836; and in central Russia from 1853-1870. The "golden years" of this Mennonite Commonwealth came to an end with the Bolshevik Revolution of 1917. 2007 production, 45 minute DVD.
---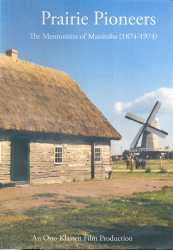 Prairie Pioneers: The Mennonites of Manitoba (1874-1974)
…is Klassen's first full-length film produced in 1974. The film recreates various aspects of pioneer life, such as the building of sod huts (zemlin), and the arrival of Russian-Mennonite settlers at the junction of the Red River and Rat River in 1874. It also includes footage of Manitoba Centennial Celebrations of 1970 in various Manitoba Mennonite communities, including the first ever visit of members of the Royal Family – Queen Elizabeth, Prince Philip and Prince Charles – to a Mennonite village in Canada and the visit of rime Minister Pierre Trudeau to Steinbach. 1974 production, re-mastered in 2007, 43 minute DVD.
---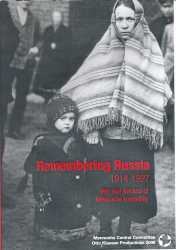 Remembering Russia 1914-1927: War and the end of Mennonite Tranquility
The Mennonites in southern Russia, present-day Ukraine, had become affluent. They worked hard in their tight-knit communities, bound by a common language and faith. That all changed with the beginning of World War I in 1914. A bloody civil war in 1917, churned through the country and ended the Mennonite way of life. Farms, enterprises and churches were expropriated and families died at the hands of marauding anarchists. As their world crumbled thousands of Mennonites fled to Canada. 2006 production, 43 minute DVD.
---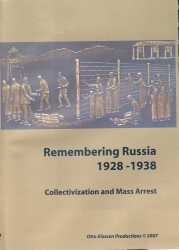 Remembering Russia 1928-1938: Collectivization and Mass Arrest
This DVD documents the spiritual battles and sufferings of Mennonites in Soviet Russia from the introduction of the first Five-Year Plan in October 1928 to the end of The Great Terror in 1938. Soviet plans for the complete collectivization of agriculture, and the closing of all churches struck a hard blow to the traditional Mennonite way of life. Thousands fled to Moscow; others into China. Of those who remained, many suffered the fate of exile to the forests and mines of Northern Russia, Siberia, and Kolyma. Hundreds died during the terrible famine of 1933. Thousands of men and even some women were rounded up by the secret police and exiled to labour camps or simply shot. 2007 production, 52 minute DVD.
Note: also available in German
---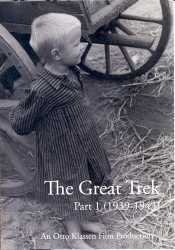 The Great Trek: Part 1 (1939-1943)
Otto Klassen uses rare archival photographs and film footage from the German Bundesarchiv to document the effects of the Soviet-German Non-aggressive Pact (August 1939), the German invasion of the Soviet Union (22 June 1941), and the subsequent two-year occupation of Ukraine on Soviet-Germans and Ukrainians in general and on the Mennonite villages of the Khortitsa and Molochna Settlements in particular. 1992 production re-mastered in 2007, 35 minute DVD.
---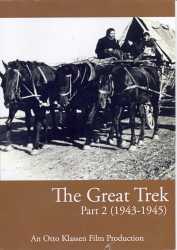 The Great Trek: Part 2 (1943-1945)
Otto Klassen uses rare archival photographs and film footage from the German Bundesarchiv to document the westward retreat of over 350,000 Soviet-Germans and Mennonites in Fall of 1943, their resettlement in German-Occupied Polish territory, and their eventual flight from advancing Red Army forces in the early months of 1945. 1992 production, re-mastered in 2007, 39 minute DVD.
---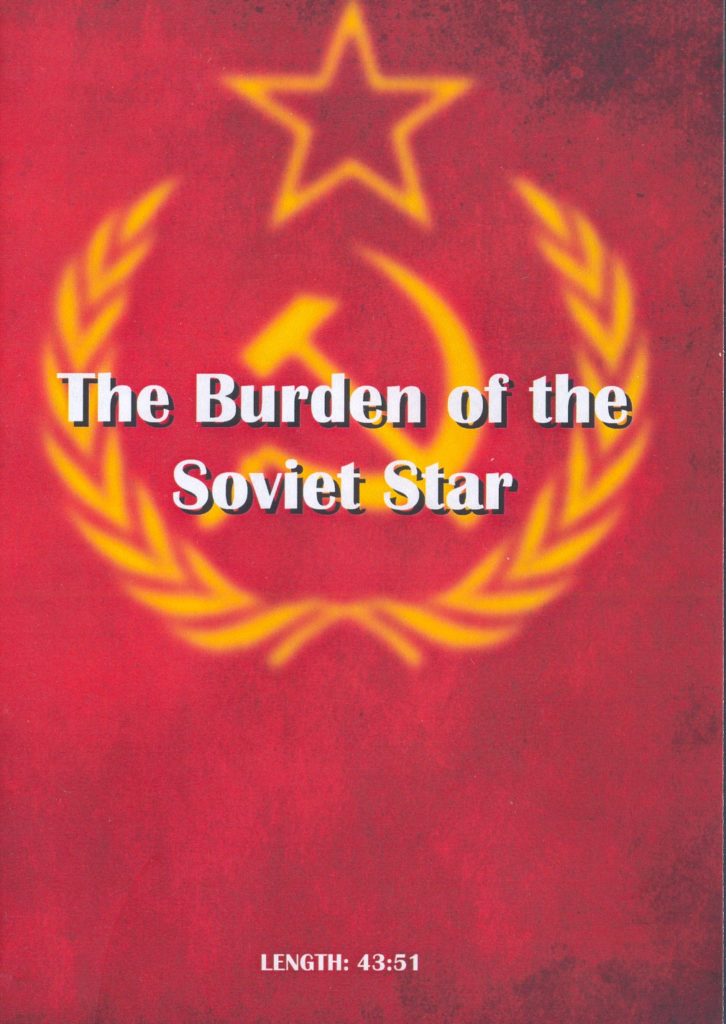 The Burden of the Soviet Star
After the Russian Revolution, famine, and the Great War, Stalin's communism was an even harsher burden especially for those exiled to labor camps. The camps were in isolated areas where conditions were notoriously horrible.
---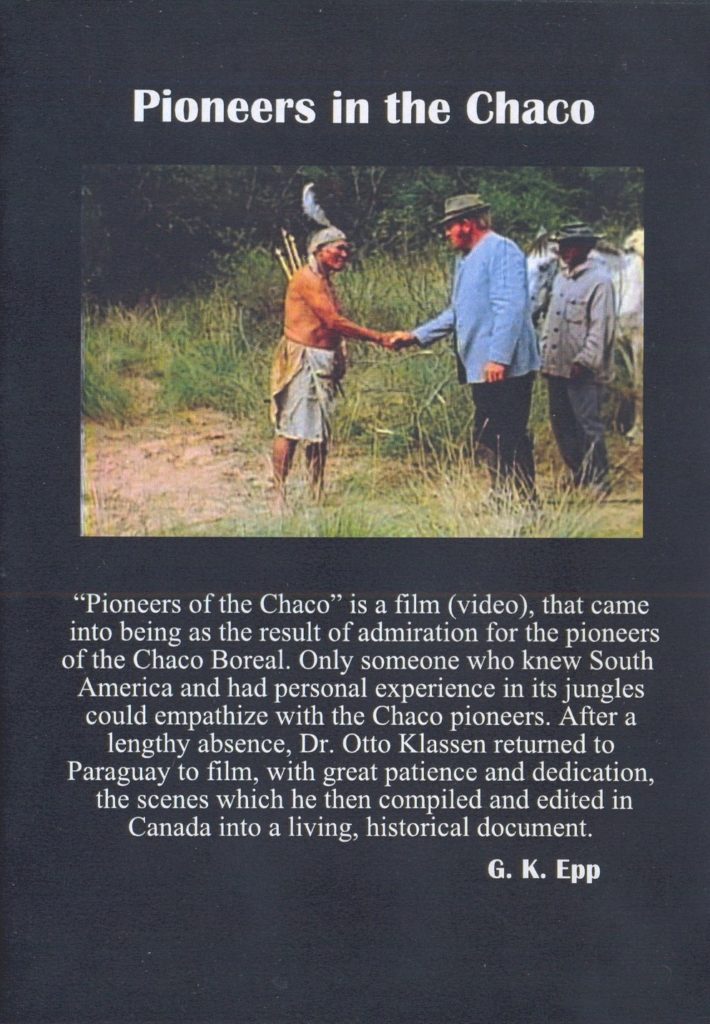 Pioneers in the Chaco
The harsh environment of the Paraguayan Chaco did not scare off the Mennonites who moved there from Canada in the 1920s. With their faith they forged a path into the wilderness which others would soon follow. The heirs of these pioneers have been reaping the rewards based on the pioneers' courage. (45 minutes) (2009)

---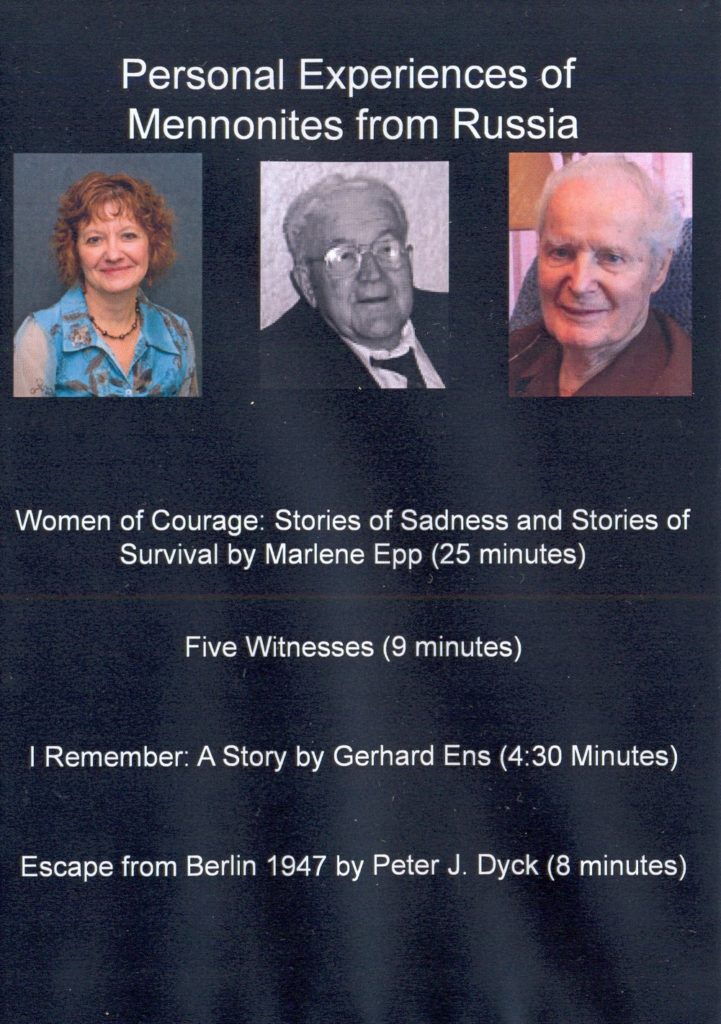 Personal Experiences of Mennonites from Russia
A presentation of four (4) short Otto Klassen Productions featuring speakers such as Dr. Marlene Epp, Professor of History, University of Waterloo; story-teller Peter J. Dyck, teacher Gerhard Ens and others on Mennonites who experienced trauma and terror during early Soviet communism through to World War II. (45 minutes)