---
New Books | Used Books | Text To Terabyte Project
---
*Items can be purchased online at CommonWord.ca, by emailing info@mharchives.ca, or by calling 204-560-1998.
New Books
Mennonite Heritage Archives partners with CommonWord.ca to sell new books. Please go to CommonWord.ca to see the new books we are currently selling.
Featured Items…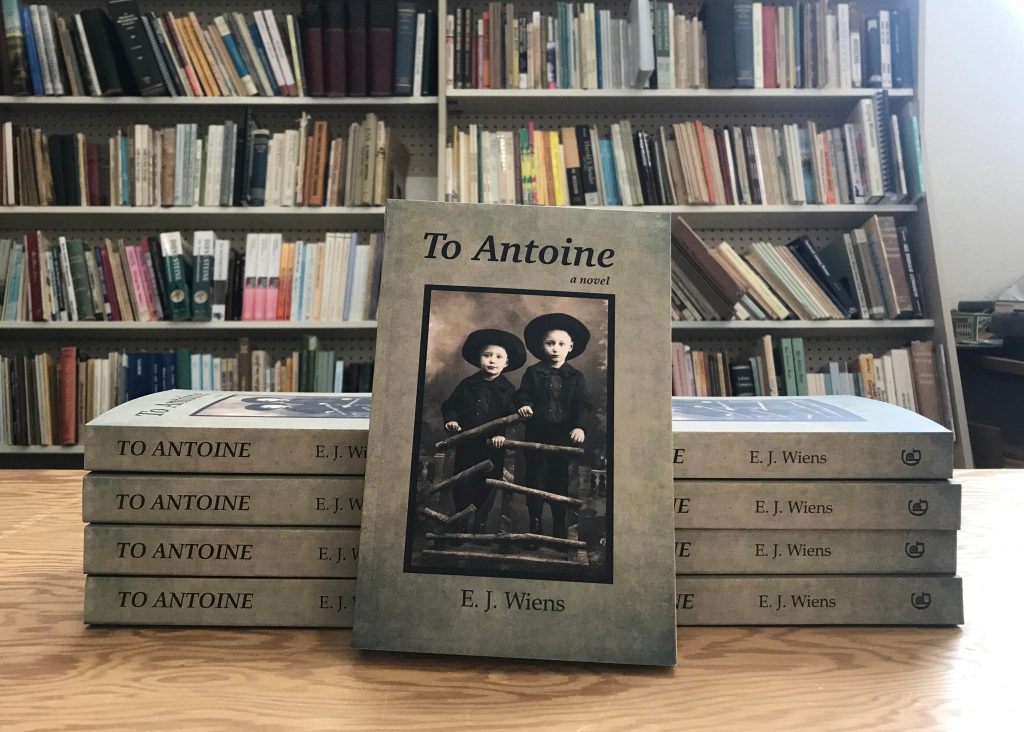 To Antoine: A Novel (2022)
By E.J. Wiens
$25.95
Peter Enns, facing judgement as a war criminal, relives his childhood and youth in a Mennonite village during the Stalinist terrors, his early adulthood among genocidal Nazis, his decade-long sojourn among refugees in the Paraguayan Chaco, and finally his troubled success as a teacher in Canada. While he awaits his fate he struggles with his judgement upon himself, haunted by looming figured from his Mennonite past, by memories of his lost loves in war-torn Europe, and by his strained relationships with his daughter and his Jewish friend in Canada. And above all, he is haunted by the shrouded presence of Antoine, his mentor and idol during his youth and early adulthood.
---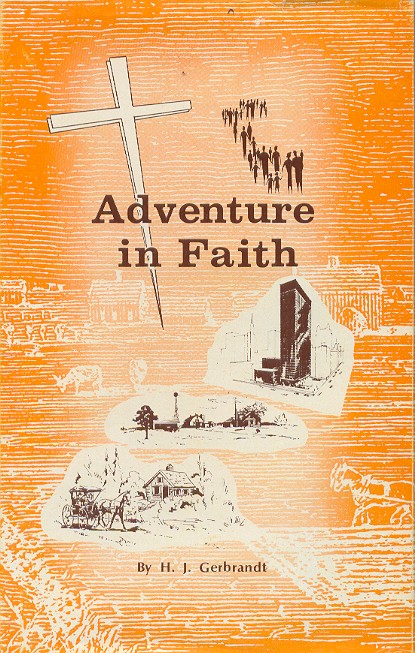 Adventure in Faith: the Background in Europe and the development in Canada of the Bergthaler Mennonite Church of Manitoba (1970)
By Henry J. Gerbrandt
$10.00 On Sale for Only $7.00
This book is a history of the Bergthaler Mennonite Church of Manitoba starting with its background in Europe and continuing with its development in Canada. The Bergthaler Mennonite Church of Manitoba was one of the founding denominations of what became Conference of Mennonites in Canada (later known as Mennonite Church Canada). Postscript to Adventure in Faith, (1986) which traces the story of the final sixteen years of this church, is also available.
---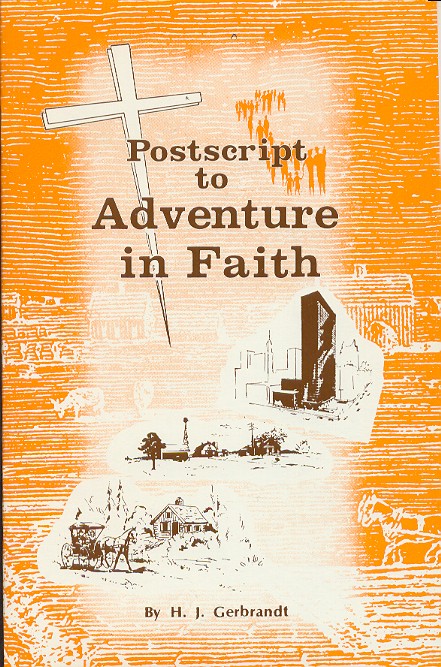 Postscript of Adventure in Faith (1986)
By Henry J. Gerbrandt
$2.00 On Sale for Only $1.40
This booklet traces the story of the final years of the group of Manitoba congregations collectively known as the Bergthaler Mennonite Church after the 1967 Central Brotherhood meeting decision "to discontinue the one central elder (bishop) system and authorize all local leaders to be ordained to serve communion and baptize." At the end of this period, the congregations of this group were all independent churches.
---
Used Books
We have a good selection of use books related to Mennonite history. Contact us at info@mharchives.ca or call 1-204-560-1998 to place an order. Shipping, taxes and handling are extra. If you don't find the book you are looking for – send us an email, the list is a sample of what we have.
List updated June 2022
With an additional 30% off!
A 30% discount will be applied to any purchase off this June 2022 Used Booklist.
Balzer, Agnes, Lieselotte Dueck, comp. Henry and Esther Regehr, trans. The Schoenbrunn Chronicles: 75 Years in the Paraguayan Chaco (2009) $15.00
Bekker, Jacob P. Origin of the Mennonite Brethren Church (1973) $10.00
Bender, Harold S. Conrad Grebel, c. 1498-1526: The Founder of the Swiss Brethren Sometimes Called Anabaptists (1950) $15.00
Braun, Ernest N., Glen R. Klassen, eds. Historical Atlas of the East Reserve: Illustrated (2015) $30.00
Brown, Peter. The Brauns of Osterwick (1972) $10.00
Dyck, John P. ed. Troubles and Triumphs 1914-1924: Excerpts from the Diary of Peter J. Dyck (1981) $25.00
Enns, Mary M. Mia: The Story of a Remarkable Woman (1982) $5.00
Epp, Frank H. Mennonite Exodus: The Rescue and Resettlement of the Russian Mennonites since the Communist Revolution (1962) $20.00
Epp, Reuben. Dit Un Janto pp Plautdietsch: "This and That" in Mennonite Low German (1997) $5.00
Epp, Reuben. Plautdietsche Schreftsteckja (Low-German Writings) (1972) $5.00
Epp, Reuben. The Story of Low German & Plautdietsch: Tracing a Language Across the Globe (1993) $12.00
Fast, Peter W. Wie räden en läsen Plautdietsch (1987) $4.00
Fast, Viktor, Jakob Penner. Wasserströme in der Einöde: Die Anfangsgeschichte der Mennoniten-Brüdergemeinde Karaganda, 1956-1968 (2007) $20.00
Fretz, Joseph Winfield. Pilgrims in Paraguay: The Story of Mennonite Colonization in South America (1953) $8.00
Friedmann, Robert. Mennonite Piety Through the Centuries: Its Genius and Its Literature (1949) $8.00
Friedmann, Robert. The Theology of Anabaptism (1973) $6.00
Friesen, John. Mennonites Through the Centuries: From the Netherlands to Canada (1985) $5.00
Friesen, John, ed. Mennonites in Russia, 1688-1988: Essays in Honour of Gerhard Lohrenz (1989) $15.00
Giesinger, Adam. The Story of Russia's Germans from Catherine to Khrushchev (1974) $12.00
Gleysteen, Jan. Mennonite Tourguide to Western Europe (1984) $10.00
Goerz, Heinrich. Al Reimer, John B. Toews, trans. The Molotschna Settlement (1993) $20.00
Goerzen, J.W. Ute Griksche Hellje Schrefte: Proowe Plautditscha Ewasating (1968) $15.00
Hamm, O.J. The Mennonite Pioneer Mission in Cross Lake (1961) $5.00
Hanover Steinbach Historical Society. Working Papers of the East Reserve Village Histories, 1874-1910 (1990) $10.00
Hein, Gerhard, ed, Mary Enns, trans.Ufa: The Mennonite Settlements (Colonies) in Ufa 1894-1938 (1977) $10.00
Herausgegeben im Auftrage der Allgemeinen Konferenz der Mennoniten von Nord Amerika.Katechismus, oder, Kurze und einfache Unterweisung aus der heiligen Schrift: in Fragen und Antworten für die Jegend (1900) $4.00
Hildebrandt, Georg.Wieso lebst du noch? Ein Deutsche rim GULag (1990) $15.00
Holdeman, Johannes.Ein Spiegel der Wahrheit: ein Lehrbuch, den Frommen zum Trost, und den Sündern zur Busse (1878) $10.00
Jantzen, Mark.The Wrong Side of the Wall: An American in East Berlin during the Peaceful Revolution (1993) $8.00
Janzen, Jacob H.Tales from Ancient and Recent Mennonite History (1948) $4.00
Janzen, Jacob H. Wanderndes Volk 1 Buch (1945) $4.00
Janzen, Jacob H. Wanderndes Volk 2 Buch (1946) $4.00
Janzen, Jacob H. Wanderndes Volk 3 Buch (1949) $4.00
Janzen, William, Frances Greaser.Sam Martin Went to Prison: The Story of Conscientious Objection and Canadian Military Service (1990) $8.00
Kehler, F.J.The School District of Kleinstadt, 1880 to 1967 (1977) $4.00
Klaassen, Walter, William Klassen. Marpeck: A Life of Dissent and Conformity (2008) $15.00
Klassen, Doreen Helen.Singing Mennonite: Low German Songs Among the Mennonites (1989) $20.00
Klassen, William, Walter Klaassen, trans. and eds. The Writings of Pilgram Marpeck (1978) $12.00
Klaus, A., J. Töws, trans. Unser Kolonien: Studien und Materialien zur Geschichte und Statistik der ausländischen Kolonisation in Russland (1887) $15.00
Klippenstein, Lawrence, Julius G. Toews.Mennonite Memories: Settling in Western Canada (1977) $10.00
Kornelius Heinrichs History Society.Kornelius Heinrichs and His Descendents, 1782-1979 (1980) $15.00
Kroeker, N.J. First Mennonite Villages in Russia, 1789-1943 (1981) $30.00
Lapp, John Allen.The Mennonite Church in India, 1897-1962 (1972) $10.00
Loewen, Harry, ed.Road to Freedom: Mennonites Escape the Land of Suffering (2000) $20.00
Lohrenz, Gerhard.Stories From Mennonite Life (1980) $7.00
Lohrenz, Gerhard.Storm Tossed: The Personal Story of a Canadian Mennonite from Russia (1976) $7.00
Ludwig, Karl-Heinz.Zur Besiedlung des Weichseldeltas durch die Mennoniten: Die Siedlungen der Mennoniten im Territorium der Stadt Elbing und in der Ökonomie Marienbuyrg bis zur Übernahme der Gebiete durch Preussen 1772 (1961) $10.00
MacKay, W.A.Immersion Proved to be Not a Scriptural Mode of Baptism, but a Romish Invention [19??] $4.00
Mannhardt, H.G.Die Danziger Mennonitengemeinde: Ihre Entstehung und ihre Geschichte von 1569-1919 (1919) $4.00
Miller, Lynn A.Trail of the Martyrs: A guide to the Sites of Anabaptist Martyrdom (1984) $4.00
Neudorf, H.J.He Leadeth Me: Genealogy of the Neudorf, Koslowsky, Klassen & Hildebrandt Families (1975) $12.00
Neufeld, Dietrich, Al Reimer, ed. A Russian Dance of Death: Revolution and Civil War in the Ukraine (1977) $8.00
Neufeld, Dietrich.Kanadische Mennoniten: Bunte bilder aus dem 50 jährigen Siedlerleben. Zum Jubiläumsjahr 1924 (1925) $15.00
Neufeld, Dr. Dietrich.Zu Pferd 1000 km durch die Ukraina (1922) $4.00
Packull, Werner O.Mysticism and the Early South German-Austrian Anabaptist Movement, 1525-1531 (1977) $8.00
Peters, Elisabeth. Dee Tjoaschenhatj The Cherryhedge: A Play in Three Acts (1984) $5.00
Peters, G.A., T.G. Klassen.Kohmt met noh Expoh: Eeni Plautcdietsche Jischicht (1989) $6.00
Peters, Jake.Mennonite Private Schools: In Manitoba and Saskatchewan, 1874-1925 (1985) $5.00
Plett, Delbert F.Old Colony Mennonites in Canada, 1875 to 2000 (2001) $15.00
Plett, Delbert F.Plett Picture Book: A pictorial history of the children and grandchildren of Cornelius Plett (1820-1900) and Sara Loewen (1822-1903) (1981) $12.00
Postma, Johan Sjouke.Das niederländische Erbe der preussisch-russländischen Mennoniten in Europa, Asien und Amerika (1959) $6.00
Quiring, David M.The Mennonite Old Colony Vision Under Siege in Mexico and the Canadian Connection (2003) $7.00
Ratzlaff, David.Wymyschle: Eine Abbandlung über die MB-Gemeinde Wymyschle und das Wymyschler-Treffen am 16. Juli 1977 in Three Hills, Alberta (1979) $4.00
Reimer, Al, Anne Reimer, Jack Thiessen, eds. A Sackful of Plautdietsch: A Collection of Mennonite Low German Stories and Poems (1983) $8.00
Rempel, Herman.Kjenn Jie Noch Plautcietsch? A Mennonite Low German Dictionary, revised edition (1984) $12.00
Rempel, Herman.Waed Bui'ak: Low German To English Dictionary (1979) $6.00
Rempel, Olga.Wer nimmt uns auf? A Story of Mennonite Migrations (1977) $6.00
R.M. of Cartier. Treasures of Time: The Rural Municipality of Cartier, 1914-1984 (1985) $8.00
Roth, John D.Stories: How Mennonites Came to Be (2006) $8.00
Sawatzky, Harry Leonard.They Sought a Country: Mennonite Colonization in Mexico (1971) $15.00
Schapansky, Henry.The Old Colony (Chortitza) of Russia: Early History and First Settlers in the Context of the Mennonite Migrations (2001) $20.00
Schraepler, Horst W.Die rechtliche Behandlung der Täufer in der deutschen Schweiz, Südwestdeutschland und Hessen, 1525-1618 (1957) $10.00
Schroeder, Gerhard P.Miracles of Grace and Judgment: A family strives for survival during the Russian Revolution (1974) $20.00
Schwenckfeld, Caspar, Elmer Ellsworth Schultz Johnson, ed.Letters and Treatises of Caspar Schwenckfeld von Ossig, 1546-1547 (1929) $50.00
Thiessen, John.Studien zum Wortschatz der kanadischen Mennoniten (1963) $8.00
Tiessen, Barbara J.The Schoenfeld Russlaender: A Mennonite Family's History (2015) $10.00
Tiessen, Hildi Froese, Paul Gerard Tiessen, eds.A Sunday Afternoon: Paintings by Henry Pauls (1991) $12.00
Toews, Abraham P.The Problem of Mennonite Ethics (1963) $8.00
Urry, James.Mennonites, Politics, and Peoplehood: Europe – Russia – Canada, 1525 to 1980 (2006) $20.00
van der Smisen, Carl Heinrich Anton.Kurzgefasste geschichte und glaubenslehre der Altevangelischen taufgesinnten oder Mennoniten (1895) $4.00
Voolstra, Sjouke, Piet Visser. Atsma, Aaltje, trans. Amsterdam, European Center of Mennonite Studies: A Guide to Institutions for Theological Training and Historical Research in the Tradition of Anabaptism and Mennonitism (1990) $4.00
Vogt, Virgil, John Howard Yoder, eds.Radical Reformation Reader Concern No. 18 (1971) $5.00
Wiebe, Katies Funk, ed.Women Among the Brethren: Stories of Fifteen Mennonite Brethren and Krimmer Mennonite Brethren Women (1979) $8.00
Winter, Henry H.A shepherd of the oppressed: Heinrich Winter, the last Ältester of Chortitza (1990) $10.00
Zacharias, Peter D.Reinland: An Experience in Community (1976) $15.00
---
Text To Terabyte Project
The Text to Terabyte Project is made possible by Otto Klassen's gift to distribute his films. This is a joint project between the Centre for Mennonite Brethren Studies and the Mennonite Heritage Archives of Winnipeg. Both centres are national archival centres and have seen demand for services grow. At the same time they are facing new challenges and opportunities with new electronic possibilities.
You can help preserve and make accessible records held at the centres that God's story in the life of the Mennonite and Mennonite Brethren Community. For a donation of $30 ($25 will be receipted) you can choose of Otto Klassen's fascinating documentaries. For $60 choose 2, for a $90 donation choose 3 etc. Please note that shipping costs will be added to the total if needed. They make great gifts for family and friends.
Otto has over 50 films to his credit in various languages including English, German, Low German and Spanish. The following are currently available.
To participate please contact the Mennonite Heritage Archives at info@mharchives.ca or 1-204-560-1998.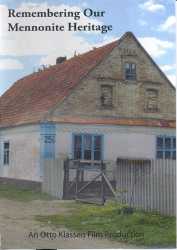 Remembering Our Mennonite Heritage – SOLD OUT
…traces the origins of the Anabaptist-Mennonite movement and the migration of the persecuted Anabaptist believers to Polish-Prussia in the 16th Century. 250 years later, over one half of these Prussian Mennonites respond to an invitation of the Russian Tsars to settle in southern Russia (in what is now Ukraine) during the years 1789 to 1836; and in central Russia from 1853-1870. The "golden years" of this Mennonite Commonwealth came to an end with the Bolshevik Revolution of 1917. 2007 production, 45 minute DVD.
---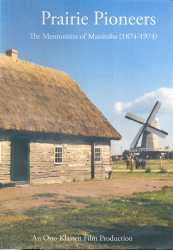 Prairie Pioneers: The Mennonites of Manitoba (1874-1974)
…is Klassen's first full-length film produced in 1974. The film recreates various aspects of pioneer life, such as the building of sod huts (zemlin), and the arrival of Russian-Mennonite settlers at the junction of the Red River and Rat River in 1874. It also includes footage of Manitoba Centennial Celebrations of 1970 in various Manitoba Mennonite communities, including the first ever visit of members of the Royal Family – Queen Elizabeth, Prince Philip and Prince Charles – to a Mennonite village in Canada and the visit of rime Minister Pierre Trudeau to Steinbach. 1974 production, re-mastered in 2007, 43 minute DVD.
---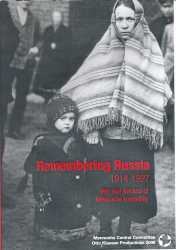 Remembering Russia 1914-1927: War and the end of Mennonite Tranquility
The Mennonites in southern Russia, present-day Ukraine, had become affluent. They worked hard in their tight-knit communities, bound by a common language and faith. That all changed with the beginning of World War I in 1914. A bloody civil war in 1917, churned through the country and ended the Mennonite way of life. Farms, enterprises and churches were expropriated and families died at the hands of marauding anarchists. As their world crumbled thousands of Mennonites fled to Canada. 2006 production, 43 minute DVD.
---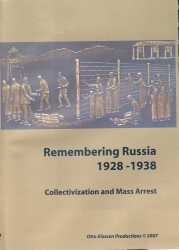 Remembering Russia 1928-1938: Collectivization and Mass Arrest
This DVD documents the spiritual battles and sufferings of Mennonites in Soviet Russia from the introduction of the first Five-Year Plan in October 1928 to the end of The Great Terror in 1938. Soviet plans for the complete collectivization of agriculture, and the closing of all churches struck a hard blow to the traditional Mennonite way of life. Thousands fled to Moscow; others into China. Of those who remained, many suffered the fate of exile to the forests and mines of Northern Russia, Siberia, and Kolyma. Hundreds died during the terrible famine of 1933. Thousands of men and even some women were rounded up by the secret police and exiled to labour camps or simply shot. 2007 production, 52 minute DVD.
Note: also available in German
---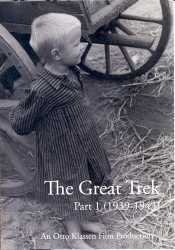 The Great Trek: Part 1 (1939-1943)
Otto Klassen uses rare archival photographs and film footage from the German Bundesarchiv to document the effects of the Soviet-German Non-aggressive Pact (August 1939), the German invasion of the Soviet Union (22 June 1941), and the subsequent two-year occupation of Ukraine on Soviet-Germans and Ukrainians in general and on the Mennonite villages of the Khortitsa and Molochna Settlements in particular. 1992 production re-mastered in 2007, 35 minute DVD.
---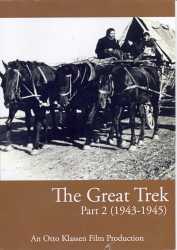 The Great Trek: Part 2 (1943-1945)
Otto Klassen uses rare archival photographs and film footage from the German Bundesarchiv to document the westward retreat of over 350,000 Soviet-Germans and Mennonites in Fall of 1943, their resettlement in German-Occupied Polish territory, and their eventual flight from advancing Red Army forces in the early months of 1945. 1992 production, re-mastered in 2007, 39 minute DVD.
---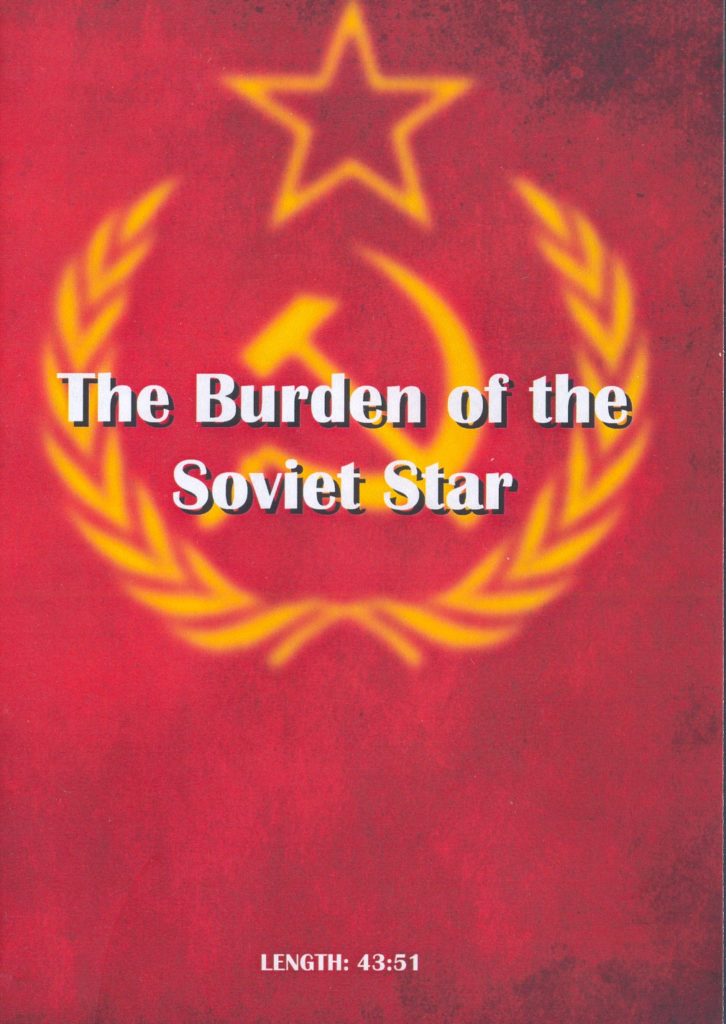 The Burden of the Soviet Star
After the Russian Revolution, famine, and the Great War, Stalin's communism was an even harsher burden especially for those exiled to labor camps. The camps were in isolated areas where conditions were notoriously horrible.
---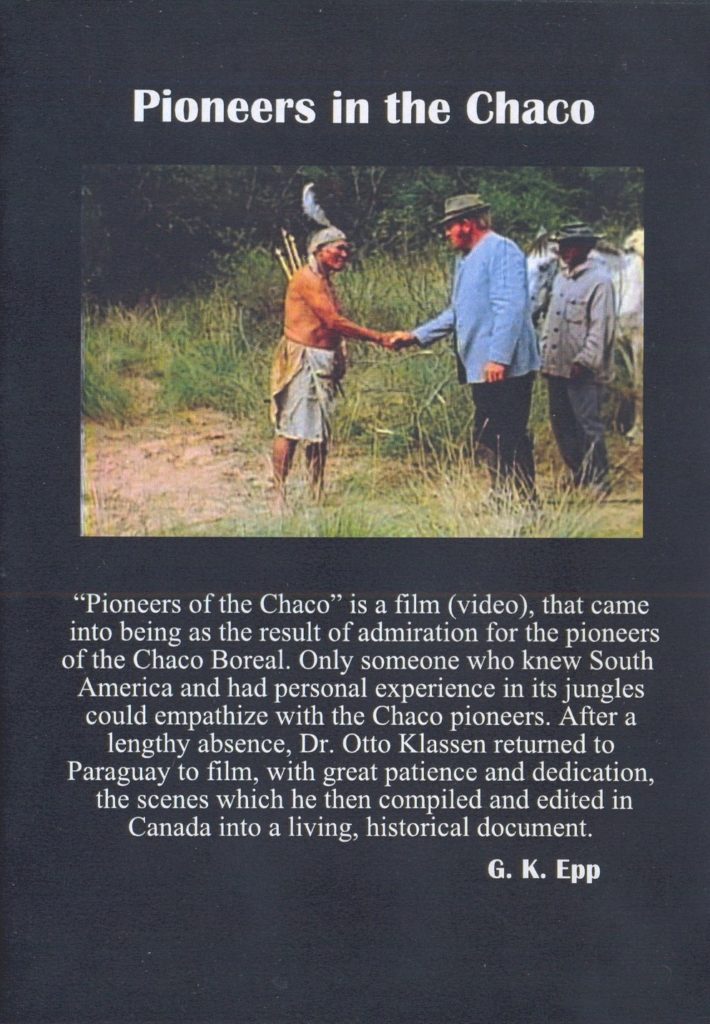 Pioneers in the Chaco
The harsh environment of the Paraguayan Chaco did not scare off the Mennonites who moved there from Canada in the 1920s. With their faith they forged a path into the wilderness which others would soon follow. The heirs of these pioneers have been reaping the rewards based on the pioneers' courage. (45 minutes) (2009)

---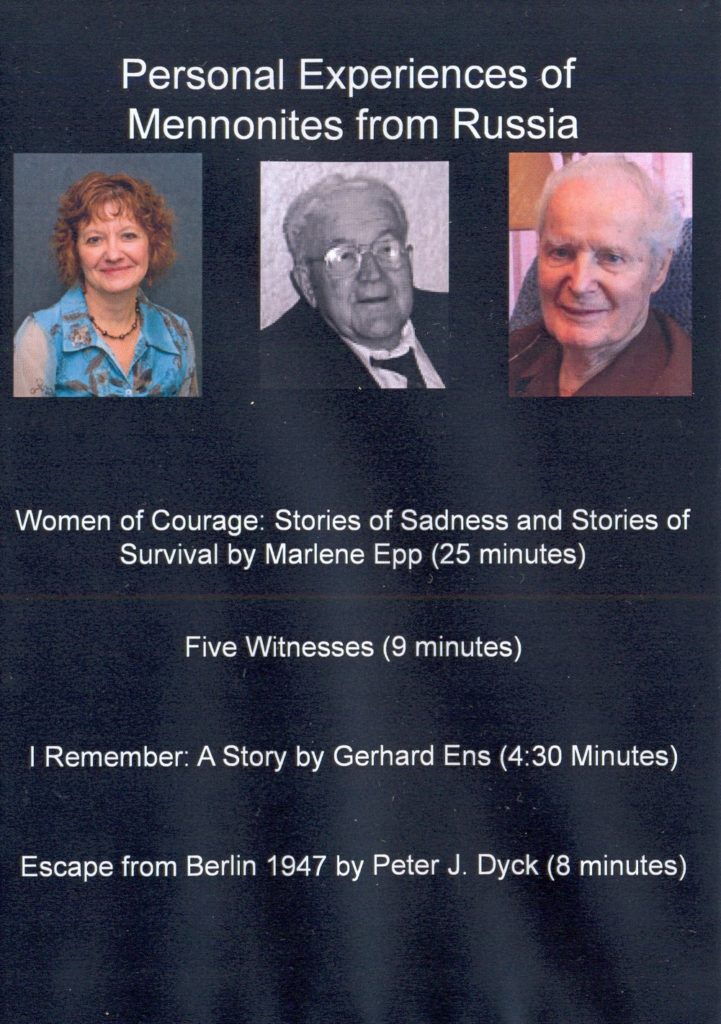 Personal Experiences of Mennonites from Russia
A presentation of four (4) short Otto Klassen Productions featuring speakers such as Dr. Marlene Epp, Professor of History, University of Waterloo; story-teller Peter J. Dyck, teacher Gerhard Ens and others on Mennonites who experienced trauma and terror during early Soviet communism through to World War II. (45 minutes)