---
New Books | Used Books | Text To Terabyte Project
---
*Items can be purchased online at CommonWord.ca, by emailing info@mharchives.ca, or by calling 204-560-1998.
New Books
Mennonite Heritage Archives partners with CommonWord.ca to sell new books. Please go to CommonWord.ca to see the new books we are currently selling.
Featured Items…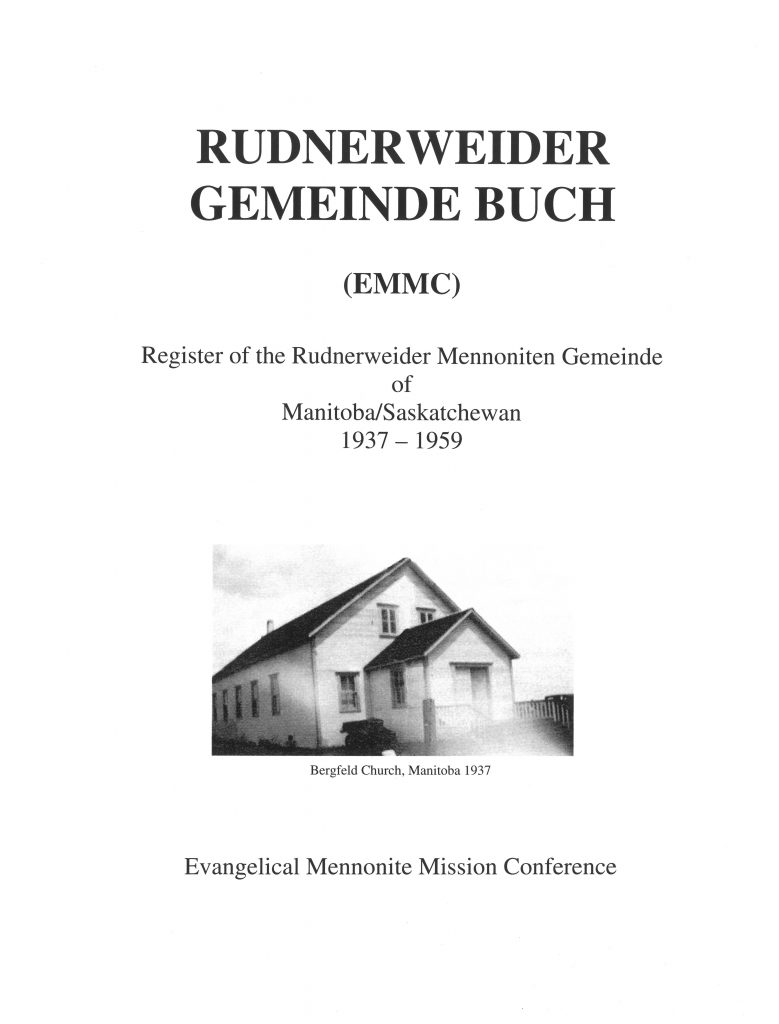 Rudnerweider Gemeinde Buch (EMMC) Register of the Rudnerweider Mennoniten Gemeinde of Manitoba/Saskatchewan 1937-1959 (2015)
Edited by Martha Martens
$35.00
The Rudnerweider Gemeinde (Church) was founded in 1937, with the organization meeting held in the Rudnerweide Sommerfeld Church. At the time of its beginning a central membership register was created and continued until 1959 when the Rudnerweider Gemeinde underwent a name and structure change; from a bishop system to where a moderator was elected. The churches were localized and members were recorded in the local church registers.

In this volume the central membership register is reproduced, as well as the ministers that were elected during this period 1937-1959, career missionaries, and the list of baptism candidates. The original records are stored at the Mennonite Heritage Archives.
---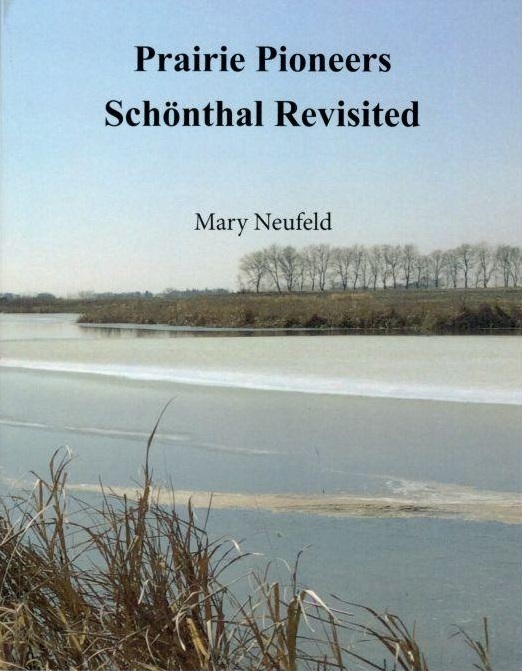 Prairie Pioneers: Schönthal Revisited (2016)
By Mary Neufeld
$20.00
"This book by Mary Neufeld is an interesting study of one of the most important villages in the eastern half of the former Mennonite West Reserve in Manitoba. Located on the banks of Buffalo Creek/Channel, it became the home of Mennonite immigrants from Russia. Carved out of the windswept prairie, located in an area frequented by buffalo, it became a thriving community and produced a remarkable number of gifted leaders for the larger Mennonite community.
"The thread that ties the book together is Neufeld's search for roots; for the story of her father's family and its many connections. This search provides the motivation, the drive and the passion for the study. The book thus becomes not only a history, but a labour of love.
"The book is beautifully and liberally illustrated with many large photos, maps, charts, lists and other detailed information. The book will be of interest to the insider looking for family connections, former school chums and memories of long ago—and for readers who wish to understand the broader social, economic and family dynamics that made life on the Manitoba prairie possible and fulfilling during pioneer years." – John J. Friesen, Professor Emeritus, Canadian Mennonite University
---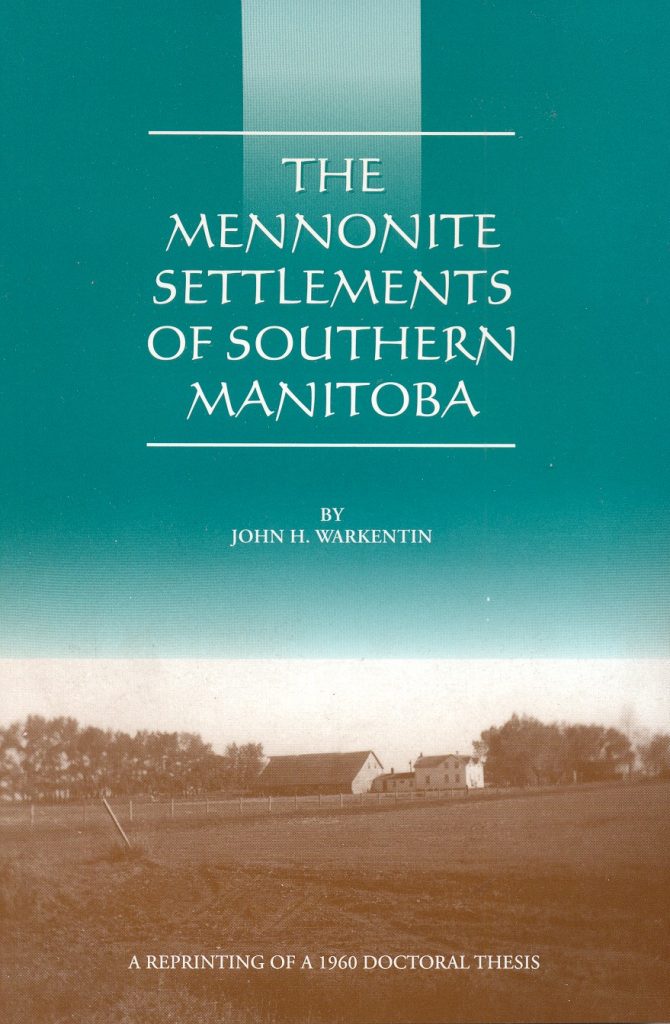 The Mennonite Settlements of Southern Manitoba (2000)
By John H. Warkentin
$15.00
This book is a reprinting of a 1960 doctoral thesis and consists of a study of the historical geography of the lands which the first Mennonites to western Canada settled from during the 1870s. The study covers the period from 1870 to 1955.
---
Used Books
We have a good selection of use books related to Mennonite history. Contact us at info@mharchives.ca or call 1-204-560-1998 to place an order. Shipping, taxes and handling are extra. If you don't find the book you are looking for – send us an email, the list is a sample of what we have.
List updated June 2021
Bargain Book Bundles ($20.00-$25.00 plus shipping)
New bundles posted biweekly on our Facebook page: www.facebook.com/MHArchives. If you do not have Facebook, please contact Selenna Wolfe (info@mharchives.ca) for bundle details. Bundle themes to watch for:
– Photos, Images, and Art
– Low German
– Paraguay
– Mennonite Literary Authors
Ayotte, Bernard Roland and Montcalm History Group. Reapers of the Valley, 1882-1982 (1982) $25.00
Bartel, Elizabeth Reimer. About Those Reimers: A Memoir (2010) $12.00
Belk, Fred Richard. The Great Trek of the Russian Mennonites to Central Asia 1880-1884 (1976) $10.00
Bestvater, J., M. Harder, J.W. Martens and H. Peters, eds. The Family of Abram P. Martens 1875-1985 (1984) $25.00
Charyk, John C. Syrup Pails and Gopher Tails: Memoires of the One-Room School (1983) $10.00
Duerksen, Hans and Jacob Harder. Fernheim, 1930-1980: Documento ilustrado sobre la vida de una colonia en el Chaco = Bildbericht ueber das Leben einer Siedlung im Chaco (1989) $12.00
Dyck, Arnold. Henry D. Dyck, trans. Lost in the Steppe (1974) $8.00
Dyck, Barbara and Timothy, eds. Jacob's Journey: The Memoirs of J.E. Kroeker (1998) $12.00
Dyck, Cornelius J. An Introduction to Mennonite History: A Popular History of the Anabaptists and the Mennonites, Third Edition (1993) $10.00
Dyck, Cornelius J., ed. Spiritual Life in Anabaptism: Classic Devotional Resources (1995) $15.00
Dyck, Peter and Elfrieda. Up From the Rubble (1991)$8.00
Enns, Irene. Tumultuous Times of Heinrich Anton & Katharina Funk and their families = Stümische Zeiten von Heinrich Anton & Katharina Funk und ihren Familien (2005) $20.00
Fehr, Don, James Jakob Fehr, Peter D Zacharias, and John Dyck. A family gathering of the descendants of Heinrich Fehr (15 Jun 1846–12 Sep 1911) and Sarah Neufeld (18 Jun 1847–4 Sep 1922) (2003) $12.00
Friesen, Abe, ed. Peter Friesen and Maria Rempel Descendants, 1828-1994 (1994) $25.00
Friesen, John, ed. Mennonites in Russia, 1788-1988: Essays in Honour of Gerhard Lohrenz (1989) $15.00
Friesen, Peter M. The Mennonite Brotherhood in Russia (1789-1910) (1980) $15.00
Friesen, T.E. A History of DWFriesen: A Unique Company 1907-1993 (1993) $12.00
Goerzen, J.W. Low German in Canada: A Study of "Plautdietsch" (1952) $10.00
Halbstadt Heritage Book Committee. Halbstadt Heritage: Halbstadt, Strassberg, Blumenthal (Houston) 1879-2005 (2005) $25.00
Harder, Hans. Al Reimer, trans and ed. No Strangers in Exile (1979) $6.00
Heinrichs, Daniel. Adventures of a Mennonite: From the Dry Thirties out into the World (1996) $5.00
Herschberger, Guy F., ed. The Recovery of the Anabaptist Vision (1972) $8.00
Hildebrand, Jacob. A Backward Glance (1982) $6.00
Jantz, Harold. Canadian Mennonite Brethren, 1910-2010: Leaders Who Shaped Us (2010) $12.00
Klassen, Elizabeth Suderman. Trailblazer for the Brethren (1978) $8.00
Klassen, Johann J. Ens: A Family Heritage (1983) $12.00
Klippenstein, Frieda Esau. A Cultural Landscape History: Neubergthal National Historic Site, A Mennonite Street Village on the Canadian Prairie (1997) $10.00
Loewen, Royden. Horse-and-Buggy Genius: Listening to Mennonites Contest the Modern World (2016) $15.00
Loewen, Solomon Leppke. The Peter Lohrentz Family 1811-1980 (1980) $25.00
Neufeld, Ernest. Ernestly! Happy Yesterdays (1990) $12.00
Neufeld, Johann D. Dietrich P. Neufeld und Anna Gerhard Sawatzky ihre Vorfahren, Nachkommen und Verwadten (1997) $20.00
Nickel, John P., ed. The Nikkel-Nickel Family of Prussia, Russia, America, and Canada (1981) $20.00
Oyer, John S. John D Roth, ed. "They Harry the Good People Out of the Land": Essays on the Persecution, Survival and Flourishing of Anabaptists and Mennonites (2000) $15.00
Patkau, Esther. The Paethkeau Book, 1714-1987 Volume 1 (1987) and The Paethkeau Book, 1714-1987 Volume 2 (1996) $45.00
Penner, Gerhard. Mennoniten dienen in der Roten Armee (1975) $5.00
Peters, Doreen Reimer. One Who Dared: Life Story of Ben D. Reimer, 1909-1994 (2005) $12.00
Peters, Jake and Elmer Heinrichs, eds. Dit Sied Yant Sied: The Johann & Susana Leppky/Loeppky Family 1831-1998 (1999) $25.00
Peters, K., ed. Genealogy of Cornelius Willms 1730-1972 (1973) $12.00
Redekop, Calvin. Strangers Become Neighbors: Mennonite and Indigenous Relations in the Paraguayan Chaco (1980) $10.00
Sawatzky, Dave and Katherine Schroeder. Karl Hildebrand: Family Tree (1998) $20.00
Snyder, C. Arnold, and Linda A. Huebert Hecht, eds. Profiles of Anabaptist Women: Sixteenth-Century Reforming Pioneers (1996) $25.00
Studer, Gerald C. Christopher Dock: Colonial Schoolmaster, The Biography and Writings of Christopher Dock (1967) $15.00
The Spencer Schools Reunion Committee. Spencer Reflections (1986) $12.00
Thiesen, Ron. Maverick Mennonite from Molotschna (2009) $12.00
Thiessen, A.J. "Grace" My Background and Life's Experiences (1982) $10.00
Thiessen, Hermann. Die Familie Mekelburger (1992) $12.00
Thiessen, Hermann. Martin Thiehsen und seine Nachkommen 1737-1977 Teil 1 and Teil 2 (1977) $35.00
Toews, Mary and Peter Suderman. Dietrich and Margaretha Sudermann: A Family History (1989) $15.00
Von Gunten, Neill and Edith, eds. From Paddles to Propellers, The History of Matheson Island: A Fishing Community (2003) $30.00
Werner, Hans. The Constructed Mennonite: History, Memory, and the Second World War (2013) $15.00
---
Text To Terabyte Project
The Text to Terabyte Project is made possible by Otto Klassen's gift to distribute his films. This is a joint project between the Centre for Mennonite Brethren Studies and the Mennonite Heritage Archives of Winnipeg. Both centres are national archival centres and have seen demand for services grow. At the same time they are facing new challenges and opportunities with new electronic possibilities.
You can help preserve and make accessible records held at the centres that God's story in the life of the Mennonite and Mennonite Brethren Community. For a donation of $30 ($25 will be receipted) you can choose of Otto Klassen's fascinating documentaries. For $60 choose 2, for a $90 donation choose 3 etc. Please note that shipping costs will be added to the total if needed. They make great gifts for family and friends.
Otto has over 50 films to his credit in various languages including English, German, Low German and Spanish. The following are currently available.
To participate please contact the Mennonite Heritage Archives at info@mharchives.ca or 1-204-560-1998.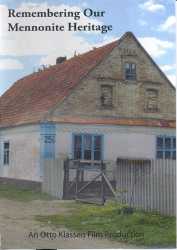 Remembering Our Mennonite Heritage – SOLD OUT
…traces the origins of the Anabaptist-Mennonite movement and the migration of the persecuted Anabaptist believers to Polish-Prussia in the 16th Century. 250 years later, over one half of these Prussian Mennonites respond to an invitation of the Russian Tsars to settle in southern Russia (in what is now Ukraine) during the years 1789 to 1836; and in central Russia from 1853-1870. The "golden years" of this Mennonite Commonwealth came to an end with the Bolshevik Revolution of 1917. 2007 production, 45 minute DVD.
---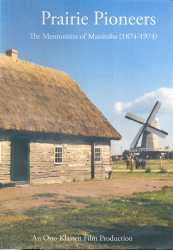 Prairie Pioneers: The Mennonites of Manitoba (1874-1974)
…is Klassen's first full-length film produced in 1974. The film recreates various aspects of pioneer life, such as the building of sod huts (zemlin), and the arrival of Russian-Mennonite settlers at the junction of the Red River and Rat River in 1874. It also includes footage of Manitoba Centennial Celebrations of 1970 in various Manitoba Mennonite communities, including the first ever visit of members of the Royal Family – Queen Elizabeth, Prince Philip and Prince Charles – to a Mennonite village in Canada and the visit of rime Minister Pierre Trudeau to Steinbach. 1974 production, re-mastered in 2007, 43 minute DVD.
---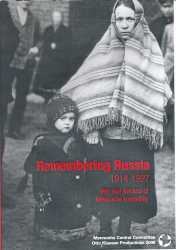 Remembering Russia 1914-1927: War and the end of Mennonite Tranquility
The Mennonites in southern Russia, present-day Ukraine, had become affluent. They worked hard in their tight-knit communities, bound by a common language and faith. That all changed with the beginning of World War I in 1914. A bloody civil war in 1917, churned through the country and ended the Mennonite way of life. Farms, enterprises and churches were expropriated and families died at the hands of marauding anarchists. As their world crumbled thousands of Mennonites fled to Canada. 2006 production, 43 minute DVD.
---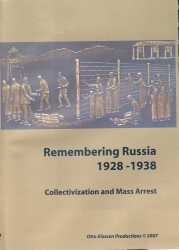 Remembering Russia 1928-1938: Collectivization and Mass Arrest
This DVD documents the spiritual battles and sufferings of Mennonites in Soviet Russia from the introduction of the first Five-Year Plan in October 1928 to the end of The Great Terror in 1938. Soviet plans for the complete collectivization of agriculture, and the closing of all churches struck a hard blow to the traditional Mennonite way of life. Thousands fled to Moscow; others into China. Of those who remained, many suffered the fate of exile to the forests and mines of Northern Russia, Siberia, and Kolyma. Hundreds died during the terrible famine of 1933. Thousands of men and even some women were rounded up by the secret police and exiled to labour camps or simply shot. 2007 production, 52 minute DVD.
Note: also available in German
---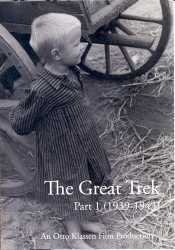 The Great Trek: Part 1 (1939-1943)
Otto Klassen uses rare archival photographs and film footage from the German Bundesarchiv to document the effects of the Soviet-German Non-aggressive Pact (August 1939), the German invasion of the Soviet Union (22 June 1941), and the subsequent two-year occupation of Ukraine on Soviet-Germans and Ukrainians in general and on the Mennonite villages of the Khortitsa and Molochna Settlements in particular. 1992 production re-mastered in 2007, 35 minute DVD.
---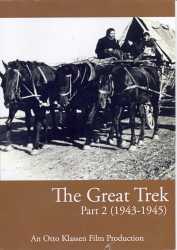 The Great Trek: Part 2 (1943-1945)
Otto Klassen uses rare archival photographs and film footage from the German Bundesarchiv to document the westward retreat of over 350,000 Soviet-Germans and Mennonites in Fall of 1943, their resettlement in German-Occupied Polish territory, and their eventual flight from advancing Red Army forces in the early months of 1945. 1992 production, re-mastered in 2007, 39 minute DVD.
---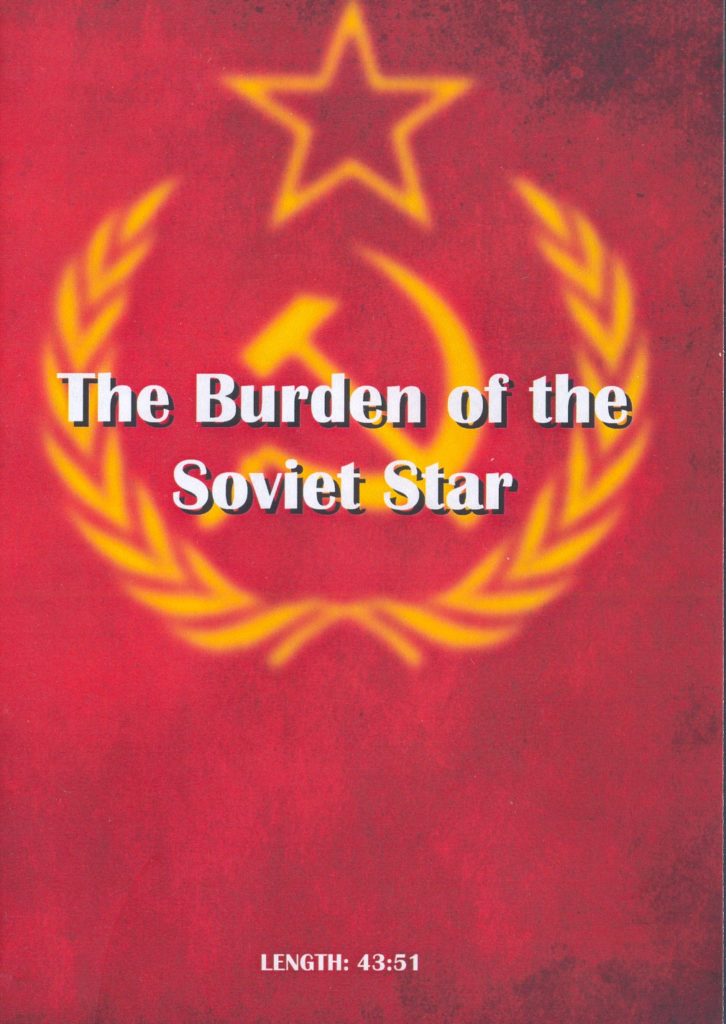 The Burden of the Soviet Star
After the Russian Revolution, famine, and the Great War, Stalin's communism was an even harsher burden especially for those exiled to labor camps. The camps were in isolated areas where conditions were notoriously horrible.
---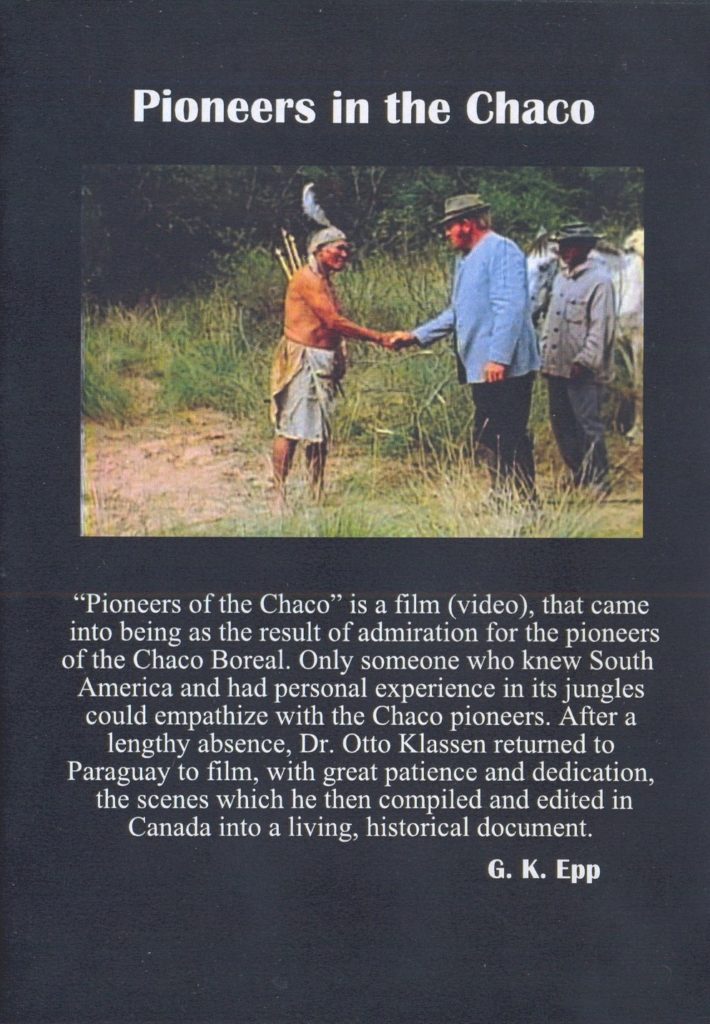 Pioneers in the Chaco
The harsh environment of the Paraguayan Chaco did not scare off the Mennonites who moved there from Canada in the 1920s. With their faith they forged a path into the wilderness which others would soon follow. The heirs of these pioneers have been reaping the rewards based on the pioneers' courage. (45 minutes) (2009)

---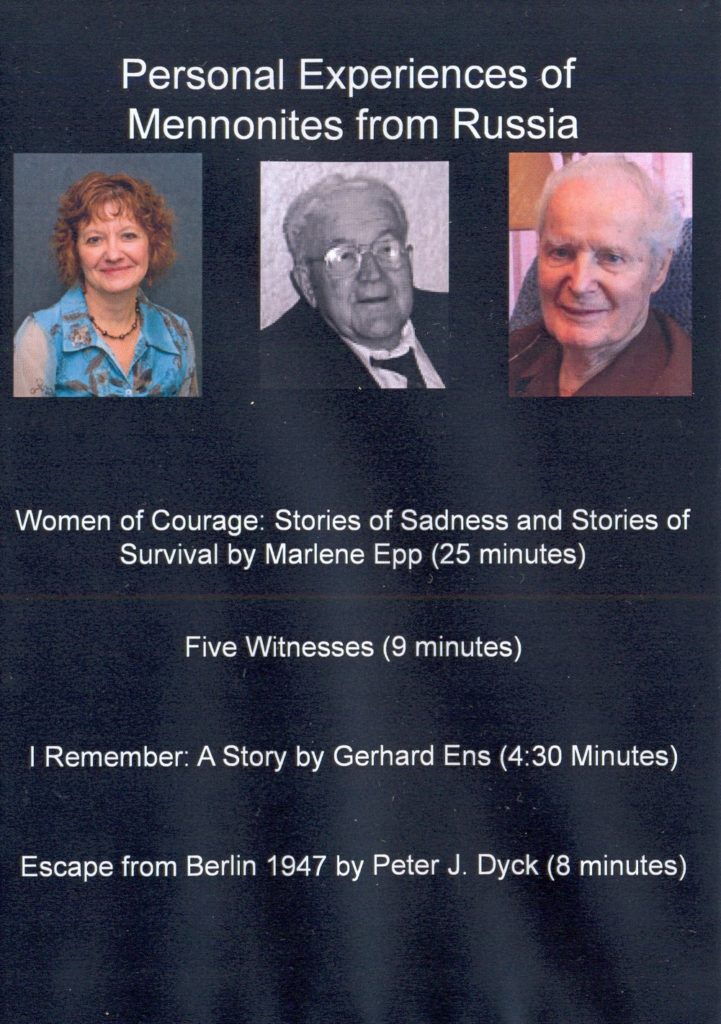 Personal Experiences of Mennonites from Russia
A presentation of four (4) short Otto Klassen Productions featuring speakers such as Dr. Marlene Epp, Professor of History, University of Waterloo; story-teller Peter J. Dyck, teacher Gerhard Ens and others on Mennonites who experienced trauma and terror during early Soviet communism through to World War II. (45 minutes)