---
One Time, Monthly, and Annual Gifts | Legacy Gifts | Letter to Our Patrons
---
The Mennonite Heritage Archives (MHA) is designed to be a memory keeper for the Mennonite community, but to do this we need community support. Giving financial donations to the Archives is a way for people to participate in keeping the Mennonite community's memories alive.
For your convenience there are a number of ways to donate finances to the Mennonite Heritage Archives:
One Time, Monthly, and Annual Gifts
In person at the Mennonite Heritage Archives, 610 Shaftesbury Blvd., Winnipeg, MB where you can use:

Visa or MasterCard
Interact
Cheque

Mail a cheque

When writing the cheque, please write it out to "Mennonite Heritage Archives" and mail it to:
Mennonite Heritage Archives
500 Shaftesbury Blvd.
Winnipeg, MB R3P 2N2
Canada

Over the phone with Visa or MasterCard

Please call Selenna Wolfe at 1-204-560-1998

Online

For those within North America, you can donate online through Canadian Mennonite University's donation webpage cmu.ca/donate.
For those outside of North America, you can donate online through CanadaHelps.org. This page is for Canadian Mennonite University, one of our partner organizations. In the drop down menu "apply your donation to a specific fund set up by this charity," please pick "General." Then in the section "include a message for this charity," please indicate that your donation is intended for the Mennonite Heritage Archives.
---
Legacy Gifts
Archives have been described as a gift from one generation to future generations. Including the Mennonite Heritage Archives in your estate planning will greatly help us in caring for what past generations have entrusted to us. Including a charity, such as the MHA, can be part of a strategic plan and can benefit the estate.
---
Letter to Our Patrons
October 1, 2020
Dear friend,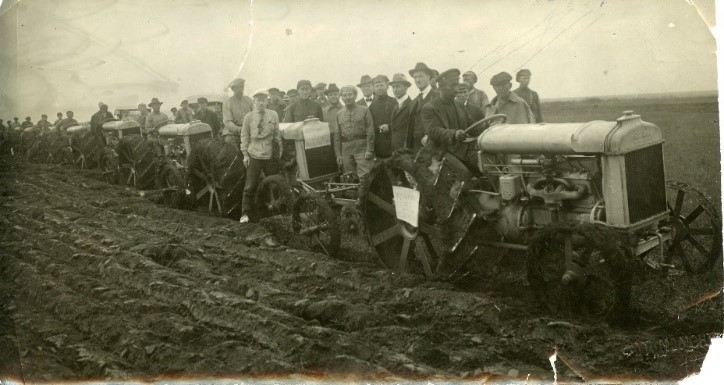 Two hundred and seventy-seven black and white photographs now at the Mennonite Heritage Archives (MHA) are a unique witness to suffering and human kindness during the Ukrainian famine 1922-1923. In 2007, the MHA became the stewards of this significant photo collection created by Arthur Slagel. Slagel was on the ground in Ukraine during this devastating famine and was part of the response of the fledgling Mennonite Central Committee (MCC) representing North American Mennonites' response to the dire needs. MCC created feeding stations and sent farming tools such as tractors to help grow food. This year MCC is celebrating its 100th birthday. MCC has grown into a renowned international relief agency that has carried on this two-pronged approach of food aid and tools. MCC's mission of today is rooted in the identity of its past.
Mennonites who immigrated to Canada after the famine have remembered not only the experiences of hunger and desperation but also the kindness and generosity facilitated by MCC. Today, these survivors and their children are among MCC's most passionate supporters.
How we remember shapes our identity, our understanding of reality, and our actions. The MHA cares for thousands of stories, including those who lived through the Ukraine famine, those who served with MCC and those who gave to support the needy. The MHA cares for the materials that document the suffering and humanity that created MCC, individual congregations, institutions, and families. But beyond MCC the archives holds stories from our Mennonite community: our migrations, our churches, our families. Our staff and volunteers responds to over 100 requests for material each month. Each inquiry that is answered is a recovered piece of personal, family, and historical identity for the inquirer and becomes part of the Anabaptist – Mennonite story.
The MHA is a community archive and needs community support. Your generosity will enable us to continue to take good care of our stories for future generations.
Will you make a gift today to ensure that our stories are safely housed, sheltered, and nurtured?

There are multiple ways to give:
Online donations are facilitated through our partnership with Canadian Mennonite University at https://www.cmu.ca/donate.php?mharchives.
Credit card: call us at 204-560-1998.
Cheque made out to "Mennonite Heritage Archives."
We thank you for your careful consideration of this appeal. We wish you and your family health and safety.
Sincerely,
Conrad Stoesz, Archivist
Selenna Wolfe, Administrative Assistant
---
Have questions? Please contact the Mennonite Heritage Archives by calling 1-204-560-1998 or email info@mharchive.ca