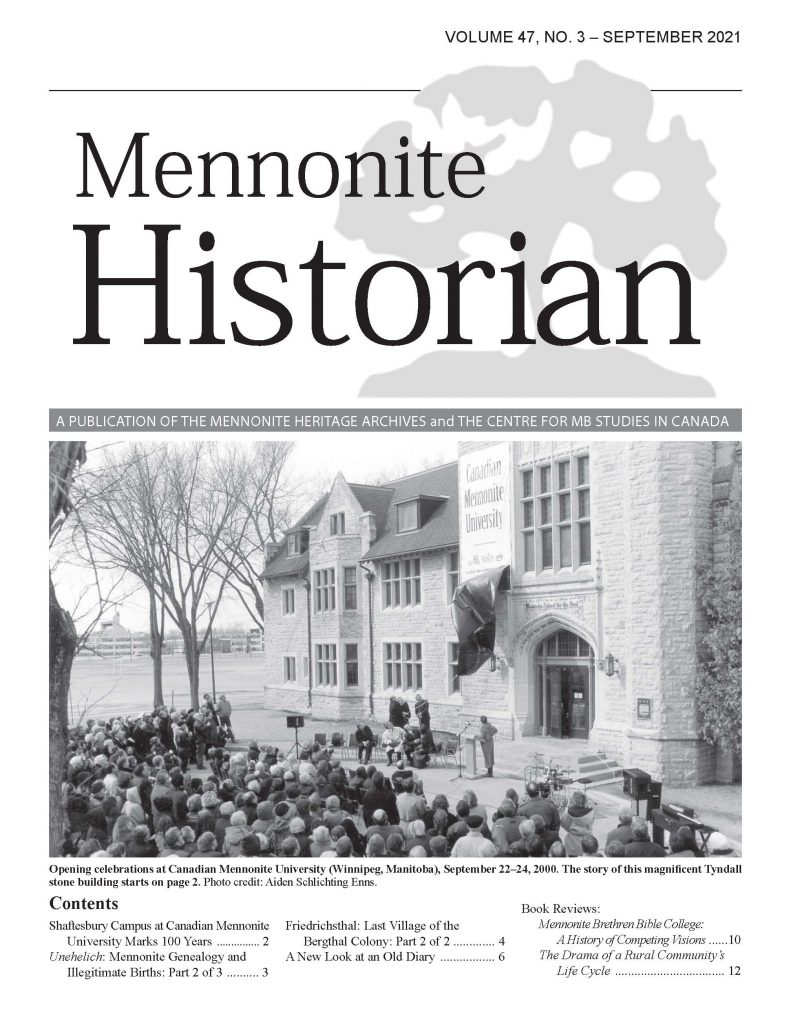 The Mennonite Historian began in 1975 and is published by the Mennonite Heritage Archives and the Centre for Mennonite Brethren Studies of the Canadian Conference of Mennonite Brethren Churches.
Editors: Jon Isaak (CMBS) and Conrad Stoesz (MHA)
All correspondence and unpublished manuscripts should be sent to the editorial offices at:
Mennonite Heritage Archives (MHA)
500 Shaftesbury Blvd.
Winnipeg, MB R3P 2N2
Canada
or
Centre for Mennonite Brethren Studies (CMBS)
1310 Taylor Ave.
Winnipeg, MB R3M 3Z6
Canada
Subscription rates:
1 year – $17.00 CAN or $17.00 US
2 years – $32.00 CAN or $32.00 US
3 years – $46.00 CAN or $46.00 US
Individual subscriptions may be ordered from the addresses above or on the CommonWord website.
Back issues can be obtained at the Mennonite Historian website.
Periodical number: ISSN 0700 8066
---
Highlighted Articles
Falk Sisters Album
The Falk Sisters
"Sing Unto the Lord"
1963
"Sing unto the Lord, for he hath done excellent things; this is known in all the earth." Isaiah 12:5
The Falk Sisters sang together as a quartet until 1958 when the oldest, Martha (Mrs. Pete Voth), was married. At this time they formed a trio; Elizabeth (soprano), Mary (mezzo soprano), and Magdalene (contralto). On this recording they are accompanied by Mrs. Voth on the piano, although they usually sing acapella when singing in services. They frequently sing in the churches of the Evangelical Mennonite Mission Church as well as in neighbouring churches, hospitals, and homes for the aged. They are also heard on the radio broadcast of the E.M.M. Church. They are the daughters of Rev. and Mrs. William H. Falk, of Plum Coulee, Manitoba.
It is their desire that through this recording some of the Lord's excellent goodness may be conveyed to their listeners.

Side One
SEE MORE
Side Two
SEE LESS