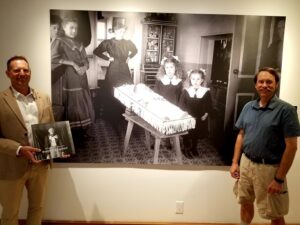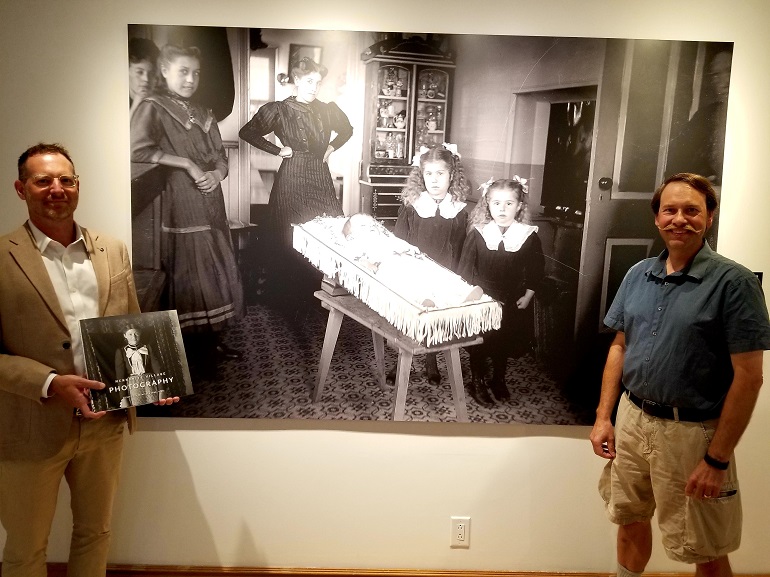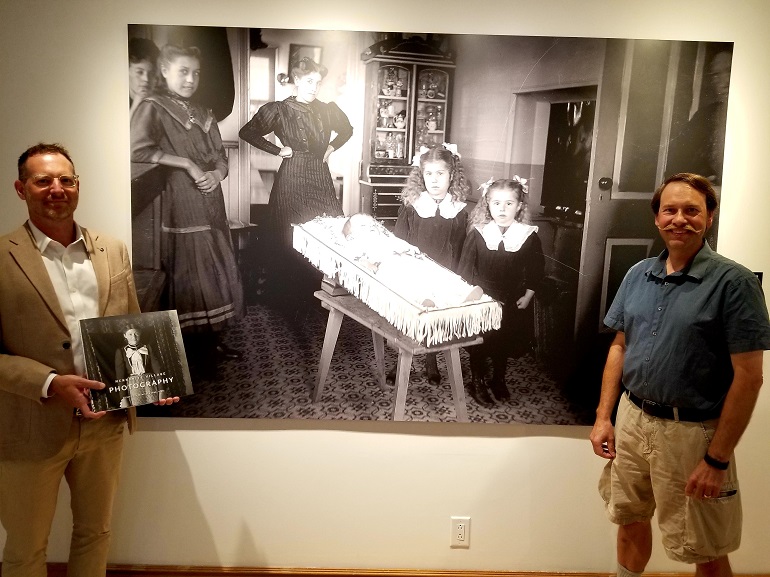 A new book available for purchase at MHA.
On Thursday, July 23, 2020 the Mennonite Historical Arts Committee launched the book Mennonite Village Photography: Views from Manitoba, 1890-1940. In attendance was Mennonite Heritage Archives (MHA) archivist Conrad Stoesz. Stoesz co-authored the book and spoke at the event. Many of the original photographs in the art exhibit, currently at Gallery in the Park in Altona, MB, and book reside at MHA.
The book Mennonite Village Photography: Views from Manitoba, 1890-1940 is available for purchase at the Mennonite Heritage Archives and online at CommonWord.ca.
"When many people think of the past – of family members we may never have met but are long gone – often a black and white image will come to mind.  A stiff image of people standing in front of the camera with a neutral expression on their face. This book has examples of this.  We tend to think of the past as black and white.  As a time when things were less complicated – when life was more black and white.

"But really is wasn't.  People have always lived in full colour with complicated nuanced lives. Of course on many levels we know this – we and our ancestors saw in colour.  But I think the advent of black and white photography, while amazing, has also hindered our imagination of the past – confining it to black and white. Part of the beauty of this book is how – while the images are black and white – they help us see the past in colour – as complicated – as interesting.  You will find the stiff image of people posing for the camera, but you will find images of ingenuity, joy, pain, loss, make-believe, adventure, beauty and nature.  Thankfully these photographers took and kept images they created that show a fuller life experience than the typical portrait image.

"Projects like this not only show case history, it also validates it.  By going to all the work of creating this book and display people learn about the past and are encouraged to see this history as valuable.   But is does more – it creates momentum.  A reader of the Winnipeg Free Press read the article about this project and remembered a handful of negatives from the early 1900s stuck in a desk he inherited.  He contacted us and has now donated this set of negatives to the archives.   So projects like this create awareness, value, and momentum for more research and study.

"It has been a lot of fun working with this committee that has so many complimentary skills. We think you will enjoy this book helping us to see the past colour."

Conrad Stoesz
Thursday, July 23, 2020
Speech given at the Book Launch of Mennonite Village Photography: Views from Manitoba, 1890-1940
Below are two audio clips from Chris Sumner of CFAM Radio 950 interviewing Roland Sawatzky and Conrad Stoesz, co-authors of Mennonite Village Photography: Views from Manitoba, 1890-1940, at the book launch.
* The audio content and photo found here are from Chris Sumner's CFAM Blog post "New Book And Exhibit Challenges Assumptions Of Mennonite Settler Lives," Pembina Valley Online.