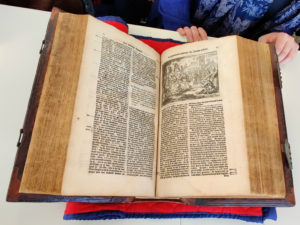 University welcomes Winnipeg's first and only manuscript edition of the beloved martyrology.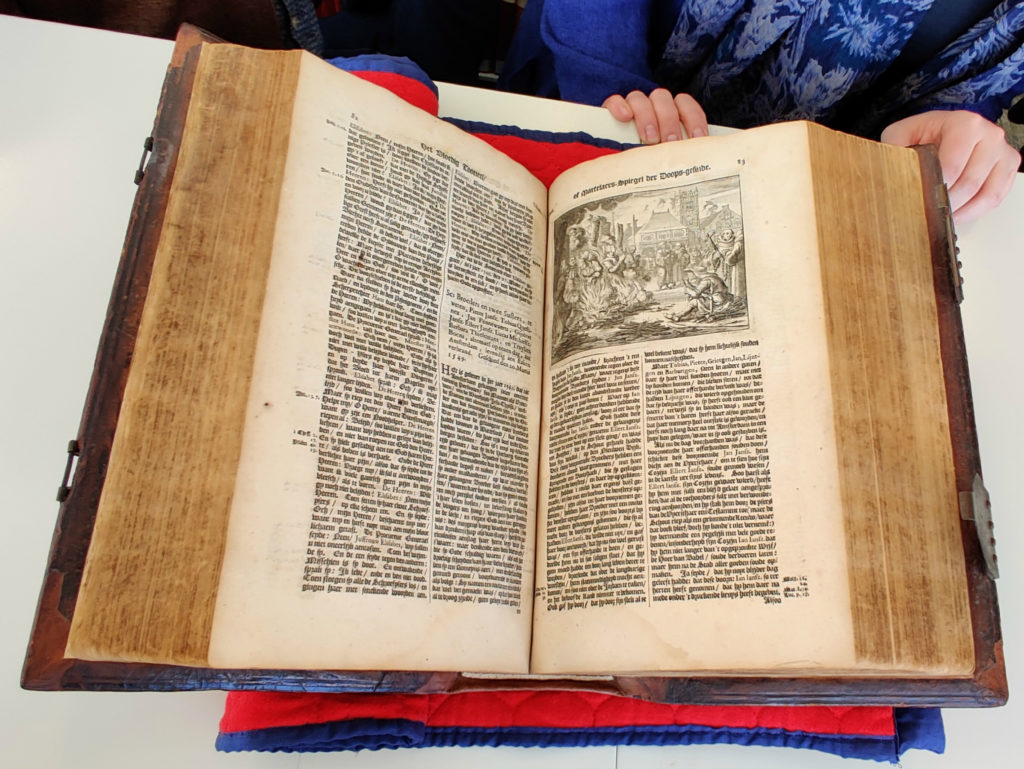 The CMU library is delighted to announce that it has recently acquired a 1685 edition of Martyrs Mirror. The book will be housed in CMU's special collections rare book room and made accessible to students and faculty forthwith. Formal protocols for handling the book will be posted at the library soon.
Students, faculty, and staff across disciplines attended Thursday's reveal. Paul Doerksen, Associate Professor of Theology and Anabaptist studies, says this new acquisition will be a major asset to his students, as Martyrs Mirror features in at least three of his regular courses. English professor Paul Dyck says a number of students from his beloved "History of the Book" course, which focusses on manuscript history and book production methods before and after Gutenberg, was also on-hand for the unveiling.
Chris Huebner, Associate Professor of Theology and Philosophy, has been a driving force behind CMU's quest for a heritage copy of Martyrs Mirror. To facilitate the search, he connected with alumna Nina Schroeder ('12), now an art historian and post-doctoral research associate at Vrije Universiteit Amsterdam, working in the areas of texts and traditions.
Schroeder consulted with VUA's Piet Visser—a distinguished Dutch book historian, scheduled to deliver CMU's upcoming John and Margaret Friesen Lectures on March 19—to establish true market value for a 17th century copy of Martyrs Mirror. They determined a figure around €1,000. The copy Schroeder found, through a local Mennonite History society, was ultimately purchased for a mere CA$750, from a private owner in the Netherlands, who offered it to the university at reduced rate, in acknowledgement of the excellent home it would find at CMU.
"Wim Mensink, the gentleman who sold it to us, received the book at his baptism as a gift from his parents, who had asked their minister where they might find a heritage copy for their son. The minister in turn had picked it up at a local antiquarian's shop. So that's as much as we know about this individual copy's history. Well, Mr. Mensink is Catholic now—he converted some 30 years ago, and felt he no longer needed the book but still wanted it to find a place within the Mennonite tradition, where it would be appreciated. I think we were able to offer him that assurance."
Come Thursday's reveal, Huebner's excitement was palpable: "We have a number of really interesting pieces in special collections here—old hymn books and other things—but this will really be the crown-jewel of that collection. For now, at least. Hopefully soon we can give it some company!"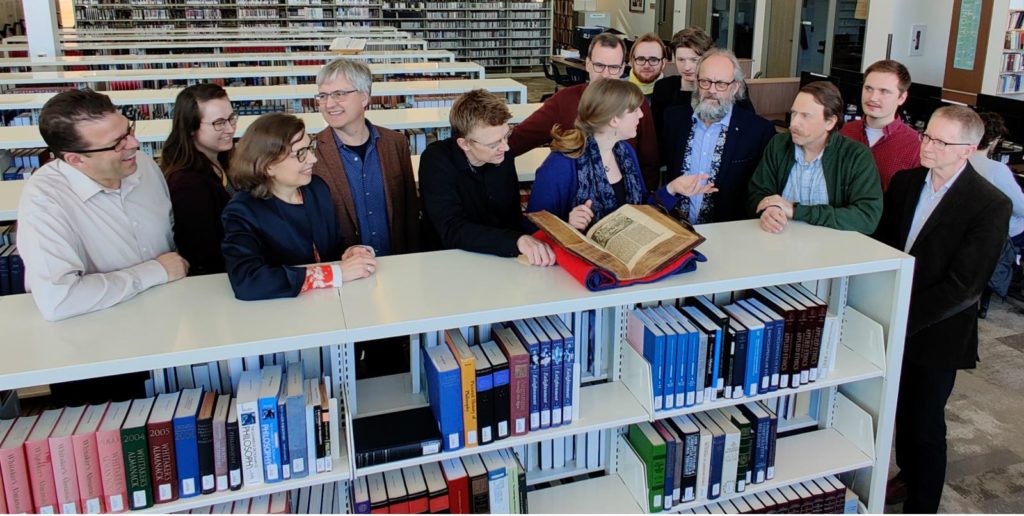 Schroeder, who brought the book over herself, was also on hand to help present the book, explaining its background, highlighting material points of interest, and sharing the story of its arrival at CMU.
In the 16th century, most editions of the Martyrs Mirror were printed in very small formats; due to the persecution Mennonites faced at the time, readers needed to be able to hide suspicious reading quickly, and at a moment's notice. Later, after the formation of the Dutch Republic, freedom of conscience liberated not only the people, but also the books themselves. Larger formats of Martyrs Mirror began to come out, and illustrations added to the text. The edition CMU now holds is an illustrated folio printed in early modern Dutch. It was the first illustrated edition of the Martyrs Mirror ever produced. Running about 19″ by 12″ in size, it is also among the largest formats made during the early modern period.
At present, this 335-year-old manuscript is the only university-owned copy of the original 1685 Dutch edition anywhere in Western Canada. There are only four other university-owned copies in Canada: one at Acadia University, in Nova Scotia, and three in Ontario. CMU President Cheryl Pauls says plans are being made for an event in the next school year to more publicly celebrate this new arrival, and share its significance with the wider community.
Canadian Mennonite University News Release
Monday, March 9, 2020
*To see Canadian Mennonite University's official news release visit cmu.ca and to learn more about the Martyrs Mirror please listen to Episode 4 of Still Speaking.