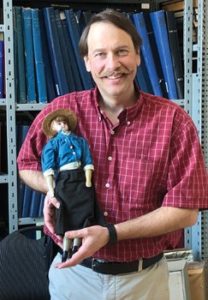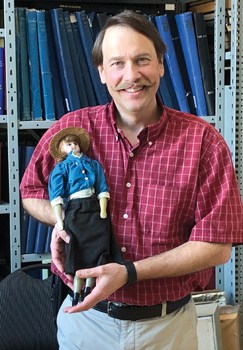 In 1927, Johannes Dyck escaped with his wife and nine children from the former Soviet Union. Exit visas were hard to obtain, and Mennonite emigrants like the Dycks were not allowed to take large sums of money.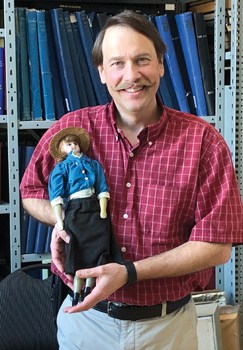 This was a problem for Dyck, who had been a prosperous farmer. So he devised an ingenious plan to flee with his funds; he hid his money in a doll belonging to his 4-year-old daughter, Rena.
At a train station at the border, guards strip-searched the family to make sure they weren't leaving with money. They went through all their clothing and luggage, but found no money. They reluctantly let the family go.
After coming to Canada, the Dycks settled in Saskatchewan where they used the smuggled money to buy a farm and establish a new life. As for the doll, it ended up in the collection at the Mennonite Heritage Archives in Winnipeg — a testimony to one family's escape.
That is one of the stories told by MHA archivist Conrad Stoesz in his new weekly radio series, Still Speaking.
The goal of the show, which launched in January on Manitoba's Golden West Radio network, is to "tell the stories about the people, places and events preserved in our archives," he said.
Through the segments, Stoesz hopes people will "learn about the past and the important role of archives in society."
He acknowledges it's a bit of a stretch for him to be out in public through the programs.
"Archivists tend to be reserved, even introverted, not comfortable promoting themselves," he said. "We enjoy more the process of collecting, preserving and researching. We're not good at telling our own story."
But that's a problem now, since archives increasingly need more public support to stay in operation.
"It's becoming more costly to operate archives with so much material coming in, plus the new technologies, digital preservation, and the new rules and standards to keep up with," Stoesz said. These are all good things, "but they require more time, staff and money. . . . The profession has not been good at promoting itself."
Other upcoming stories include about how the archives came to own a copy of Mein Kampf by Adolf Hitler, and the story of a Mennonite immigrant from Europe who arrived in Chicago, learned English in a bar, then went on to be part of the Klondike gold rush.
Still Speaking can be heard at mharchives.ca/features/still-speaking.
by John Longhurst, Mennonite World Review