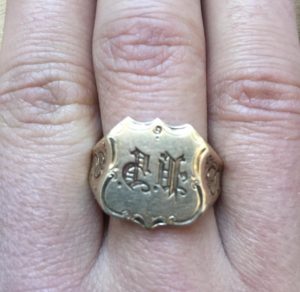 The Mennonite Heritage Archives occasionally receives special donations of important historical documents and artifacts. On Friday, February 19, 2016 MHA received a donation from Gerhard Dyck that contains a wealth of information that includes a variety of Russian papers and legal documents, a passport, and some photos from the early 1900s. What was especially significant was the donation of a gold signet ring that belonged to Gerhard's great-grandfather Peter Schroeder, who was a member of the Duma (the Russian Parliament).
The photo shows the gold signet ring marked with Peter Schroeder's initials "P.S."
The ring was used as an official mark to stamp Peter Schroeder's initials into wax to seal important documents. The initials appear inverted, which is necessary so that when the ring was pressed into wax to seal documents the initials would be reversed and then one would be able to read them properly.
This rare ring and the story of Mennonite involvement in Russian politics can now be preserved for future generations.
Peter Schroeder was "one of the few Mennonite students to have completed his courses entirely in Russian." Later, "after government reforms in 1905-1906, Schroeder was one of three local representatives elected to the Duma, where he worked on committees who helped shape legislation regarding religious liberty and other issues." This excerpt was taken from GAMEO, which has written a more comprehensive article on Peter Schroeder. You can read the full article here: http://gameo.org/index.php?title=Schroeder,_Peter_Peter_%281866-1942%29
Peter Peter Schroeder was a dedicated estate owner and government representative who used his resources and position to try to benefit his community. Despite the many troubles he experienced, he maintained his commitment to helping others and had an influence on his family and the people around him. (Excerpt from GAMEO)
This is the first historical ring that MHA has ever received.
This blog is written by Jonathan Reimer who is an intern currently working at the Mennonite Heritage Archives as part of his practicum at Canadian Mennonite University.