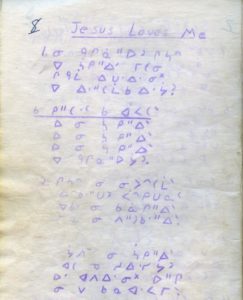 Who knew the Mennonite Heritage Archives has more than just Mennonite history in English and German? After spending a few weeks at the archives, I have begun to learn there is no telling what you might find preserved in the Heritage Centre vault. While researching the Mennonite Pioneer Mission correspondence beginning in 1957, I stumbled upon a number of booklets filled with what looked to be random symbols. Perhaps some sort of project or craft? I quickly realized that each page was numbered and that the characters themselves were organized into lines that in turn became numbered verses. Recipes? Step by step instructions? Not quite. The last pieces of the puzzle were the few words provided in English at the top of each page; words that would likely be familiar to most people who grew up in the Mennonite church: 'Rock of Ages', 'Nearer my God to Thee', and of course 'Jesus Loves Me'. These aboriginal symbols represented the Saulteaux words to classic church hymns.
As I sort through the Mennonite Pioneer Mission material at MHA (my particular area of interest is researching Mennonite–operated day schools for aboriginals in the mid to late twentieth century), there are two items that have become increasingly apparent within the materials. The first item of note is the education offered by Mennonites to their aboriginal neighbours was small in scope. Still, education was the medium used as an important part of an overarching program of evangelization for aboriginal children. Teaching a child how to read or write in English was not in itself going to bring aboriginal children to salvation. However by extending a supportive hand to a neighbour through providing education to children falls firmly in line with addressing both physical and spiritual needs. The second item, which is linked to the first, is overcoming the language barrier so that a common language could be used. This would be a substantial accomplishment.
The Saulteaux hymn booklets preserved in the files provide a small glimpse of two peoples trying to connect despite the limitations of different languages between two distinct cultures. Preserving this history is significant as the materials help to evaluate broader present day issues. Having the opportunity to explore the individual histories contained within the Mennonite Pioneer Mission collection through letters and hymn booklets provide both a window to the past and a challenge left for those who now interpret the early relationships between Aboriginals and Mennonites. I look forward to seeing what other surprises might be inside these files!
The hymn booklets are found in the Conference of Mennonites in Canada (CMC) collection, volume 362, file 5.
This article was written by Jordon Zimmerly. Jordon is an intern at MHA, doing his practicum as he finishes up his undergraduate degree at Canadian Mennonite University.