Twenty-two Years of Volunteering.
Ed Enns gets teary eyed when he talks about the journals of Adina Epp, a young Russian Mennonite woman teaching and studying in Germany. She was innocently caught up in the chaos of Germany in the midst of World War II.
Enns, 93, a volunteer at the Mennonite Heritage Archives (MHA) since the mid-1990s, has translated 78 pages Epp's diaries from handwritten gothic German to English. Though his day-to-day memory fails him now, he concedes, his detailed memories of Epp's story do not.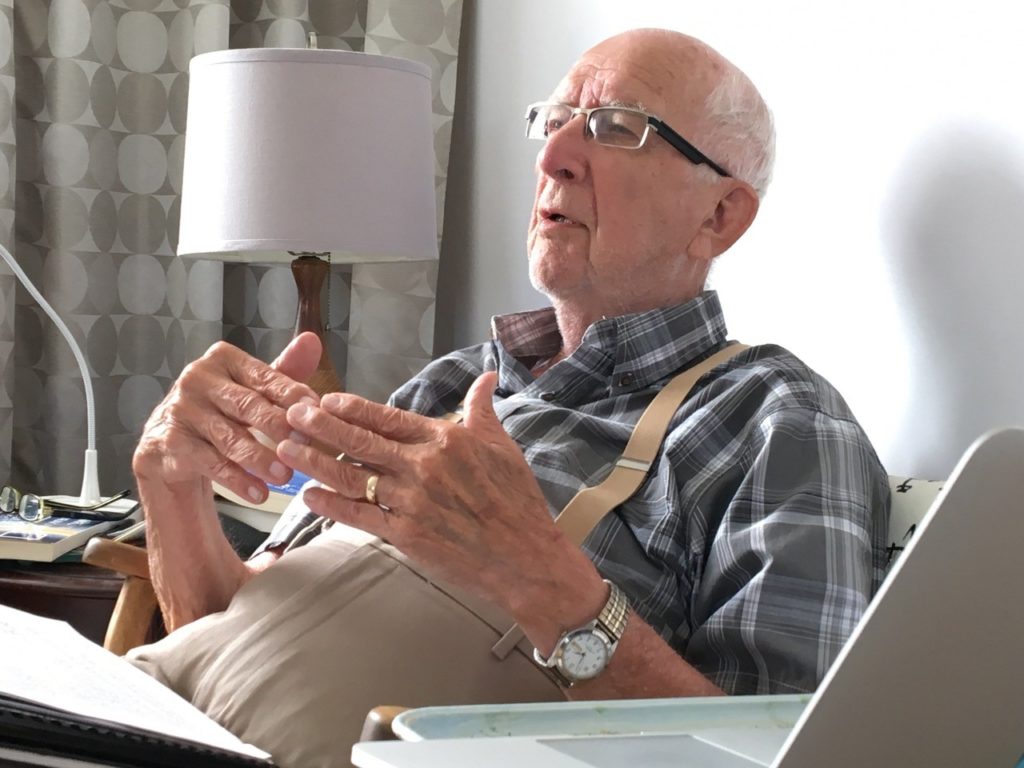 With a breaking voice, he describes her gifted story telling – her covert and daring nighttime escape from Berlin via the SS Volendam to South America, tales of men flirting with her on board, of love and loss. Her journal entries were special, said Enns, highly descriptive, spirited, and open – not the usual bland weather and crop reports common to many Mennonite diarists.
The multi-gifted Enns has been a pastor, a director of Camp Assiniboia in Manitoba, a chair and member of many committees of the Conference of Mennonites in Canada, and from 1975 – 83, its Executive Secretary. His life of service has spanned Canada (Manitoba, British Columbia, Saskatchewan, Ontario) including a stint in Germany.
But what he really loves talking about these days is his volunteer translation work at the Mennonite Heritage Archives in Winnipeg. The list of his projects is long, and would include thousands of pages or translations.
It began in the mid-1990s while still pastoring and teaching. The archives were then under the direction of Lawrence Klippenstein, a friend and fellow graduate of Canadian Mennonite Bible College. Enns was asked to organize a rapidly growing book, newspaper, and magazine collection.
While still working, Enns began volunteering casually. He was soon caught up in the compelling stories captured in the fragile and curling pages of family collections in the archive vaults. His work intensified upon retirement. "I found myself very interested in all that stuff… I enjoyed it. It drove me to tears from time to time," he said.
He discovered and compiled about 80 letters his grandfather, Abraham Ens, wrote in the German language newspaper, Die Mennonitische Rundschau, Enns was hooked. He began researching his father's family history, which eventually led him to publish the history and stories of his family's male lineage dating back to his great-great grandfather, also Abraham Ens, born in 1795.
Enns is a bridge between computer technology and old, handwritten gothic German script. His first computer was a Tandy model. One of very few MHA volunteers still able to read gothic German script in both handwritten and typeset forms, he would painstakingly translate the German into handwritten English, then enter it into his word processor.
Translation carries much responsibility, Enns says. "I was always very careful" to translate the writings of others as objectively as possible. He credits his father, who also happened to be his school teacher and had very meticulous penmanship, for teaching him gothic German.
Archivist Conrad Stoesz is beyond grateful for such careful and caring translation skills, which are becoming rare. "Extended families and researchers, those alive now and those yet to be born, owe Ed a great debt of gratitude. Without his work, the secrets and mysteries locked in these old documents and diaries might never come to light," said Stoesz.
Enns muses that while the translation work has been enjoyable, a significant part of his interest has been in publishing the work. Translation is fine and good, he says, but if it's not published and released into the world, the stories will languish on a shelf, unable to share the wealth of history and wisdom of their characters for future generations. We learn from our past.
Not everyone recognizes this, he says, observing that in several cases he's gently poked and prodded and even provoked reluctant family members to publish their forebears' stories. In several cases, his volunteer efforts have extended to finding funding to publish. And it doesn't need to be a fancy hardcover book. In one case, he negotiated a good photocopying deal with a Staples outlet. These stories need to see the light of day, he insists, so that the children and grandchildren can get a sense of where their ancestors came from, the risks and joys and challenges they experienced.
No longer able to volunteer, he's still hoping to learn the rest of Adina Epp's life story. Her diaries end abruptly in South America. He knows she moved around in South America, eventually settling in Canada, and passed away in British Columbia a few years ago. But what happened to her in between? Did she marry one of the romantic interests she so vividly wrote about? Were there other stops in between? When and why did she end up in Canada?
For his part, Ed hopes that some from Epp's family will step up and fill him in on the rest of her life adventures. And it won't matter to him if it's in German or English.
By Dan Dyck, MHA volunteer writer
Ed Enns passed away on November 28, 2019. Enns' obituary is available on ObitTree.com.