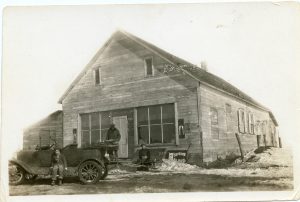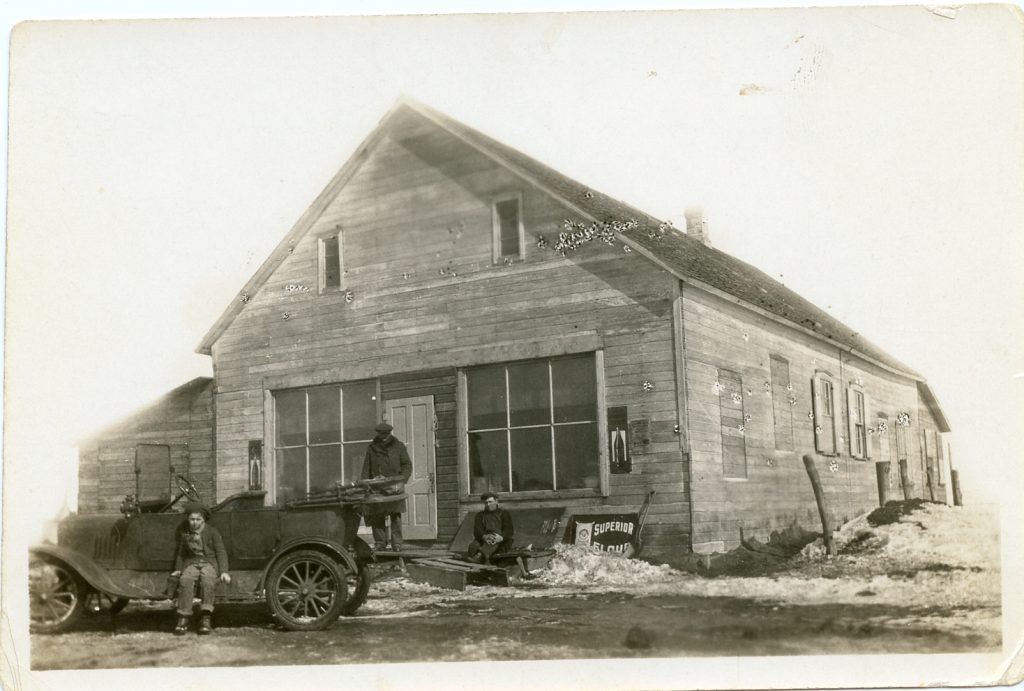 January 17, 2020 Volume 43 Issue 16 | Many of the villages originally created in southern Manitoba by Mennonite settlers have long since disappeared. Some of them were dealt a death knell when large numbers of Mennonites migrated south. The villages were modelled on the Strassendorf system imported from Russia – a single street about half a mile long, with housebarns lining one or both sides of the street, a church and schoolhouse surrounded by communally farmed fields. One such village was Hamburg – just northwest of present-day Plum Coulee – where this building was the original Old Colony church until residents moved to Mexico in the 1920s. The building was then cut in two, moved, and reassembled by Henry Banman in Kronsgart, Manitoba, where he turned it into a General Store. The lean-to at the left was the Banman family living quarters. In this 1928 photo is Ross Godkin (left), son of the Kronsgart elevator agent, sitting on car running boards, and right, G.G. Dueck, owner of the car. The town of Kronsgart, northwest of Hamburg, eventually died out as well. Surveyed by provincial planners along the Midland Railway route, it included seven streets and over 140 lots, but only 17 of the initial offering of 60 lots were sold.  By the spring of 1908 a general store, lumberyard, machine shop, post office, grain elevator, hotel, and two residences had been established (what happened to the original General Store is unknown). The hotel quickly drew the ire of local Mennonite farmers who opposed the sale of alcoholic beverages. Their opposition ended just as quickly when the hotel burned down in a fire caused by an untended lantern left in the cellar by the bartender. By 1911, ownership of most lots had transferred back to land developer Christopher T. Haskett and eventually reverted to the municipality for tax arrears. The place name of Hamburg (also sometimes spelled "Hamberg") has been used in Russia (Molotschna, Borozenko, Omsk, Manitoba (East and West Reserve), and Mexico (Cuauhtemoc). The place name of Kronsgart (sometimes "Kronsgarten") has been used in Russia (Chortitza) and Manitoba (East and West Reserve. The Manitoba locations of Hamburg and Kronsgart today are primarily agricultural fields.
Sources: Mennonite Heritage Archives; Mennonite Archival Image Database; Global Anabaptist Mennonite Encyclopedia Online; Manitoba Historical Society. 
Written by Dan Dyck, MHA volunteer.